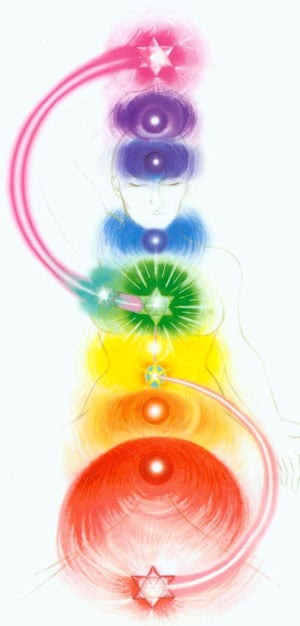 The Aura-Soma Pomanders are the Mystic Vapors re-discovered
The 49 herbs in the Pomander provide a gentle protection for different environmental challenges. A fragrant delight, Pomanders are a catalyst of herbs, plants and colors that assist us in transmuting challenges of personality into clear consciousness of being.
They filter out negative energies, allow positive energies in and have a cleansing effect on the aura.
As such, they have been recreated within the Ancient Kabbalistic Knowledge Trust of Invocation. Each Essence holds specific numerological vibrations and wavelength values comprised of forty-nine (7 x 7) symbolic herbs, crystals, vibrations and wavelengths.
1. THE ORIGINAL WHITE – Doctor in the White Coat
Vicky Wall (the originator of Aura-Soma) referred to this as the 'Doctor in the White Coat'. The original white pomander may be not only be used in the aura but also in any space to cleanse atmospheres, bring the light in, and renew energies. It purifies and renews, helping you make space for new beginnings.
Pam says this is great to use before the dentist or any situation where you need to invoke your healing archetype.
2. PINK – Just for Love
For Universal Unconditional Love, the warmth and caring which makes everything possible in your life. Emotionally pink brings love, both for yourself and for those around you. Supportive in the times when you feel vulnerable and helps you to care for yourself. Brings about a deep sense of relaxation, harmonises groups and their processes. Can also help in the awakening process.
Pam uses this in her workshops when there is need to support others through emotional breakthroughs.
3. DEEP RED – The Energiser and Protector
Protective, grounding, energising. Both the red pomanders are helpful for feeling grounded after meditation or any therapy session. Great for any situation where your energy is depleted. Pam loves using this as a closing for a group.
4. RED – Balancing the Energies
A softer vibration than the Deep Red. To help you to overcome the negative effects from resentment or animosity. Reduces shyness and helps to deal with aggression and overcome a fiery temper. Also good for doing Earth energy work. Pam says this is another pomander for bringing people back to earth after meditation.
5. CORAL – To learn how to love and care in a new way
An awakening energy. Healing of unrequieted love. For self love. For loving our fears. Healing of the 'time line'. Also helpful for altitude sickness. Applied on the right side of the body. A very vibrant energy that refreshes.
6. ORANGE – The Regression Protector and Shock Absorber of the Past and Present
Helps you to deal with shocks, fears and balances the aura when you feel 'beside yourself.' It is related to the second chakra and has a soothing and calming effect on this area. Orange enables you to let go and accept all that is going on around you. A therapist's 'must have' pomander for use with clients or after hearing distressing news.
7. GOLD – Wisdom and Self-knowledge
Finding abundance in yourself, using your wisdom to its full potential. It is particularly helpful in addressing any underlying fears. The Gold relates to the solar plexus where you can feel anxiety and fear. By using this colour you enable yourself to accept, receive, digest and relax. Pam's favourite as it helps to focus on receiving and abundance..
8. YELLOW – Sunlight and Assimilation
Yellow brings the sunshine in – an antidote to feeling 'the blues'. Useful in spaces where there is a lack of sunlight, brightens the atmosphere around you. It is also helpful for tension, stress, nervousness and anxiety. The citrine in this is perfect for keeping a clear head.
9. OLIVE GREEN – Truth and Direction
Olive is for bringing the wisdom into your heart and releasing fear, to help you find your own way. Improves your ability to remember. Helpful in confrontational situations and difficulties with other people. Excellent for practitioners to clear their space between clients. Helps when you feel trapped or unable to find a clear direction in any situation.
This is the colour of forgiveness.
10. EMERALD GREEN -Protector of our own Space – The Space Giver
Emerald is for bringing peace into your own space and giving you the space to find your own way. It can free you from old ideas and open you up to new decisions. It can be very helpful for clearing jealousy, envy, and other negative emotions. So green, the cedar refreshes like no other.
11. TURQUOISE – Immune system stimulator
Helping you to creatively communicate what you are feeling. This Pomander is for communication, particularly for those of you who are involved in presentations, teaching, or public speakers. It encourages playfulness, resolves blockages and protects against stage fright. Pam had positive feed back from an actress who uses this in auditions.
12. SAPPHIRE BLUE – The Communication Protector
Supports the highest communication of love; focusing on your inspirational and devotional aspects it helps to overcome feelings of extreme isolation. Deepens the peace within so you become more relaxed, more clear. You expend less energy in your own pre-occupations and have more energy available to do what you need to do. Peppermint smell, very refreshing.
13. ROYAL BLUE – The Perception Strengthener
Imagination and intuition, as well as helping you to access sympathetic emotions. The third eye pomander, just fabulous!
14. VIOLET – The Sweetness of Spirit
The Violet pomander opens your perception and awareness of the spiritual realms. It helps you connect with your mission and your purpose, it can enhance every day perception and awareness. Reiki practitioners just love this.
15. DEEP MAGENTA – The Carer's Carer
Combining the red and violet energies. This is both energising and soothing at the same time. For the times when you have given all your energy to others and now need to receive caring for yourself. For living in the present. Sweet and very grounding.
For an Aura-Soma Tarot Colour Consultation with Pam click here>
TO BUY POMANDERS
See www.dolphins-angels.com/
The Aura-soma Sourcebook: Color Therapy for the Soul
Healing Stars in association with Amazon