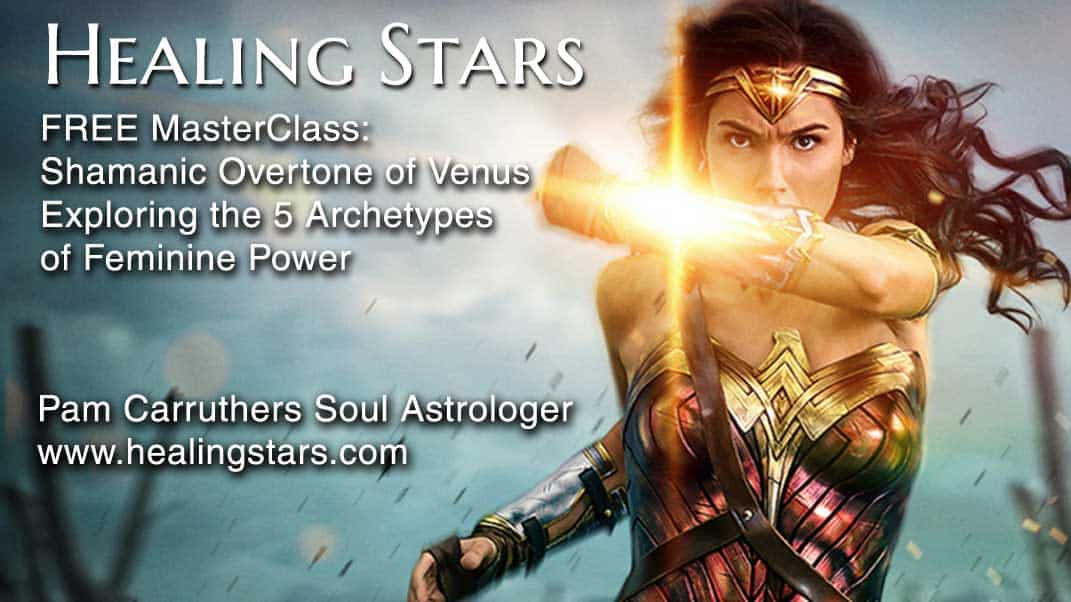 Venus and the Shamanic Cycle of Aries.
Venus is currently in the 'Shamanic Overtone' of Aries reflecting the movie Wonder Woman and the #MeToo campaign. Join my MasterClass 'Shamanic Overtone of Venus Exploring the 5 Archetypes of Feminine Power' to find out more and discover:-
The 5 Shamanic Overtone Goddess Archetypes- Which Tribe do you belong to?
Exploring the Goddesses connected to the 5 current Archetypes.
Focus on the Events in the 60ties that reflect the Archetypes.
Understanding Venus as a Morning Star or Evening Star-which one are you and what does it mean?
In February I held a MasterClass exploring the Shamanic Cycle. This MasterClass is a follow up as a result of the questions raised by participants.
FREE Giveaway Key dates for Rituals when the Moon and Venus join in 2018- The Gates of Initiation and the 7 Chakras.
TO RECAP:- Venus entered the 'Shamanic Overtone' of Aries on April 1st 2017. This is the archetype of the Warrioress, and we are now seeing it come into full prominence. Venus is now empowered and rises higher in the night sky and gains in strength each month marked by the Moon Venus conjunctions.
This signals the rise of feminine power and leadership for the rest of 2018.
Now its time to shine, to show your talents to the world! Time to wholly embrace your passion and your Warrioress Archetype.
So my question is- What's holding you back?
I am holding my follow up webinar on this Venus cycle with new content 'Shamanic Overtone of Venus Exploring the 5 Archetypes of Feminine Power' on March 7th at 7.30pm GMT.
2.30pm EST and 11.30am PST.
I'd love to see you there!
PS Please sign up even if you can't attend, that way you'll get the recording. However for those who attend live I will be answering questions.
Register for the FREE Venus MasterClass on March 7th
SPECIAL OFFER
Just for Women Astrology Report Now on Sale for £12
This is a wonderful report to give to yourself, or as a present.
This is an intimate tour of your natal chart that clearly shows you the full range of talents and resources you possess and may not be full aware of.
The roles that women are asked to play have changed and are continually evolving. Today, a woman is often expected to carry out the tasks of a career person, a wife, mother, community leader and more – all simultaneously.
Practicing astrologer and author Gloria Star is the writer of this exceptional Just for Women astrology report. She has used her years of counseling experience to help create a report that interprets a chart from the perspective of a woman living within an ever-changing, ever more demanding world.