January 3rd/4th 2017
Facilitated by Pam Carruthers & Kathryn Varley
Had a tough year? Need to restore and re-align your energy?
2016 really has been tough. That's due to the long lasting tension between Saturn and Neptune, with feelings of grief, disappointment and fear.
The natural reaction is to spend days under the duvet, but for most of us that's impossible, so we put on a brave face and just soldier on.
That has repercussions in the form of stress, and so the holiday season looks like a huge relief.
The reality is often more stress as family get togethers can bring up all the old issues in those relationships.
If you're on your own Christmas can bring up those hidden feelings of loneliness and past heartbreaks.
What's your Vision for 2017?
The New Year is a time of resolutions, however as most of us know they get broken by the end of the month. With the support of a like-minded group we can set realistic goals, and clear the unconscious blocks that hold us back from success and happiness.
Being on a retreat is the ideal way to replenish your body, mind and spirit so that you can let go of 2016 and access the inner guidance you need to manifest your desires and dreams for 2017.
If  you usually feel emotionally depleted in January each year, then we warmly invite you to join us.
Take time out and give yourself some 'me' time.
We invite you to join with us for two days in Florence House, a nurturing haven near the Seven Sisters on the south coast by the sea.
"On the brow of Seaford Head, Sussex, sits Florence House. It's rock solid in the sea air and surrounding wild landscape. In many ways its situation is a metaphor for its life's purpose – a haven for the spirit however the wind blows.

It's a much loved venue for life enhancing workshops and retreats. In essence, it lovingly embraces divine inspiration, the sacredness and potential of each individual and the healing power of the landscape in which it sits."

During this retreat we will be using heartfelt rituals and healing processes. We'll be:-
Reclaiming the Power of our Spiritual Warrior. This our connection to Source.

Journey through the chakras. The lower chakras give us grounding, of recognising our value, and ability to receive the financial reward we so richly deserve. The higher chakras connect us to our power, our heart, our voice and to the Divine.
Introducing Qi Gong. This is a series of movements connecting the breath to nature -the 4 elements – and the chakras. It is suited to all ages, is very gentle and does not require any physical strength or skill.
Healing the heartbreaks that are holding us back from living our authentic Truth.
Divination and Opening up to Guidance Choose Crystal Ally cards that offer guidance for your Soul's Journey in 2017
Activating the 6th Chakra of Inner Guidance and Vision with a Star Gate Ritual for the Pisces Stellium.
Connecting to our heart's desire and creating a Miracle Wish List for 2017 to take away.
The Details

Venue: Florence House, Seaford, East Sussex BN25 4JS.
Florence House was built in the 1920's and has been beautifully restored into a perfect venue for retreats. It is nestled in stunning 6 acre grounds. The peaceful walled garden provides the perfect place for quiet meditation and inner reflection.
Inside, the oak panelled library, dining room, comfortable lounge with a wood burning stove and charming rooms give this historical house both an elegant yet relaxed ambience.
Date & Time:
Tuesday January 3rd 10.00am for 10.30am start. Evening session after dinner ends at 9.30pm.
Wednesday January 4th start 9.30am -finishes at 5pm. Optional yoga session with Kathryn before breakfast.
SPECIAL EARLYBIRD PRICE
£290 includes 1 night's accommodation  with a room on your own for the first 5 women to book!
Full Catering
Breakfast consists of a breakfast buffet selection of fruit juices, fresh fruit platter, cereals, yogurt, egg and a variety of breads.  Lunch and supper consists of freshly made soup, a "chef's choice" main course, salads and vegetables. Dinner consists of a chef's main course, salads, vegetables and dessert. Fresh fruit, teas and coffees are freely available 24 hours a day.
All special dietary requirements are catered for, so please let us know in advance. If you want meat or fish there is a supplement.
Having stayed there I can vouch for the amazing food. The desserts are mouth wateringly good!
Please bring a journal and house slippers with you.
Florence House does not have televisions or radios ensuring a peaceful and tranquil stay. However Wi-Fi is available free of charge throughout the house.
Its filling up and there are just 16 magical places, so early booking is recommended!
You can stay on January 2nd, Monday night. Contact Florence House directly: Tel 01323 873700.
---
Your Facilitators
Pam Carruthers
Pam is an experienced workshop facilitator, spiritual coach and healer. She started her spiritual journey in 1994 when she began training with Chuck and Lency Spezzano. She is highly skilled in the therapeutic healing processes of Psychology of Vision, which is a marriage of psychology and spirituality based on A Course in Miracles. She was part of the Psychology of Vision International Team of Trainers from 2000-2009.
She is well known for co-facilitating 'Open To The Goddess' Workshop and her own unique 'Healing Your Birth Story' Workshop.  She integrates planetary energies and the birth chart.
Pam has a thriving astrological practise combining both Western and Vedic systems. As a former Art Director she has a lifelong passion for creativity and beauty and runs a successful WordPress web design business see www.pamwebdesign.com.
Pam has also trained in the Aura-Soma Colour System and tarot. She lives in Hove, East Sussex.
Kathryn Varley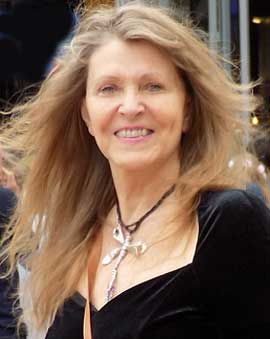 Kathryn is an Yoga Elder and Spiritual Teacher (known as an Acharya) who shares practises from her life's experience. She is on a continuing quest with her colleagues in communities spanning from the United States to Taiwan and Australia.
She has a background in meditation offering support to the community whether with special populations like her voluntary work for the Sussex & Surrey Fibromyalgia Support Group or working with people challenged with addiction.
She has trained with Warriors at Ease for PTSD Sensitive Meditation and Adaptive Yoga incorporating the work of the Exalted Warrior Foundation.
And she has also trained with Clinical Psychologist Anodea Judith, Ph.D, the leading authority on the integration of chakras and therapeutic issues.
"In India, those who teach kindergarten through college are called teachers. But one who has great love, who has attained a higher level of knowledge through practice, and who teaches others through his or her own life, is called an "acharya," or spiritual teacher."  – Swami Kripalu
Kathryn's Approach
Her work with anatomists and osteopaths intensified her curiosity of body-mind mechanics and this, coupled with a grounding in the elements through physical practises, internalised a confident platform for her as an Acharya to share the teachings as a continuum on The Path of Love.
Empowerment through Qi Gong
In sharing her many practises Kathryn will be introducing Qi Gong on this retreat. She says:-
The physical body is composed of 60% water. When we heighten fluid activities, we are heightening resonance within the fluid body.

This increased sensitivity allows access to our true nature, our natural power, our Life Force. It invites us on a journey with the Elements to explore and embody our Inner Nature via the energetic system of The Chakras.

With this approach the body may receive the support, deep relaxation and healing it needs to cope with injuries and calm the nervous system. It also aids in restoring depleted energy reserves with a sense of calmness.
Kathryn's weekly classes, monthly workshops, courses and annual retreats all include iRest meditation.
There is a taxi rank at Seaford station and it takes approx 5 mins (approx £4 fare) to arrive at Florence House.
Gatwick airport is approx one hour train journey to Seaford station.