Venus, the Chakras and the Shamanic Cycle
Venus entered the 'Shamanic Overtone' of Aries last year in April. This is the archetype of the Warrioress. It signalled the rise of feminine power and leadership. Now Venus is an Evening Star we are seeing it come into full prominence.  Venus is visible and rises higher each month in the night sky and gains in strength marked by the Moon Venus conjunctions. It has been opening chakras from the Root chakra on March 18th. On August 14th it opens the Third Eye chakra. (See below for the dates)
On August 14th 2018 the Moon Venus conjunction is opening the Third Eye- The Gate of Divine Inspiration
This conjunction is in the sign of Libra, the sign of partnerships and relationships. The chart is activating the Jupiter trine to Neptune, both planets being in emotional and healing water signs of Scorpio and Pisces. This is the energy of The Sorceress, our Higher Mind and source of miracles, magic and manifestation. It's Divine Inspiration.
Venus, the planet of love shows how much we love and value ourselves and therefore how much money we earn.
What do you feel you are worth?
Have you felt isolated or misunderstood?
Gone into sacrifice helping others and neglected your self?
Lacking sufficient connection with Source?
Venus Opening The Gate of Divine Inspiration
Join my MasterClass to find out more and discover:-
Understanding the Venus Shamanic Cycle and this important date as Venus in now in Libra-the sign of relationships.
Exploring the Aries Warrioress Archetype and its shadow- Superwoman.
The 5 Shamanic Overtone Goddess Archetypes- Which Tribe do you belong to?
The Sumerian myth of Inanna Queen of Heaven and her Shadow.
Now its time to shine, to show your talents to the world! Time to wholly embrace your passion and your Warrioress Archetype in partnership with The Sorceress.
So my question is- What's holding you back?
I will holding a webinar on this 'Venus Opening The Gate of Divine Inspiration' on August 14th at 7.30pm BST.
2.30pm EST and 11.30am PST.
I'd love to see you there!
Venus in Shamanic Astrology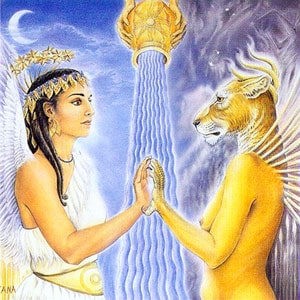 Venus is associated with the Sumerian myth of Inanna, the Queen of Heaven who descends into the Underworld to visit her sister Ereshkigal to witness the funeral of Ereshkigal's husband. When she arrives Ereshkigal is furious. She declares that the upper world goddess  has to be treated by the laws of her kingdom, that she be 'brought naked and bowed low'.
Inanna is stripped of her power and her vestments at 7 Gates and then killed. Ereshkigal symbolizes the destructive/ transformational mysteries of the Underworld.
These 7 Gates represent the 7 chakras and the Venus Moon conjunctions each month.
2018 The 7 Gates and the 7 Chakras
These are the dates when the Moon joins Venus as an Evening Star representing The Queen of Heaven Innana's return from the underworld. You may like to honour this process with a ritual on these days.
Gate 1 – root chakra – The Gate of Manifestation (regains her royal robe)
March 18th, 2018 at 14 Aries
Gate 2 – sacral chakra – The Gate of Creativity (regains her ankle bracelets)
April 17th, 2018 at 21 Taurus
Gate3- solar plexus – The Gate of Personal Power (regains her ring of power)
May 17th, 2018 at 27 Gemini
Gate 4 – heart chakra – The Gate of Compassion (regains her breast plate)
June 16th 2018 at 3 Leo
Gate 5 – throat chakra – The Gate of Communication (regains her necklace)
July 16th, 2018 at 6 Virgo
Gate 6 – brow chakra – The Gate of Perception (regains her royal staff)
August  14th 2018 at  7 Libra
Gate 7 – crown chakra – The Gate of Authority (regains her crown)
September 12th, 2018  at 2 Scorpio
Gate 8 astral
October 10th at 10 Scorpio retrograde
SPECIAL OFFER
Just for Women Astrology Report Now on Sale for £12
This is a wonderful report to give to yourself, or as a present.
This is an intimate tour of your natal chart that clearly shows you the full range of talents and resources you possess and may not be full aware of.
The roles that women are asked to play have changed and are continually evolving. Today, a woman is often expected to carry out the tasks of a career person, a wife, mother, community leader and more – all simultaneously.
Practicing astrologer and author Gloria Star is the writer of this exceptional Just for Women astrology report. She has used her years of counseling experience to help create a report that interprets a chart from the perspective of a woman living within an ever-changing, ever more demanding world.