New Beginnings
Uranus is now travelling through the sign of Aries. This is a major astrological event. It's the opportunity for a new beginning for all of us. It's Spring time in our life whatever age we are. Uranus in the sign of Aries is like a rocket boost – it gives us energy to take a risk and leap into a new orbit.
It will push us (if we don't jump first!) outside of our comfort zone.
The Pioneers: Uranus in Aries 1927-1935
The Jazz Singer in 1927 an American musical film. The first feature-length motion picture with synchronized dialogue  sequences, its release heralded the commercial ascendancy of the "talkies" and the decline of the silent film era.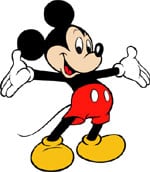 Mickey Mouse (short for Michell Mouse is a cartoon character who has become an icon for The Walt Disney Company. His birth date  is celebrated on November 18, 1928 upon the release of Steamboat Willie, although Mickey had already appeared six months earlier in Plane Crazy (Steamboat Willie being the first Mickey Mouse Cartoon with sound).
Mickey Mouse has evolved from being simply a character in animated cartoons and comic strips to become one of the most recognizable symbols in the world.
Amy Johnson achieved worldwide recognition when, in 1930, she became the first woman to fly solo from Britain, to Australia. Flying her "Jason" Gipsy Moth, she left Croydon, south of London, on 5 May 1930 and landed in Darwin, Australia on 24 May after flying 11,000 miles (18,000 km).
Her aircraft for this flight can still be seen in the Science Museum in London. She received the Harmon Trophy as well as a CBE in recognition of this achievement, and was also honoured with the No. 1 civil pilot's licence under Australia's 1921 Air Navigation Regulations.
Charles Lindbergh was an American aviator, author, inventor, explorer, and social activist. He emerged from virtual obscurity to almost instantaneous world fame as the result of his Orteig Prize-winning solo non-stop flight on May 20 1927, from Roosevelt Field located in Garden City on New York's Long Island to Le Bourget Field in Paris, France.  This was a, distance of nearly 3,600 statute miles, in the single-seat, single-engine monoplane, the Spirit of St. Louis.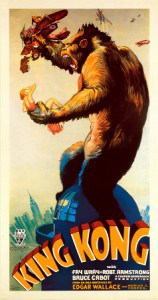 King Kong opened in New York City on March 2, 1933. The film tells of a gigantic island-dwelling gorilla-like creature called Kong who dies in an attempt to possess a beautiful young woman.
The film stars Fay Wray, Robert Armstrong and Bruce Cabot.
Kong is distinguished for its stop-motion animation by Willis O'Brien and its musical score by Max Steiner.
In 1991, the film was deemed "culturally, historically and aesthetically significant" by the Library of Congress and selected for preservation in the United States National Film Registry.
(Info from Wikipedia)
Uranus in Aries and your Sun Sign (western zodiac) in brief:-
"Expect the unexpected" is one way of interpreting Uranus as it travels through the various houses of your birth chart. You will notice its effect the most if it activates a personal planet, such as the Moon, the Sun, or your chart ruler.
If you don't know your chart then I suggest you buy a report to give you an understanding of where natal Uranus is in your chart and to ascertain where the sign of Aries is. The the best all rounder report that details each planet, is the Solar Writer Report.
Also for sale is a transit report which gives full details of how Uranus will affect you during this year. Transit Report>
ARIES Uranus travels through your 1st house. You'll notice the effect dramatically as life can get very interesting!!! There has been an awakening as Uranus travelled through your 12th, but now you can take on the world. Be aware of being rash as Uranus governs electricity and your headstrong tendencies can upset people. Now more than ever is a time to be aware of your body, so take time to ground yourself.
TAURUS Uranus travels through your 12th house. It will contact your creativity through dreams and visions as Aries governs your 12th house, in the area of the unconscious. This is a good time to have a dream journal and begin a conversation with your inner world and awaken intuition. Spend time listening to music and poetry to stimulate deeper emotions and awaken your sensual romantic nature.
GEMINI Uranus travels through your 11th house. You'll meet groups of like minded people who are different from the norm and unconventional. People such as astrologers, metaphysicians, oddballs and eccentrics. Time to join a club or go on workshops to open your world to new exciting friendships. Aries as a fire sign gets in well with air but notice that you can get over stimulated and will need grounding.
CANCER Uranus travels through your 10th house. You'll have sudden changes in career and home. You can gain overnight recognition for your work and a change of status is also on the cards. Cancer is a cardinal sign, (meaning action) and Uranus in fellow cardinal sign of Aries will give a much needed boost to kick start a new career.
LEO Uranus travels through your 9th house will have a sudden desire for long distance travel, for higher education and attraction to foreign language, unusual philosophies or different cultures. the urge to get on a plane and buy a round the world ticket can be very tempting.
VIRGO Uranus travels through your 8th house will delve into the world of psychology and metaphysics. The need to understand the unknown and the psyche will bring you into contact with your soul's purpose. Studying psychology or astrology, getting into cutting edge therapy will all open up your psyche and help you heal some deep issues. Highly recommended is Psychology of Vision. See www.psychologyofvision.com
LIBRA Uranus travels through your 7th house. Sudden attractions and new relationships can form overnight. Old ones can also hit the rocks as partners talk about wanting their freedom and needing their space. Your skills of diplomacy will be tested and your ability to communicate will help you navigate the next 7 years. Now is a great time to learn NLP and other communication skills.
SCORPIO Uranus travels through your 6th house. This creates an urge to get healthy and change your habits and daily routines. Get on the Internet and find out what excites you in the areas of health and healing. Meditating daily, looking at new ideas around nutrition and being more health conscious is now top priority. Clear away all that is old and stagnant in your life. Daily routines can change, and you are more open to embracing new habits.
SAGITTARIUS Uranus travels through your 5th house. You can have fun! The 5th is the house of love, children, gambling and entertainment. Uranus is like a rocket boost shifting you forward. Aries is a compatible fire sign and so there is a renewal of energy to adventure and try something new. The birth of a baby is one such event, or writing a travel book another.
CAPRICORN Uranus travels through your 4th house. This can be a time of moving house, of returning to the place of your birth or have alterations done to your existing home. These changes also affect career. Parents will also be changing and can be very unpredictable and child like in their behaviour.
AQUARIUS Uranus travels through your 3rd house. You'll notice changes in the way you communicate. Time for the brand new Ipad, a new computer or faster broadband connection, sending out newsletters on a regular basis. Time to connect with the cosmos and express your truth as new original and unusual ideas are coming through you. Aquarians can have a new lease of life with shifts in relationships with their siblings or a move to a new neighbourhood.
PISCES Uranus travels through your 2nd house. You'll be able to relax a bit more. With Uranus transiting your sign for the last 7 years you have been on a roller coaster. This is the financial house of your 'scope so new exciting ways to earn a living are yours for the taking. An internet business is ideal- anything involving technology and innovation is excellent.