This usually light hearted Full Moon in Gemini has a sombre tone this year.

As the Sun in Sagittarius is close to Saturn we are called to question our beliefs and to commit to our Truth.
The Full Moon in Gemini is the sign ruled by Mercury, now travelling through in its 'shadow' period in Capricorn. That adds to the serious tone of this Full Moon.
The Sun is making a trine-a flow of energy to Uranus, planet of radical change and a sextile- another positive connection- to Jupiter.  This is high energy and you may be feeling optimistic and hopeful as the Christmas holidays approach.
However, Jupiter and Uranus are opposing each other, so watch out for unexpected shocks and arguments. These planets represent the need for space and freedom. The catch phrase is "I need my space".  There is a strong urge to rebel, which can turn into fanaticism. In the Uk we are faced with more strikes on the railways and Post Office.
Intransigence is when neither side will budge from its position of being right. Righteousness is the shadow side of Jupiter. Watch out for this in your world, as relationships can undergo reversals, and odd and unconventional alliances form.
The need is to integrate Faith (Jupiter) with Intuition (Uranus) and to see the bigger picture. There is the potential for an awakening of consciousness.
Mercury goes retrograde on 19th December very close to Pluto, planet of Transformation. Watch the news that day as the US Electoral College decide on the Presidential Election. This will be a relatively short retrograde period and ends on January 8th at 28 degrees Sagittarius.
Plus Mars moves into Pisces on December 19th on the same day that Mercury moves retrograde.  With the energy of Pisces increasing this is the perfect time to access your dreams and vision for 2017.

New Year Healing Retreat near the Sea January 3/4 2017
with Pam Carruthers and Kathryn Varley
Still time to book on this fabulous healing retreat!
With a stellium of 5 planets in Pisces on January 3rd, plus the south Node of the Moon this is the perfect time to connect with your dreams and vision for the year ahead.
There is an opening of the Third Eye chakra on January 2nd, and this stellium in Pisces shows the need to let go of the past as shown by the south Node.
We need to heal past lives and ancestral patterns that are holding us back from our creativity.
Being a Visionary in this world comes with its drawbacks-the ego will try its hardest to stop us being spiritual leaders.  If you've had a tough year then this nurturing retreat by the sea will be just what you need to bring joy into your heart and a spring in your step.
Book now for this New Year Healing Retreat-a room on your own with full board for just £290
Astrology 2017: What's the future hold for you?
Find out with this Very Special Offer: £30 for 2 Personal Reports for your Astrology 2017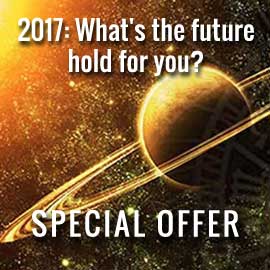 Want to know the key dates to watch out for in 2017?
It's a far better cosmic picture than the last 2 years, there are some big astrological opportunities this year. Want divine guidance on when they happen, and what they mean for you?
The astrology of 2017 is an important year as the nodal axis finally moves away from Neptune and changes sign into Leo/Aquarius on 29th April. This is good news for Virgos and Pisceans.
The nodal axis connects us to the eclipses which are a wild card in astrology. As the south node has connected with Neptune since the September Solar Eclipse, it has brought up collective grief and loss, especially as it has also contacted Saturn.
Venus -planet of love and money enters Aries on 4th February and stays until 6th June as it goes retrograde. This is good news for Aries and fire signs Leo and Sagittarius.
Mars -the planet of courage and the Warrior energises 9 signs, from Pisces to Scorpio.  This is a relief as Mars went retrograde in 2016 in Scorpio and brought out the sting- the lower energies of that sign.
Jupiter -the planet of Great Good Fortune remains in Libra supporting fellow air signs of Gemini and Aquarius. It moves into Scorpio on 11th October, good news for fellow water signs Cancer and Pisces.
Saturn continues through mid to late degrees of Sagittarius, then changes into its own sign of Capricorn on 21st December.
Uranus continues in Aries, Neptune in Pisces and Pluto in Capricorn. All three go retrograde every year and can indicate life changing events if they activate a natal planet in your chart.
Your 2 Personal Astrology Reports for 2017
The 2 Personal Astrology 2017 Reports are worth £45 if bought separately. These reports are based on your date, time and place of birth.
NB. They are both calculated for the same person.
Buy Your 2 Personal Astrology Reports for 2017
blessings,