Songs for Healing Your Heart: The Spiritual Warrior.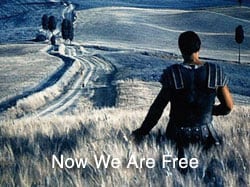 Whenever I hear this song I get goosebumps, especially  when I hear the word 'shalom' which mean peace.
In the movie The Gladiator Russel Crowe plays the part of a warrior, a man who uses his skills as a leader to unite the gladiators. The soldiers had a belief in the afterlife known as Elysium-so death was not feared.
As he dies he recalls his life, his friends and his lovers. His heart is full because now he will be reunited with his dead wife and son.
Death is merely a gateway to Paradise- and he enters willingly.
Healing Your Heart Coaching
I also offer 'Healing your Heart' coaching which focuses on clearing up those times in your life where you suffered a loss and the pain got buried within your 'inner body', your soul.
This isn't long term therapy, but truly transformational. Just one session can have lasting results.
Song: 'Now we Are Free' from The Gladiator