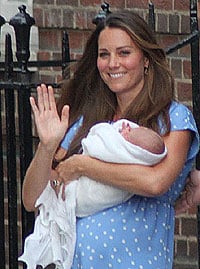 Celebrate the Birth of the Royal Baby and the New Moon in Leo.
The birth of the Royal baby came just a few hours before the Full Moon on July 22nd.
He's a Cancerian (just!), with his Moon in Capricorn, and Scorpio ascendant.
Those signs ally him to his dad Prince William and Princess Diana (both Cancer), mum Kate (Capricorn) and grandfather Prince Charles (Scorpio).
For all of us, our charts are connected to our families. We are are born to bring in an energy that the family needs. Scorpio is a secretive and sensitive sign, and also a sign with 3 symbols, the scorpion, the eagle and the phoenix.
This baby has a stellium of planets in his 8th house – so the promise in his chart is that he has incarnated to transform the monarchy.
The Child Report is a beautiful gift for new parents. Child Report for Sale>
Leadership and Transformation
Leo is the sign of leadership, creativity and personal power. Its a time for play and fun with the innocence of a child.
In my YouTube video I describe the huge potential for expressing our creativity as the New Moon makes a trine to Uranus in Aries.
Uranus can bring innovation to long term problems. This trine will be activated again by Mercury as it moves through Leo on August 15th.
Jupiter in Cancer makes a powerful opposition to Pluto and continues through the month to square Uranus by the next Full Moon on 21st. This is high tension.
The Divine Goddesses- Pallas Athena, Vesta, Juno and Ceres are all key players at this time.
The feminine energy is now instrumental in leading the way forward as people protest against the plutocracy of corporations worldwide.
The prayer has to be for leadership that comes from the heart.
My New Moon video has been available via Facebook since Monday, so its worth joining my group if you haven't done this already. See the link at the bottom of this newsletter.
---
Feminine Leadership
Vesta is exactly conjunct this New Moon and travels through the sign of Leo from 7th July until 11th September. Then Pallas Athena starts her journey through Leo until 10th November. Meanwhile Ceres entered Leo on 23 June until 29th August. Since Leo is the King, the leader this is significant that women and the feminine principle of receiving is leading the way.
Last month on 12th July Malala Yousafzai – the 16 year old Pakistani girl who was shot by the Taliban – gave an extraordinary speech to the UN.
Her quotes pread like wildfire on the internet. Here are a couple:-
"There was a time when women asked men to stand up for womens' rights. This time we will do it for ourselves."
"I raise up my voice – not so that I can shout, but so that those without a voice can be heard."
"We cannot succeed when half of us are held back." — Malala on education for girls.
"Let us pick up our books and pens. They are our most powerful weapons."
Malala ended her remarks with: "One child, one teacher, one book and one pen can change the world."
Also last month the Pope spoke up about the poor and homosexuality, which wasn't new. According to a news report from The Washington Post, what he said about women was however, totally fresh.
Specifically, he said:
"A church without women would be like the apostolic college without Mary. The Madonna is more important than the apostles, and the church herself is feminine, the spouse of Christ and a mother. The role of women doesn't end just with being a mother and with housework …we don't yet have a truly deep theology of women in the church. We talk about whether they can do this or that, can they be altar boys, can they be lectors, about a woman as president of Caritas, but we don't have a deep theology of women in the Church. On the ordination of women, the church has spoken and said no. John Paul II, in a definitive formulation, said that door is closed."
The reporter says "A lot of Catholic women yesterday read these words, looked out the window, and mouthed the words, THANK YOU."
---
Vesta, Self Renewal and The Sacred Flame
I offer 2 reports which describe what Vesta means in your horoscope. This excerpt is from Chiron and the 4 Goddesses by Viniita Hutchinson:-
"The asteroid Vesta (Latin) is named after the ancient Greek goddess Hestia, first born of the Olympian deities and last released by her father Cronos (father Time), who at one point swallowed all his offspring.
Thus she denotes the beginning and the end – alpha and omega – and serves as a reminder of the source from which all things originate and to which all must return. She represents the preservation of sacredness and the state of connection to formless Essence.
As such, she is the only Olympic deity not worshipped anthropomorphically; she is symbolized only by the altar and its sacred flame.
Thus she also represents any sacred space – be it temple, sweat lodge, or meditation corner – that acts as a container in which we may center ourselves, and feel the presence of Spirit.
Astrologically, Vesta stands for that which provides us with inner sustenance; the way in which we are pulled back to our core or inner self; and the struggle between this and the demands of the outer world. Vesta represents the way in which we long to bless others with the fruits of the spiritual resources we have found within ourselves, but it is also the need to retreat and preserve our inner sanctuary against any disrespectful intrusion.
Vesta is associated with dedication, focus, and commitment. She represents those things that helps us focus, the way in which we dedicate ourselves with heart and soul, and that for which we are ready (or compelled) to make a sacrifice.
The things indicated by Vesta's position in your chart may be things that you feel compelled to give up or sacrifice, often out of a sense of spiritual compulsion. Yet they can also be the very things that evoke your dedication – leading to a sense of deep inner fulfillment when you are willing to make some sacrifices on their behalf. Keep this paradox in mind as you read on, for Vesta can express itself one way or the other – or both!"
To order Chiron and the 4 Goddesses Report (Pallas Athena, Ceres, Juno and Vesta) see this link www.healingstars.com/astro-shop/chiron-goddesses-report/
---
FREE 'Miraculous Relationships' 21 day Meditation with Deepak Chopra and Oprah Winfrey
It started on August 5th, but you can catch up! Sign up asap as each day is only online for 5 days.
I love Deepak Chopra's voice and these meditations are easy and only take 15 mins each day. Time well spent!
"Fall in love with yourself. Fall in love with life. Join us on August 5 for a transformational three-week guided meditation journey into the heart of true love. Discover the wonder that exists within and then watch all of your relationships unfold effortlessly, easily, and miraculously.
In our interactive online program we invite you to meditate and journal with us each day to embrace your true essence, expand your understanding of divine relationship, and experience unparalleled connection with the world around you."
Winning Your Heart Back with Transformational Soul Purpose Coaching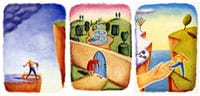 What's Your Current problem?
Click here for a free 3 Card Sample Reading.
Write the cards down and arrange for a call with me to share what these cards are showing you and discuss coaching.
blessings for a joy filled month,

Need a website you can afford?
Are you looking for an affordable website that you can edit yourself? Then I am here to help you. I design and host WordPress websites that you can be proud of. See my portfolio at