Virgo Full Moon-Awaken the Inner Artist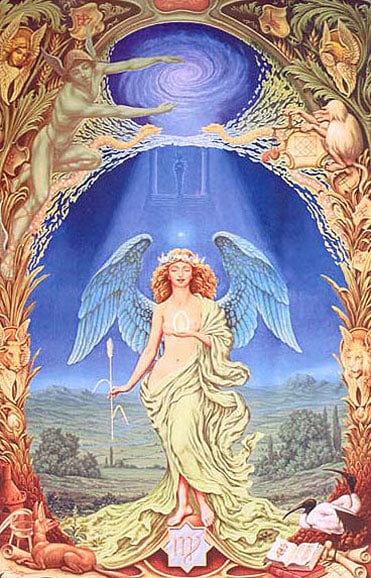 Soul Astrologer Pam Carruthers describes how the Sun, Neptune and Ceres in Pisces all urge us to connect with our Inner Artist at this Virgo full moon. We need to use Saturn's energy of discipline, and Mercury/Venus skill at communicating our gifts to the world with love in our hearts.
The chart for this Full Moon has many challenging aspects, however the close conjunction of Ceres with Neptune is highly auspicious.
Ceres is the Earth Mother and in Pisces, she offers nurturance to our vision, our highest creativity when we are connected to Oneness, to our Source.
In astrology the 5th house show our creative gifts- our children. Also the 12th house which is ruled by Neptune. This area in our birth chart is pre-birth, the womb and the place where we are attuned to the collective dream.
We all have gifts of creativity, and now is the time to blow our own trumpets!
The ego wants to shut us down, to tell us we aren't ready, that we aren't good enough. At this Virgo full moon be aware of Virgo's negative traits. These are perfectionism and too much attention to detail. Take advice from the title of that great book 'Don't sweat the small stuff!'
Discipline is something that isn't inbuilt into our nature-so many of us are free spirits and rebels. Who likes being told what to do, however it may benefit us?
Saturn is the planet of manifestation and tells us that discipline is the way to move forward step by step in creating something tangible.
If you need help in connecting with your Inner Artist then an Aura-Soma Colour Tarot reading may be the answer in showing you your gifts.

Learn Astrology the Creative Way
This course was inspired by the work of Marsilio Ficino, an Italian scholar and Catholic priest who was one of the most influential humanist philosophers of the early Italian Renaissance. He was also an astrologer, a reviver of Neoplatonism in touch with every major academic thinker and writer of his day. (Wikipedia)
It is a combination of pre-recorded videos with an online session where you can explore your birth chart in the comfort of your own home.
This 10 week Online Astrology Course starting on March 15th, can inspire and empower you and help you focus on your soul purpose in this lifetime.
Its for beginners and those who wish to deepen their understanding. This Course is designed for a small group, a maximum 6 students for personal attention.
The intention of this course is to encourage and inspire you on your spiritual journey. Each online session we'll explore the planets; the energies that are the archetypes within us.
PDF's of all modules will be given, and access to the recordings of the videos.
Working with your personal birth chart, in a small group you'll creatively explore:
The planets and the signs of the zodiac they rule
The language of the Universe ~ key words and images
The Mythology that relates to each planet
Guided meditation to discover what each planet means for you
The Movies that represent each planet
If you'd like to join please book now as its for a small group of 6!
blessings,

Ilustration on the video above is by the visionary artist Susan Seddon Boulet