Fire Ignited at the Aries New Moon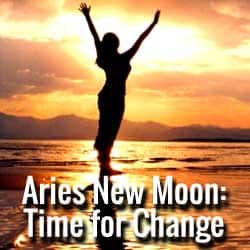 With 5 planets in Aries this New Moon packs a punch! Its a wake up call to do something bold, juicy and make a change in your life. Yes-that does take courage, however the planets are cheering us all on.
Spring is the season for rebirth, for trying something new. Aries is the first sign of the zodiac and is the Pioneer, the one who Initiates.
What do you want to change in your life? What causes you dissatisfaction?
Is it your love life? Your health? Your finances? Or is it something deeper-such as shining your light, showing up in the world?
In my Soul astrology consultations, I focus on your gifts. I know that one of the biggest problems I see are that we are afraid to shine our light, that's what scares us the most. I quote from two great spiritual teachers I have had the honour of meeting:-.
Marianne Williamson wrote:-
Our deepest fear is not that we are inadequate. Our deepest fear is that we are powerful beyond measure. It is our Light, not our Darkness, that most frightens us.

The practice of forgiveness is our most important contribution to the healing of the world.

Love is what we were born with. Fear is what we learned here.
Wayne Dyer wrote:-
If you change the way you look at things, the things you look at change.

How people treat you is their karma; how you react is yours.

When you judge another, you do not define them, you define yourself.
Venus will retrograde back into Pisces on April 3rd, and will rejoin Chiron The Wounded Healer on April 14th, Good Friday.
This month ahead is when the Mars energy within us all needs to be activated. Garden, weed, dance, go for long walks, run, march, fight the good fight. Speak with conviction. Show up in your life. Just do it! The world needs you!
take care of yourself,
blessings,