Fire Ignited at the Aries New Moon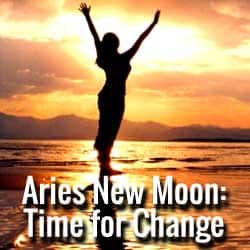 With 5 planets in Aries this New Moon packs a punch! Its a wake up call to do something bold, juicy and make a change in your life. Yes-that does take courage, however the planets are cheering us all on.
Spring is the season for rebirth, for trying something new. Aries is the first sign of the zodiac and is the Pioneer, the one who Initiates.
What do you want to change in your life? What causes you dissatisfaction?
Is it your love life? Your health? Your finances? Or is it something deeper-such as shining your light, showing up in the world?
In my Soul astrology consultations, I focus on your gifts. I know that one of the biggest problems I see are that we are afraid to shine our light, that's what scares us the most. I quote from two great spiritual teachers I have had the honour of meeting:-.
Marianne Williamson wrote:-
Our deepest fear is not that we are inadequate. Our deepest fear is that we are powerful beyond measure. It is our Light, not our Darkness, that most frightens us.

The practice of forgiveness is our most important contribution to the healing of the world.

Love is what we were born with. Fear is what we learned here.
Wayne Dyer wrote:-
If you change the way you look at things, the things you look at change.

How people treat you is their karma; how you react is yours.

When you judge another, you do not define them, you define yourself.
Venus will retrograde back into Pisces on April 3rd, and will rejoin Chiron The Wounded Healer on April 14th, Good Friday.
This month ahead is when the Mars energy within us all needs to be activated. Garden, weed, dance, go for long walks, run, march, fight the good fight. Speak with conviction. Show up in your life. Just do it! The world needs you!
Special Offer
A Soul Astrology Consultation this month would be a wise investment in your healing. I am offering 2 extra reports worth £30, as a bonus for those who book in March. Ends at midnight March 31st.
My Second Special Offer is 20% off an Astrology Consultation, or any Astrology Report with the code in the email sent to subscribers. If you have just found this post, please subscribe to get this amazing offer.
BOOKING NOW! Healing Your Birth Story Workshop April 14/15
Join me for those 2 days on my exclusive workshop, Healing Your Birth Story in West London on April 14/15. It is designed for a small group of 7 people, so that each participant receives a healing process that revolves around their birth chart.
This unique two day workshop Healing Your Birth Story connects you to your Soul Purpose as shown in your astrological birth chart.
We all have a soul promise- we chose to be here at this time of transition in the world. We promised to hold the light, to lead the way.
This workshop will help you heal the unfinished business of the past, you can fully embrace your soul's purpose to be happy and abundant. This workshop is for you if you answer yes to any of these questions.
Are you in sacrifice and find it easy to give, but difficult to receive?
Are you stuck and want to reconnect with your vision and creativity?
Would you like to clear the blocks to greater success and achieve so much more?
Designed for a small group of up to 7 people, it's ideal if you want to make a major shift in your life. Book your place now on this unique workshop>
take care of yourself,
blessings,

One of the most important things in our lives is to find our Vocation- the work we were born to do.
When we are fulfilled we are happy and are living our purpose.
Its really useful to know about the reason you were born, the destiny that you came to fulfill. One incredibly useful tool that offers specific guidance is your astrology birth chart.
However it's a complex subject and sometimes we just need to focus on this one aspect of our life.
Which is why this Vocation Report is so unique.
The Soul's Expression through Career
I am offering this amazing Astrological Birth Chart Report called 'Your Vocation Report' at only £15. This is a bargain as I have never read a report as well written and easy to understand by non -astrologers that covers this kind of specialised information with such clarity.
This report is for you if :-
You are looking for a change of direction.
You need an answer to the question -what is my path?
You are seeking confirmation – am I on the right path?
You need to find new ways to earn some money.
You have a young adult who is wondering what to do with their life.
The report is written by a well known Australian astrologer Brian Clark who provides an in-depth insight into the soul's expression through career. It is a computerised report but you'd never know that by the style of writing which has a spiritual emphasis. This is his introduction:-
A Fulfilling Vocation
"Work is love made visible" Kahil Gibran. In the midst of our busy lives, worn out by the endless repetition of meaningless tasks, it is difficult to appreciate Kahlil Gibran's poetic image of work as a soul-making sphere. In a technological environment work and soul seem worlds apart.
The outer rewards of career – prestige, status, vacations, salary packages, job security – conceal the urge to express soul through our vocation. When we are no longer anchored by values and images that remind us of a meaningful life, emptiness permeates the working atmosphere, contributing to an epidemic of dissatisfaction, depression and insecurity in the workplace.
This report is aimed at helping you reflect on your vocation or calling. It is not meant as a quick fix, but rather as an aid to self-understanding and awareness which in turn helps your vocational choices.
The reports contains:
An Introduction to Vocation (This is really valuable information to digest)
Vocation and Destiny – The Lunar Nodes
Vocation and Direction – The Ascendant and Angular Planets
Vocation and Character – The Sun and Moon
Income – The Rich Resources of Your Life -The 2nd House Cusp and Planets in the 2nd House.
Work – the 6th House Cusp and Planets in the 6th House.
Profession – The Midheaven and Planets in the 10th House, Planets conjunct and opposite the Midheaven.
The author's aim in each approximately 25-page report is to provide an astrological consideration of your vocational potentialities and to help you, and anyone who reads this report, to reflect on a fulfilling career path.
"The writing throughout the report is extremely inspiring and profound and certainly motivates one to take a deeper look at their life and career purposes….. All in all, it was such a treat! As a professional, it is harder to find material that excites me or teaches me something new but your report succeeded in all ways." US Astrologer Patrice Kamins

"This report gives me plenty of food for thought. It actually calls for a more contemplative engagement and response rather that a quick fix. In the end, our vocation journey is about self-knowledge and awareness. It certainly gives that in spades." Maggie, Marketing.
BUY NOW This unique Report is available for only £15
After payment you'll be redirected to a Contact page where you enter your birth details – Date, place and time of birth.
Your information is entered by hand so will be delivered as quickly as possible. Please allow 24 hours in the working week, longer at weekends. The Report will be emailed to you as a PDF file.