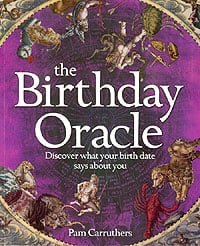 Blessing
Yesterday afternoon in Seaford I went to the book launch of a brilliant and gifted woman, Brigitte Sumner. She's just published her second book called 'Get Your Balls back'.
She helped me realise that I haven't publicised my new book 'The Birthday Oracle' which has just been published on August 31st. I wrote it last summer and have been a bit shy about showing it to anyone.
I decided to give it a good start and bless it, so I took it along to a meditation and  Blessing evening to 'baptise' it.
It's my baby and it's an entertaining book based on astrology and numerology.  I was delighted to see that everyone liked it!
So I am proud to announce the online launch of  'The Birthday Oracle'. I don't get royalties as I'm a new author, so would really appreciate it if you do want to buy it, to use this link. I get a small amount from Amazon Associates for every book sold.
Amazon describe it as " This attractive book harnesses the power of astrology to form a profile of readers born on every day of the year. Includes a reading for every day of the year, combining astrological practice with numerology and tarot to reveal personality profile, strengths and weaknesses. Also includes notables and celebrities born on each day of the year, plus quotations and points for meditation."
I highly recommend that if you have a book, a new website, a workshop that you plan to give,  that you bless it. So often I forget to celebrate my successes and suspect may others do the same.
As Mercury is now direct and Pluto moves forward tomorrow, it's time for us all to show off our talents!
blessings, Pam
The Birthday Oracle
is available from Amazon