Capricorn New Moon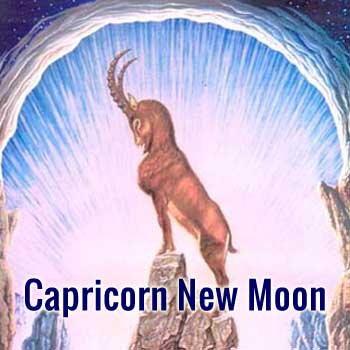 This Capricorn New Moon in powerful, transformational and serious as it joins Pluto, God of the Underworld and Mercury-which has now retrograded back into Capricorn.
This creates a stellium of 4 planets in Capricorn. The goat is nimble and reaches the top of the mountain-a metaphor for the ambition and success energy of this sign. Watch my videoa as I explain the other planets endorsing this as a time of commitment to the Truth, especially concerning relationships.
This is the time of year when we make New Year Resolutions which we usually break by the end of the month. I suggest a different approach:-
A New Moon is the time to plant a seed
The Full Moon is when it flowers. The seed needs good soil and care in order to grow- water, fertiliser etc. We don't pull it up to see how its growing-though kids may well do this! So patience and trust is called for.
Capricorn is the sign of winter in the northern hemisphere, so is the ideal time to go within. It's the Hermit archetype. To find the inner light and guidance and to connect with our truth.
Capricorn New Moon Wishes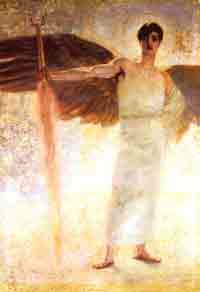 Each New Moon is the perfect time to make your wishes to manifest your heart's desire. It is a time to state your conscious goals, your dreams and your intentions. You need to handwrite your list and keep it to under 10 wishes or you'll scatter your energy.
I always say that the Angels need to know what you want, so you can invite in the Angel of the day when you write your list. Sunday is Archangel Michael, Gabriel is Monday, but choose the one you feel most connected to.
A wish does not require will power-unlike the New Year resolutions. Rather it uses the power of magnetism and receptivity to attract our desire to us.
This arrived in my mailbox today from Abraham Hicks and the Daily Law of Attraction and I found it really helpful:-
"You don't have to worry about what their vibration is if your vibration is one of connection. Because if your vibration is one of connection — you're going to dominate the vibration.

This is the way you learn your relationships. The thing that most people do not understand, is that you get to control the way you feel, because you get to choose the thoughts you think.

Most people think that they only have the option of responding to the circumstances that surround them.

And that's what makes them attempt the impossible, which is to control the circumstances around them, which only feeds their feeling of frustration and vulnerability because it doesn't take very much life experience to discover you can't control all of those circumstances.

But you can control your vibration. And when you control your vibration, you've controlled everything that has anything to do with you."
Once you have created your wish list, be patient. Maybe some changes have to be made before your wishes can come true. These are some points to remember:-
Make your wishes up to 48 hours after the New Moon-not before. Ideally 8 hours after the New Moon, however that may not be possible according to your time zone.
Wishes are best handwritten as you put your energy into them that way.
Write more than 1, but no more than 10.
Be positive!
Do not make wishes that affect others behaviour, however caring you may be.
You need to make wishes about your own behaviour.
Examples are:-
I want/wish to easily find myself attracted to…
I want/wish all blocks about … to be easily lifted from me.
Once you have made your list, put it away somewhere safe.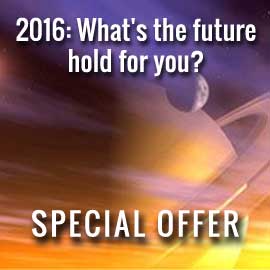 Special Offer Astrology 2016: What's the future hold for you?
Find out with this Very Special Offer: £20 for 2 Personal Reports on your Astrology 2016
Do you want to know the trends and themes in your personal Astrology 2016?
There are some big astrological opportunities this year. Want divine guidance on your when they happen, and what they mean for you?
2016 is an important year, especially for the mutable signs-Gemini, Virgo, Sagittarius and Pisces.
There is a challenging pattern forming this year between Saturn in Sagittarius, Neptune in Pisces and Jupiter in Virgo. The ongoing square- a huge tension- between Uranus and Pluto has come to a conclusion, but the effects are long lasting. Mars retrograding back into Scorpio will bring issues of repressed anger to the surface.
Your 2 Personal Astrology 2016 Reports
The 2 Personal Astrology 2016 Reports are worth £30 if bought separately. These reports are based on your date, time and place of birth.

blessings,

While Mercury is retrograde it's an ideal time to have a consultation. I have room for just 10 clients this month, and I have just been on an amazing workshop with a great teacher called Tad Mann.
My work is similar to his, as I explore pre-birth influences in the birth chart. He has given me a key to know the timing of events, in the womb and early stages of childhood. My work reveals and then heals those stories.
To book a Soul Astrology Consultation
New Moon Wish list from Jan Spiller's book called 'New Moon Astrology'