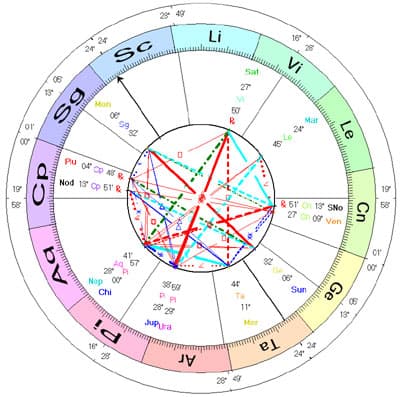 This full moon is bursting with new energy. So much is changing its difficult to know where to begin!
5 planets are in mutable signs. Mutable signs (Gemini, Virgo, Sagittarius and Pisces) are very adaptable and flexible but can be ever changing, highly restless and can't make up their minds!
The Sun is Gemini wants to talk, the Moon in Sagittarius is a fire sign, full of enthusiasm. Serious Saturn opposes revolutionary Uranus, thankfully softened by the vibration of Jupiter. Uranus is stretched tightly at bursting point at the final degree of Pisces. It moved into Aries just hours after the Full Moon.
Having two extreme oppositions is difficult to say the least and emotions can run high. Take time out in the next 2 weeks as stress is caused by getting burnt out due to overdoing things (a Sagittarius fault). Also watch out for making judgements (a fault of Saturn in critical Virgo) and of hot tempers (Mars in Leo). Yours if you have planets in Leo, others around you if they are any of the mutable signs mentioned above. )
Uranus governs electricity and is highly charged mental energy. It governs lightening and and in Mars's sign of Aries can lead to accidents if due care is not taken. Aries is known for being headstrong and acts impulsively. Wisdom comes from calming down and listening to your inner voice  asking "What would love do now?"
blessings, Pam x