This Full Moon in Virgo connects us to Saturn moving into Pisces
Saturn in Pisces
The most important event of the year starts on March 7th when Saturn-Lord of Karma – enters Pisces for the next two and a half years.
Saturn gets a bad press as its nature is heavy representing gravity and reality. To work with Saturn is the key. In the Vedic system the remedy for Saturn is being of service and supporting charities through our direct involvement. Saturn rules time, so once we give of our time and effort we can reap the reward. Saturn likes work and is associated with the gold watch that used to be given as a lifetime of service to a company.
The tarot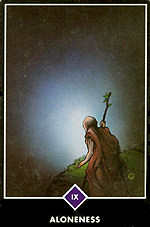 In the tarot Virgo is The Hermit. In the Osho Zen tarot it is called 'Aloneness'. "When you are alone, you are not alone, you are simply lonely-and there is a tremendous difference between loneliness and aloneness. When you are lonely you are thinking of the other, you are missing the other. Loneliness is the absence of the other.
Aloneness is the presence of oneself. Aloneness is very positive. It is a presence, overflowing presence. You are so full of presence that you can fill the whole universe with your presence and there is no need for anybody.
"Be the light unto yourself."
Tad Man's affirmation for The Hermit is similar "I look within for the guidance of my higher self to elevate my moods and direct me to the light.
Mercury rules Virgo-what Messages will be delivered?
Mercury in Pisces endorses the qualities of Neptune, the Dreamer archetype. Healing issues concerning the negative of Pisces which are being in sacrifice become important. Pisces is the most sensitive sign of the zodiac. Its positive attributes are creativity and gifted in music and the movies. The shadow wisdom is having no boundaries, being in sacrifice, giving to others but not receiving. The lesson is to learn to say No. And know that No is a complete sentence.
Key Dates
2nd Mercury into Pisces
7th Saturn enters Pisces
12th Jupiter conjunct Chiron
15th Sun joins Neptune- a daydreaming day. Great for meditation.
16th Venus into Taurus. Sun square Mars, Mercury joins Neptune
17th Mercury joins Sun. Mercury square Mars
19th Mercury into Aries
20th SPRING EQUINOX Sun into Aries
21st Aries New Moon
23rd Pluto into Aquarius. this is a brief transit until June 11th when it returns to Capricorn.
25th Mars into Cancer. Ends 6 months in Gemini.
28th Mercury joins Jupiter. Think big!
30th Venus joins Uranus
This month we are navigating Piscean waters along with the fiery energy of Aries. Pisces rules the 12th sign of the zodiac. Everything changes at the Spring Equinox starting the astrological new year.
This Full Moon might also bring an important revelation linked to the longer trend of Mars in Gemini. Mars will finally leave Gemini on March 25, and before then you might need to end or complete something that's been lingering or bothering you since last August
Venus is in Aries. Venus in Aries is the Warrioress who fights for a cause. It's an Evening Star. It entered Aries on February 20th at the New Moon in Pisces. On March 2nd it joined Jupiter and can be seen after dark as it rises higher in the night sky. Its an impressive sight. Venus is the diamond in the sky, so brighter than Jupiter.
Mars is in Gemini. This is a sign ruled by Mercury, so I pray there will be a softer approach to anger issues/getting needs met. Under anger there is grief, which is symbolised by this New Moon in Pisces.
Jupiter is now direct. It moved into Aries on December 20th 2022 for approx. 5 months. Then it will move into Taurus for an entire year on May 16th until May 26th 2024. This is wonderful news for Taurus and Scorpio.
Saturn moves into Pisces on March 7th. This ends two and a half years of Saturn in Aquarius so comes as a welcome relief for all Aquarians and the other fixed signs of Leo and Scorpio. Water signs will benefit as will earth signs.
Think back approx 29 years to remember what was going on in your life back then. Its approx. February 1994-to April 1996. It's a far gentler energy that it has been for the past 5 years! Saturn rules boundaries so can contain water with walls. Think of a swimming pool. This makes water and therefore emotions safe. It stays in Pisces until May 2025.
Uranus in Taurus is now direct activating 15 degrees Taurus. Make some practical changes in your life and throw out anything that doesn't bring you joy! (It went direct on January 22nd.)
Neptune The Dreamer is now direct. In Pisces it favours all the water signs. Watch your visions and dreams, get creative and meditate. We now have an opportunity to bring our dreams into manifestation. Trust your intuition. Venus joins Neptune on February 15th– just in time for Valentines Day.
Pluto in Capricorn is direct. Pluto is an outer planet and affects world events. However it becomes more personal if it connects with one of inner planets in your chart. These are the Sun, Moon, Mercury Venus and Mars. It is activated at mid-life when it makes a square to itself around the age of 38. It will move into Aquarius briefly on March 23rd until June 11th.
New Service: Guidance for the Year Ahead using astrology's best kept secrets!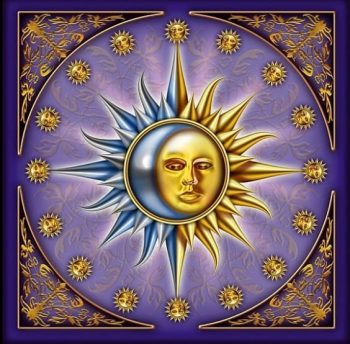 If you are struggling to find guidance on how to navigate the year ahead, or a theme for your business or personal life, then I can help.
Using the Solar Return chartalong with your agetells you what your guardian angel-the planet/archetype that is in focus for your year ahead. This special guiding planet for your birthday year, is known as atime lord.
So ages 12, 24, 36, 48, 60, 72, 84 are rebirth years with a focus on the first house.
The 12th house years are 11, 23, 35, 47, 59, 71 and 83. These are years of retreat, of going within.
This Time Lord repeats every 12 years, however the Solar Return chart is always unique.
For example, if the sign for your year is Leo, ruled by the Sun, then it's a year for leadership and creativity.
If its Gemini, ruled by Mercury then its a year to write that book or get busy with launching or refining your website. Networking with like minds is also excellent.
I can then tell you what months are best for being visible, and what months are best for some rest/holiday or retreat.
I gave a FREE MasterClass on this subject last year. I explained the ages and what they represent. If you have your birth chart it will really help you understand this technique. I use whole signs for the best results rather than the Placidus house system.
You'll learn how important your birthday and your age is, and how this shapes your mindset, mood and levels of motivation for the year ahead.
Theme of the Year Consultation Each session is for One Hour for £85.The recording is now on this page.
Testimonials
Pam's profections and solar return combo reading was an innovative and enlightening experience!
She shared the theme for the year as well as the targeted themes for each month of the year and crucial dates. This provided a focus for each month and a heightened focus of awareness for each month as well as key dates for a sharper focus.
We covered such rich ground it felt like an odyssey.
I would be thoroughly remiss if I did not add how lovely and generous Pam is, and how her lightness, along with deep knowledge, makes the experience.
Highly recommended. Patty B.
Many thanks again, Pam, for your awesome expertise, generosity and healing. Your Theme of the Year reading has energised me to move forward into 2023 with grace and passion. I also have clues now about 2024 as well! Your care and dedication to helping us all evolve makes you a fabulous counsellor and educator. I look forward to consulting you again. Anita
Theme for the Year Consultation
After taking Pam's free Master Class, whereby she explained how to use Profections to focus on the year ahead, I was intrigued; particularly as I was only weeks away from my solar return in February.
As I wanted to ensure that I made the most of the promising opportunities I anticipated were in store for me during my forthcoming Jupiter year I booked a consultation with Pam. I knew I had only grasped the rudiments of the system. As I suspected it's a lot more complicated than just knowing your Lord of the Year!
Pam began by telling me about what had happened in my life during the past year. She doesn't know me that well so it was uncanny: she told me why the previous twelve months of my life had been beset by difficulties and in which areas. Thereafter, as Pam unravelled my chart for this year—month by month—she provided me with a lot of detailed information about the influences that I will find myself under during 2023 and how they will manifest.
Pam is a warm, gifted astrologer who wears her learning lightly. At no point did I feel that I was listening to a dry astrology lecture. Rather my consultation was informative, enlightening and empowering. I highly recommend her. Sophia
blessings,