Songs for Healing Your Heart- Angels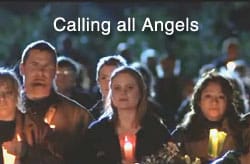 In healing numerology, 10 is the number for birth. It is said that at our birth the angels cry, and at our death they sing.
This song was played at the end of the movie 'Pay it Forward' and it never fails to bring tears to my eyes.
In the story the young boy Trevor, is set an unusual assignment by his teacher (Kevin Spacey) to think up a practical way to make the world a better place, and put it into action.
Trevor comes up with the notion of "Pay It Forward" — do a needed favor for three different people without being asked, and then ask them to do the same for three others.
This video shows the end of the movie when-in the process of protecting a boy from bullies, Trevor has been killed.
Heartbroken, his mother Helen Hunt and her lover Kevin Spacey, witness the moving tribute from all the people Trevor has helped by his simple, yet profound, idea.
For me, this concept illustrates that there are those we have come to help, although we may never meet them, they are following us.
Our soul's purpose is to reach out to help others. Even if its just three. It's what leadership is all about.
Song: 'Calling All Angels' by Jane Silberry
'Calling all Angels' Lyrics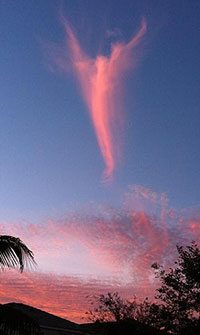 Oh, a man is placed upon the steps, a baby cries
and high above you can hear
the church bells start to ring
and as the heaviness, oh the heaviness, the body settles in
somewhere you can hear a mother sing
then it's one foot then the other
as you step out onto the road of hope
step out on the road
how much weight? how much?
then it's how long? and how far?
and how many times oh, before it's too late?
calling all angels calling all angels
walk me through this one
don't leave me alone
calling all angels calling all angels
we're tryin' and we're hopin'
but we're not sure how…
ah, and every day you gaze upon the sunset
with such love and intensity
why it's ah, it's almost as
if you could only crack the code
then you'd finally understand what this all means
ah, but if you could…do you think you would
trade in all, all the pain and suffering?
ah, but then you'd miss
the beauty of the light upon this earth
and the sweetness of the leaving
calling all angels calling all angels
walk me through this one
don't leave me alone
calling all angels calling all angels
we're tryin' and we're hopin'
but we're not sure…
calling all angels calling all angels
walk me through this one
don't leave me alone
calling all angels calling all angels
we're tryin' we're hopin'
we're hurtin' we're lovin'
we're cryin' we're callin'
cause we're not sure how this goes