Songs for Healing Your Heart- Hope and Joy
In healing numerology, 11 is the number for leadership and also a new level of partnership, as it adds up to 2, the partnership number.
When we are in partnership with Heaven, then we are leading without being in sacrifice.
The art of good leadership is to bring joy to others!

Rainbows are symbols of hope, of rebirth, a new world and they are quite stunningly beautiful.
Israel Kamakawiwoʻole, was a true leader and a man loved by thousands. As sung by him, this song is full of joy and celebration.
Hawaii is known as the land of rainbows and in my healing journey I have been blessed to travel there countless times to train with Psychology of Vision. If you ever get the chance to go there, go. You won't be disappointed.
From Wikipedia:-
Kamakawiwoʻole was a leader by his songs, and was known for promoting Hawaiian rights and Hawaiian independence, both through his lyrics, which often stated the case for independence directly, and his life.
His song Hawai'i '78, where the lyrics 'the life of this land is the life of the people/ and that to care for the land (malama 'āina) is to care for the Hawaiian culture', a statement which many consider to summarise his Hawaiian ideals."
He married his childhood sweetheart and had a daughter. Struggling with obesity all of his life, he died in 1997.
"The Hawaii state flag flew at half-staff on July 10, 1997, the day of his funeral. His koa wood coffin lay in state at the state capitol building in Honolulu. He was the third person in Hawaiian history to be awarded this honor, and the only one who was not a government official.

Approximately ten thousand people attended the funeral. Thousands of fans gathered as his ashes were scattered into the Pacific Ocean at Mākua Beach on July 12, 1997.

The funeral and the scattering of Kamakawiwoʻole's ashes were featured in the official music videos of "Over the Rainbow" released posthumously by Apple Company."
As of June 2013, the video on YouTube has garnered over 84 million views. This is the video I share with you today.
Song: 'Somewhere Over the Rainbow' sung by 'Iz' Israel Kamakawiwoʻole
'Somewhere Over the Rainbow' Lyrics by Harold Arlen/ E.Y. Harburg for The Wizard of Oz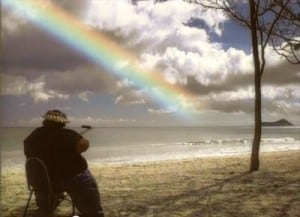 Somewhere over the rainbow, way up high
There's a land that I've heard of once in a lullaby.
Somewhere over the rainbow, skies are blue
And the dreams that you dare to dream,
Really do come true.
Someday I'll wish upon a star
And wake up where the clouds are far behind me.
Where troubles melt like lemon drops,
High above the chimney tops,
That's where you'll find me.
Somewhere over the rainbow, blue birds fly
Birds fly over the rainbow
Why then, oh why can't I?
If happy little bluebirds fly beyond the rainbow
Why, oh why can't I?
Find out more about Israel Kamakawiwo'ole at