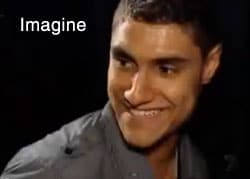 Songs for Healing Your Heart- Transformation
In healing numerology, 14 is a deeper aspect of the number 5, which is the number of Transformation.
Transformation may sound easy but it's not. Just like the caterpillar melts into a cocoon, and then the butterfly emerges, it's a deep process.
Soul patterns are crucial to understand as they help us unravel the problems we face in our lives.
Did you have a trauma in your life age 5 or 14?
It could be the subconscious reason why you can't move forward into the success and harvest time that the number 6 represents.
Emmanuel's story of triumph over adversity
The song I have chosen today is 'Imagine' sung by Emmanuel Kelly on an audition for Australia's X Factor in 2011.
Emmanuel was born in Iraq during war and placed in an orphanage with his brother. He was found by aid worker Moira Kelly and taken to Australia for surgery. She fell in love with the little boys and adopted them.
His dream is to be a professional singer.
He has extraordinary courage, a winning smile and sings from his heart.  Each time I watch, his story – and his performance – brings tears to my eyes.
After he sang this tweet arrived from Yoko Ono:-
"Thank you, Emmanuel. You sang beautifully! Thank you. John would have been proud of you. Thank you, thank you, thank you. Love, Yoko."
Song: 'Imagine' sung by Emmanuel Kelly
'Imagine' Lyrics by John Lennon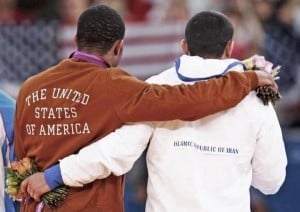 Imagine there's no heaven
It's easy if you try
No hell below us
Above us only sky
Imagine all the people
Living for today…
Imagine there's no countries
It isn't hard to do
Nothing to kill or die for
And no religion too
Imagine all the people
Living life in peace…
You may say I'm a dreamer
But I'm not the only one
I hope someday you'll join us
And the world will be as one
Imagine no possessions
I wonder if you can
No need for greed or hunger
A brotherhood of man
Imagine all the people
Sharing all the world…
You may say I'm a dreamer
But I'm not the only one
I hope someday you'll join us
And the world will live as one
Moira Kelly-his adopted mother
Born 31 January 1964, Moira is an Australian humanitarian worker. In 2001, she was awarded the Order of Australia in recognition of her humanitarian service to both the Australian and international communities. In 2012, Kelly received the Victorian of the Year award and in 2003 and 2004, she was nominated for the Australian of the Year awards.
Moira Kelly is also the adopted mother of Iraqi-born brothers Emmanuel and Ahmed Kelly. The brothers, born with "severely underdeveloped limbs", were discovered by Kelly in 1998 at the Mother Teresa Orphanage in Baghdad. Kelly brought them both to Australia for medical treatment and subsequently adopted them.
In 2009, Ahmed and Emmanuel Kelly became Australian citizens. Ahmed, a quadruple amputee and swimmer, represented Australia in the 50 metre breaststroke, 50 metre backstroke, 150 metre individual medley, and the 100 metre freestyle at the 2012 Summer Paralympics.
Emmanuel Kelly was a contestant on the 2011 season of The X Factor. He was cut from the competition on 11 September, 2011, "after forgetting the lyrics several times during his performance."
Following his appearance on The X-Factor, he met with producers and auditioned for The Glee Project.