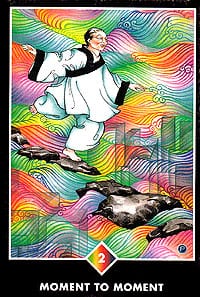 Learning to Dance on the Shifting Carpet
Have you been feeling as if you're on a roller coaster ride?  It's not surprising as it's been a really turbulent month. The astrological weather is one of constant change.
These are all major events -one would be significant, but the combined pressure of all of these is immense. Cancerians especially have been hammered.
June 3rd -9th Neptune and Chiron both went retrograde in the early degrees of Pisces. This is the most sensitive of signs and these planets represent healing, but also a feeling of being lost, with no hope. Tearfulness and deep emotions can come out of the blue. All water signs Cancer, Scorpio and Pisces can be feeling this. It's a slow effect and Neptune stays at 0 degrees Pisces for over 4 months.
June 1st, June 15th, July 1st. A month of eclipses. To have three in a row is unusual and all dates are powerful times of change. As the Sun or Moon the two luminaries- are temporarily darkened we can all feel that the light has gone from our lives. Fear can prevail. Especially vulnerable to be caught in this negative dark energy are Gemini, Sagittarius, Cancer and Capricorn.
June 13th Saturn stationed to go forward at 10 degrees Libra. However it takes 10 weeks to move from that degree of the zodiac! Librans are most affected as it's in their sign, but all the cardinal signs will feel this slowing down effect- Aries, Cancer, Libra and Capricorn.
This month sees the start of the personal planets lining up to face Pluto.
June 19th Mercury opposite (Gemini and Virgo felt this)
June 28th Sun opposite (Cancer and Leo are affected)
July 9th Venus opposite (Taurus and Libra feel this)
July 11th Mars opposite (Aries and Scorpio are affected)
Free Yourself from Unconscious Patterns
Pluto is the planet of the unconscious so when there's an opposition we are being asked to face our fears, our shadows and reclaim our power.
An opposition tends to work as someone in our world acting out the Pluto.
Awareness is the key, so ask yourself who you may be projecting this out onto?
Who or what frightens you? Recognise that this is an unconscious pattern -it's not the truth- and be willing to hand it over to your Higher Mind.
See my article on Busting through Fear to help you.
Also if you are experiencing a tough time spiritual life coaching or coming on a healing workshop will really speed up your process, as these unconscious patterns are hard to identify on our own.
New website
I have completely revamped this website and welcome comments. Its built with WordPress and I have been designing site for clients with this platform for over 18 months.
If you are looking for a redesign for your website I'd be happy to discuss it with you. Plus please let me know if there are articles you'd like me to add.
Steps to Leadership: Psychology of Vision Course
I am teaching an online course in 10 modules via Skype. This innovative course is the foundation of Psychology of Vision which is the model and the healing principles I use in my work.
Proposed starting date is Monday September 5th at 8pm and there are 10 places.
Please email me if this interests you!
If it does, and the dates don't work, I am willing to run another course alongside this one, so please contact me.
Healing Your Birth Story Workshop July 9th/10th
Want to clear your past life and ancestral stories?
This workshop is unique as it works with your birth chart- the reason for your soul's incarnation- and maps it on the floor for you to see, feel and experience.
Magical things happen as the workshop evolves.
The fee includes an Aura-Soma reading on the phone which gives insight into your Soul Purpose and past life indications AND an astrology consultation.
All for the earlybird price of £190 if you book before the New Moon on Friday July 1st.
There are still some places for you to join us. Why wait? Book now- your soul needs this…
Healing Your Birth Story find out more>
blessings, Pam xxx