Leo New Moon –  Leadership is the Theme of the Month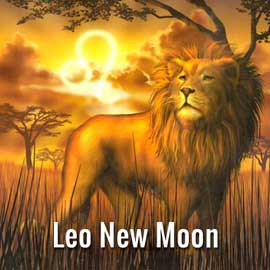 Courage, leadership and play are highlighted at this Leo New Moon with 4 planets in Leo. This is the sign ruled by the Sun and the symbol is the lion.
The main news at this New Moon is that Mercury is now direct. While Mercury was moving retrograde it was travelling through the sign of Cancer during the last 2 weeks of July, as well as most of June.
 Have you been flooded by old memories, especially if you have planets in Cancer?
When Mercury moves into Leo on August 12th, its a call for us all to step into our leadership and speak our truth. At this Leo New Moon the Warrior planet Mars is aligned with the Sun, Moon and Venus. This is an energy which has to be expressed physically through dance, martial arts or wrestling with the kids.
Please watch my video for more insights. I can speak faster than I can write!
KEY DATES
The New Moon is at 8 degrees Leo on 1st August at 4.11 BST.

Sun into Virgo 23rd August- 23rd September.
Mercury in Cancer.  Cancer is a sign ruled by the Moon so emotions can be fraught. It goes direct at 24 degrees Cancer on 1st August at 4.57 BST.  It finally re-enters Leo on 11th August.
Venus in Leo from 28th July until 21st August. The Goddess is now in the sign of The Queen. A time to step into your power and shine.
Mars in Leo on 1st July. This is the sign of the King/Queen. The Warrior wants to play and show off! Mars takes 2 years to move through all the signs, so this is a positive boost for all fire signs, Aries, Leo and Sagittarius. 
Venus and Mars join in Leo This is a rare event. It occurs on 24th August at 4 degrees Virgo.

Jupiter goes direct in Sagittarius on 12th August. As The Great Benefic- the planet of gurus and great good fortune, it now has more power for spiritual teachers and the law. It stays in its home sign until 2nd December 2019. This is hugely beneficial for all the fire signs- Sagittarius, Aries and Leos.
Chiron The Archetype of The Wounded Healer is now retrograde. It went retrograde on 9th July at 5 degrees Aries. It stays in Aries for the next 8 years until 2027.
Uranus goes retrograde on 12th August at 6 degrees Taurus. It's in Taurus for 7 years. Watch out for upsets on that date.
Vedic View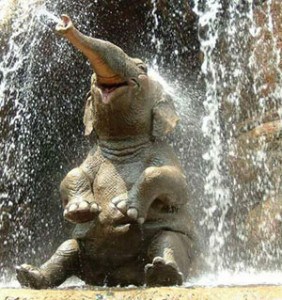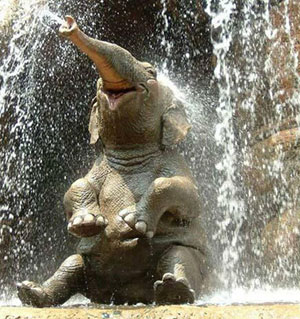 Western astrology uses the Tropical zodiac which relates to the seasons. Vedic astrology uses the sidereal position of the planets-the actual constellations. This is the true position as seen against the background of the fixed stars. The difference between the tropical and sidereal zodiacs is that the sidereal zodiac used in Vedic astrology accounts for the slight wobbling of the earth on it's axis.
One reason I love this system is it focuses on the Moon.
In India a different system of celestial signs has also been used. It is a system of 27 signs and each sign has a length of 13 degrees and 20 minutes, rather than 12 signs of 30 degrees each. These 27 signs are known as "nakshatras".
Each month the Moon God travels through 27 lunar mansions, the nakshatras. He is visiting his 27 wives in turn- his favourite is called Rohini in sidereal Taurus.
At this New Moon the lunar mansion is called Pushya, in the constellation of Cancer. It's deity is Brihaspati (Jupiter) who is the priest and teacher of the gods. It is a devoted nakshatra, caring, nurturing and good. Keywords are prosperity, expansion, popularity, nourishing and happiness.
Great time to start a project
This nakshatra is highly auspicious since any venture started in this lunar mansion is favourable. The Sun stays there until August 3rd. Then Mercury travels through Pushya from 10th August until 17th August.
Now Mercury is moving direct, plans that have been thwarted can go full steam ahead!
Feminine Leadership

As Venus is now in Leo it invokes the Archetype of The Queen/King. I have 2 astrology reports that focus on the feminine in your birth chart.  The first is The Goddess Report.

This is a wonderful report to give to yourself, or as a present.
This is an intimate tour of your natal chart that clearly shows you the full range of talents and resources you possess and may not be full aware of.The roles that women are asked to play have changed and are continually evolving. Today, a woman is often expected to carry out the tasks of a career person, a wife, mother, community leader and more – all simultaneously.
In your Just for Women report Gloria carefully reveals each layer of your complex character to give you access to all of your strength and power. This is not just an intellectual exercise it is an empowering journey that can invigorate and energise your life.
Gloria Star has used her years of experience to create Just for Women, a natal report that covers every facet of the modern woman's experience:
Understanding Your Inner Feminine Self
Owning Your Inner Masculine Self
Developing Your Mind
Your Special Edge
Nurturing and Creating a Home
Meeting the World on Your Terms
Opening Your Heart
Power Issues: Sex, Money and Control
Embracing Your Divine Self
Find out more about the Just for Women astrology report>
For the full list of astrology reports see this Astro Shop Page>
blessings,
Testimonials
"Thanks for your amazing consultation. I feel my energy released and feel healing already taking place within me. I really love the way you work – you have fired me up and I feel filled with enthusiasm, energy and life today." Julia Chapman
"Pam is an amazing astrologer. She brings to her consultations a brilliance and clarity that provides insights which have proven to be very valuable. I have listened and learned so much from her and her sessions have provided me with an in-depth look at my world which has given me the opportunity to make the right choices. I would highly recommend a consultation with her." Susan How
"Thank you so very much! I feel that another major shift has occurred, and that the way forward is exciting. I am raring to go with the family, and now more fully understand (and acknowledge) that being number 4 in the kids lineup, is tremendous. I'm excited and invigorated." Merril