To understand what's going on at this New Moon in Gemini- watch the news
The good news is that we have now finished the eclipse season with this New Moon in Gemini. It begins a new cycle of energy.
However the mutable air sign of Gemini is ruled by Mercury which is still retrograde. Mercury moves direct on June 3rd at 9am BST. Its currently in Taurus- a fixed earth sign- not really suited to fast moving Mercury. Mercury asks questions and with a powerful trine to Pluto questions are indeed being asked. They will be asked again once Mercury is direct and trines Pluto for the final time on June 10th.
In the US Vice President Kamala Harris is asking questions about the obvious (for us in the Uk who don't sell assault weapons  and don't have shootings in schools since Dunblane) need for gun control. The US is going through its Pluto return which is highly significant. It has Mars in Gemini, squaring Neptune plus Mercury is retrograde in Cancer. As Neptune is rising in the chart, illusion is the motivation for the US. Not the best aspects for clear thinking.
Mercury retrograde can mess up communications and truths can be hidden. In the Uk the ongoing saga of 'Partygate' seems to have lessened in importance as soon as the outbreak of the war in Ukraine began on February 23rd.
The lunar eclipse in Scorpio was significant as on May 16th Saturn in Aquarius formed the exact challenging square to the eclipse. This is karmic. The energy of a lunar eclipse lasts for a month. Eclipses are turning points and the Lunar Eclipse on May 16th was the one to watch. It happened at 25 degrees Scorpio/Taurus. Ask where is Taurus in your chart? What house (areas of life's activity) can it promote? Here's a link to the page Houses in Astrology
Mars joins Jupiter-Ready for Action
Mars is now in its home sign of Aries which only happens every two years. On May 29th it joins Jupiter, which makes it a rare event. Mars and Jupiter in Aries energises action with a meaningful motive. A conjunction is the power of One, of Oneness and focus. Its a union of two energies that need integrating.
The Queen's Platinum Jubilee
In the UK we celebrate the Queen's Platinum Jubilee. The Queen's birth date is April 21st 1926. She has the Sun in Taurus with the generous and warm hearted Moon in Leo. Her ascendant is Capricorn, so her chart ruler is Saturn – the planet of duty and responsibility -which is at her MC (the top of her chart). This is a signature that indicates her long reign and her commitment to her duty and to her vocation to her work. Plus she has Mars joined to Jupiter in Aquarius in her birth chart.
Mars principle is the desire for power, which can be the goal of the ego if used unwisely. Jupiter  concerns morality. It wants growth and freedom. It believes everything is possible and that it has a right to grow and expand. Jupiter's shadow is righteousness- that God is on my side. Mars is the God of War. Hence religious wars.
The positive is setting goals with a clear purpose asking What do you want to achieve? What's significant for you?
Earth Signs-Enjoying Venus
On May 28th Venus enters fellow earth sign of Taurus where it is 'at home' so a positive boost for you. This is the energy of Aphrodite, the Lover. Taurus is sensual, motivated by pleasure. Venus in Taurus values things that last and are beautiful.
Water Signs- Neptune-Feeling Invisible?
The only planet in a water sign at this New Moon in Gemini is Neptune and the South Node of the Moon in Scorpio. The Moon will of course travel through all the signs of the zodiac in a month. The Sun moves into Cancer on June 21st, when family and feelings come into our  collective awareness. In my video I suggest using the pleasure principle of Venus in Taurus-a compatible element for water -and adding an essential oil such as ylang ylang or geranium to your bath.
Air Signs- Mercury will soon re-enter Gemini
As we enter the last weeks of May, Mercury is now retrograde in Taurus. The messenger planet went retrograde on May 10th at 5 degrees Gemini and then went back into Taurus on May 23rd. It returns to Gemini on June 13th. By June 18th the 'shadow period' is over and communications can start to flow again. It finishes its stay in Gemini on July 5th.
So while Mercury is still retrograde keep patient if tech stuff plays up and if you can, avoid signing contracts at this time. Read the small print! Saturn is still in Aquarius and is in close T square with the Nodal axis. Saturn can act in two ways, procrastination and depression, or once the past is healed and the burden lifted it becomes mature and is the planet of Mastery. Mercury in Gemini promotes humour but can be the Trickster.
Fire Signs- Welcome Jupiter the King of the Gods into Aries
Fire signs bring warmth, enthusiasm and lifts us up. Mars now in Aries forms a conjunction with Chiron at the Full Moon on June 14th. Chiron is the Archetype of the Wounded Healer. It isn't a planet but a centaur and its vibration to awaken is similar to Uranus except it's a 50 year orbit as opposed to the 84 years Uranus takes to complete its journey through the sky.
Slower Moving Planets
Jupiter: The Explorer/Teacher in Aries
Where Jupiter is placed in your chart is where you find your Faith. Jupiter is now in Aries from May 10th until it re-enters Pisces on October 29th until December 20th 2022. As Aries is the first fire sign it's the Pioneer and activates all 3 fire signs:- Aries, Leo and Sagittarius.
Saturn: The Strategist/Authority in Aquarius
It is now in Aquarius, a sign it co-rules with Uranus. The theme of last year is Saturn in a tense relationship (a square) with Uranus. This is now almost over.
Instead we see Saturn creating a T square with the nodal axis. This is very karmic and letting go of the past is the key to work well with this energy, especially healing ancestral patterns. Saturn goes retrograde on June 4th so this aspect will be relevant until the end of June.
Neptune: The Dreamer/Visionary in Pisces
The date that is most important was April 12th when Jupiter joined Neptune in Pisces.
Uranus- The Renegade/Awakener in Taurus
Uranus takes approx 7 years to go through a sign and always brings change/revolution. It is the planet that rules inventions and genius. Its now in Taurus (May 2018-April 2026 approx.) and we are witnessing the alarming news about climate change. Taurus is ruled by Venus, and as it's an earth sign, we are now concerned with agriculture, our food chain and an awakening to our planet's resources. In our daily lives Uranus wants to shake thing up and cut out old wood.
Pluto-The Transformer/Regenerator in Capricorn
Pluto is the slowest moving planet and currently travelling through Capricorn from 2008 until 2024. It is the God of the Underworld, buried power and the unconscious. It is assigned to Scorpio who also have Mars as their ruler. The transit of Pluto in Capricorn calls for deconstruction of the establishment and institutions. It went retrograde on April 29th until October 9th.
Recent Testimonial
You have given me so much to think about, from discovering my rising sign at last to an introduction to Mayan astrology. It was a fantastic afternoon of discovery about myself and my roots and my potential. I am following up on the reading list (thank you so much for the suggestions – brilliant) and slowly coming to terms with my new persona. The sheer breadth of the reading was really eye opening, as I thought I knew a fair amount about astrology but you opened new pathways for me. So I would warmly recommend a reading with Pam; discovering so many unexpected links and connections has meant that many things are resonating and bells are still ringing!

Thank you so much! All the very best, Marie-Ann
I have updated the freebie of the Key Dates for the New and Full Moons in 2022. It is sent out to all my subscribers.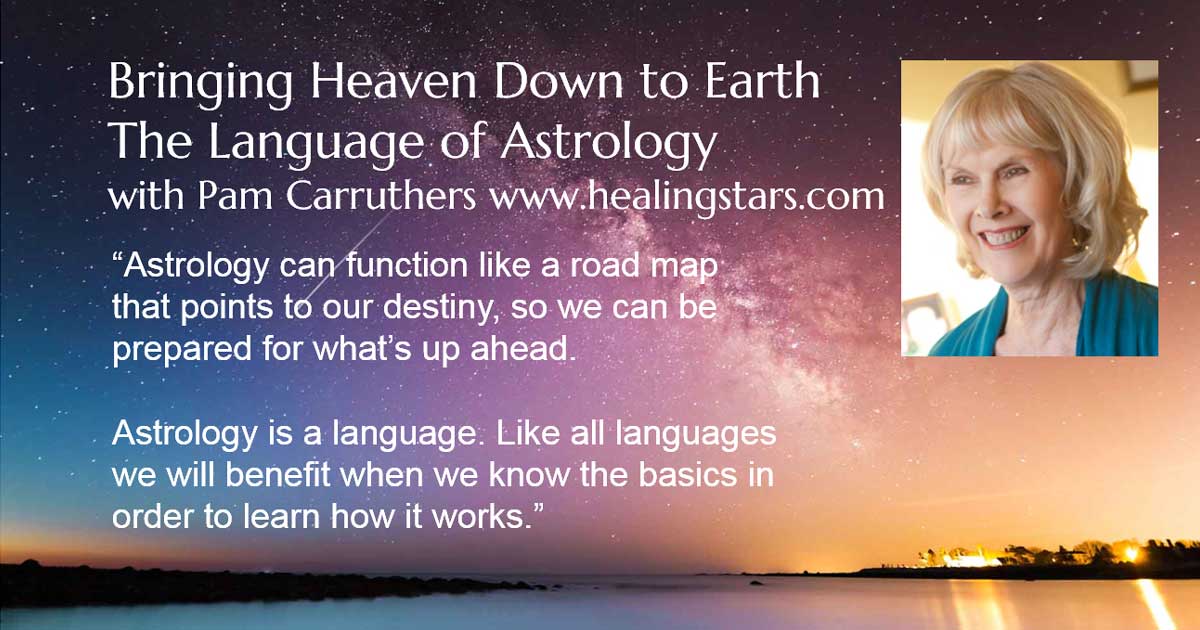 Sign up for FREE MasterClass on the Language of Astrology.
Astrology is a language. Like all languages we will benefit when we know the basics in order to learn how it works. On this beautifully illustrated MasterClass Pam will introduce you to the building blocks of astrology.
These are:-
The 4 Elements:- fire, earth, air and water. What if you have a weak or missing element?
The 12 Houses and their meanings. They develop from the 1st house. Its rare to have a planet in every house.
The 12 Signs of the Zodiac-the most important are the Sun and the Moon, and the rising sign and its ruler.
The 3 Qualities:- cardinal, fixed and mutable. These can change the dynamics of a chart.
To benefit from this MasterClass you need to have a copy of your birth chart.
I can send you one that shows you the planets and elements in your birth chart. Email me via the Contact Form with your birth details. I need your name, date and time of birth, city and country.
blessings, Pam x
Your Spiritual Path Report Now on Sale!
This report tells you about past life lessons that are brought forward into this life.
Our spiritual character and needs are defined at birth. Yet from that same moment, forces around us begin to exert sometimes overwhelming influences on the direction of our spiritual development. Though well intended, these forces may move us along a path contrary to our own best interests.
This conflict between your inner spiritual being and outside forces may cause a dissonance that vibrates negatively through every aspect of your life. Learning to identify and acknowledge the characteristics that define your innermost self is the first step in achieving the inner peace you seek.
This report does not attempt to define your spiritual goals or offer philosophical opinions about what they should be. Rather, it provides an unbiased perspective on the characteristics that define who you are on a spiritual level.
More importantly, it gives you a clear understanding of how to best nurture and develop those characteristics that enhance your progress toward spiritual maturity.
"The voice within us will not be denied. It continues to drive us, inspiring us to change and grow."
It aims to answer the questions:
What am I here for?
What is the best way for me to connect with my spirituality?
How are my struggles related to past life actions?
There are many ways to bring spirituality into one's life. This report seeks to give you insight into what works best for you from a spiritual point of view. What challenges must you overcome to live a full life and what qualities you can depend on to get through the tough places.
In line with Pam's philosophy, this report speaks about one's whole life from the spiritual point of view.
It covers all the planets and focuses on the 4th, 8th, 9th and 12th houses as they apply to spiritual development.
Author, Stephanie Clement has a PhD in transpersonal psychology. She makes frequent use of the Jungian model – intuition, sensation, thinking and feeling – as they correspond to the astrological elements of fire, earth, air and water.
Your Spiritual Path speaks to the challenge between living a spiritual life and the pull of the world that can take us off our true path.
It contains lots of wisdom about living a spiritual life as well as keys to one's particular formula for living fully as symbolized in the natal chart.
Your Spiritual Path Report includes:
Your Creative Process  – Core Beliefs
Communication and Mental Development
Self-Esteem & Development of Spiritual Partnerships
Doubt, Resistance, and Development of Psychic Ability
Death & Transformation as Spiritual Processes
Development of Intuition
The Midheaven: Self-Awareness and the Use of Intuition
Karma & Dharma
Transcendent Values ~ Your Spiritual Persona
Expressing Spirituality in the World
"This report is very popular because it speaks directly to one's innermost layers. People who have a spiritual outlook on life often find that this report reaches directly into the core of their being. That's very good for a computer generated report." Mark McDonough President Astrodatabank

"Thanks very much for the report. I was amazed at how many things were so pertinent to me. It is very accurate in so many respects." Chris
Aspects of the Moon
Your higher values radiate from you in the form of spiritual vision. Your actions become more and more consistent with your inner values. You demand discipline from yourself, and you expect it in others. You may have had harsh teachers.
Your spiritual path focuses on compassion for others, and you have to develop compassion for yourself as well. When others provoke fear in you, look also for the love they struggle to express.
Your inner spirit functions easily on the intuitive plane, as you are able to identify and listen to the voice that guides your interactions with others to both their highest good and your own. You can feel change coming long before it arrives."
After payment you'll be redirected to a Contact page where you enter your birth details – Date, place and time of birth.
Your information is entered by hand so will be delivered as quickly as possible.