Pisces New Moon and Mercury Retrograde
Pisces is the last sign of the zodiac whose symbol is the two fishes swimming in opposite directions. Pisces is governed by Neptune and asks us to surrender into deep feelings and feel connected to Oneness.  Neptune is the dream world, the archetypes of The Mystic, The Dreamer, The Poet and the Healer.
Pisces is ruled by the gas giant, Neptune, God of the Ocean, the Sea of Consciousness. We can float or drown in the ocean, and as every sailor knows, it has tremendous power. The floods in the Uk and the Corona Virus are symbolic in the collective of deep emotion, loss and grief.
The shadow of Pisces is being overwhelmed by emotions and giving in to escapism by way of addictions. These can be drugs, but also over indulgence in too many hours spent on Facebook, or watching TV,  especially box sets!
Pisces Constellation and Myth
Pisces is the faint constellation of The Fishes. In the ancient myth Aphrodite and her son Eros were being pursued by the monster Typhon. To escape him they turned themselves into fish and swam away, but they tied their tails together so they would not be parted. This story as a metaphor reveals how the Goddess of love can transform herself to escape the monstrous. In 7BC there was a triple conjunction of Saturn and Jupiter in Pisces, which is said to be the Star of Bethlehem heralding the birth of Jesus Christ.
Lost Constellation and The Swan
I am fascinated by myths and the constellations and researched the hidden meaning for this New Moon in Pisces.
In the book The Lost Zodiac 22 Ancient Star Signs by Catherine Tennant, the author introduces us to the constellations that lie beyond the ecliptic- the path of the Sun and our zodiac. These constellations have legends associated with them, when humankind was in direct relationship with the starry skies.
If you are born between February 9th and 29th, then you are connected to the group of stars called Cygnus The Swan.
In Greek mythology, Cygnus has been identified with several different legendary swans. Zeus disguised himself as a swan to seduce Leda, Spartan king Tyndareus's wife, who gave birth to the Gemini, Helen of Troy, and Clytemnestra. Orpheus was transformed into a swan after his murder, and was said to have been placed in the sky next to his lyre (Lyra); and the King Cygnus was transformed into a swan.
The Swan in the Medicine cards connects us to Grace.
"Swan ushers in a time of altered states of awareness and of development of your intuitive abilities. Swan medicine people have the ability to see the future, to surrender to the power of Great Spirit, and to accept the healing and transformation of their lives. The Swan card is telling you to accept your ability to know what lies ahead.
If you are resisting your self-transformation, relax; it will be easier if you go with the flow. Stop denying that you know who is calling when the phone rings. Pay attention to your hunches and your gut knowledge, and honor your female intuitive side.
So it is that we learn to surrender to the grace of the rhythm of the universe, and slip from our physical bodies into the Dreamtime. Swan medicine teaches us to be at one with all planes of consciousness, and to trust in Great Spirit's protection." From Medicine Cards by Jamie Sams and David Carson. These are gorgeous tarot cards that I love.
Take heart that the light is there at the end of the tunnel.
Make your Wish List at the Magic of the New Moon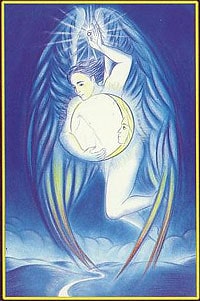 I have often suggested that you make a wish list 8 hours after the New Moon, and up to 48 hours later. This month you may like to consider your inner happiness and releasing helplessness.  This is the ideal time to strengthen your connection to the Divine. If you need comfort imagine yourself in the arms of your Guardian Angel. Another technique that I have used, is to call on your older and wiser self to support you.
Some wishes may be:-
"I want my imagination activated, leading to new and positive views about life."
"I want to feel spiritually fulfilled and happy."
"I want to easily surrender all worries and anxieties into the healing hands of a Higher Power."
"I want all psychic disturbance totally lifted from me."
"I want to experience the healing power of love."
Key Dates
New Moon in Pisces 23rd February at 4 degrees Pisces at 15.31 GMT. This is the penultimate New Moon at 4 degrees.
Full Moon 9th March at 19 degrees Virgo/Pisces. Neptune in Pisces will be fully activated at this Full Moon.
Mercury is now retrograde in Pisces. It re-enters Aquarius while retrograde on 4th March. Goes direct on 10th March in Aquarius until 16th March. Aquarius is an air sign so is better for communication.
Venus is now in Aries the sign of The Warrioress until 5th March when it enters Taurus, the sign that it rules. Watch the sky after sunset to see Venus as an Evening Star with the crescent moon on 27th February. In shamanic astrology this Moon Venus conjunction will be activating the 6th chakra.

Mars is in the earth sign of Capricorn where it is exalted from 16th February until 30th March. Mars takes approx. 2 years to travel around the zodiac and is boosting all the earth signs- Taurus, Virgo and Capricorn.
Jupiter is mainly in Capricorn until 20th December. Time to climb the mountain and make progress step by step. Think how the mountain goat is so agile as it climbs up and you get the idea. It goes retrograde on 15th May until 13th September.
Saturn in Capricorn is moving forward so plans for any projects that you have had on hold now have the go ahead. It moves into Aquarius on 22nd March just after the Spring Equinox until 2nd July when it re-enters Capricorn up until 17th December 2020.
Uranus in Taurus is now direct until 16th August activating 2-10 degrees Taurus. Make some practical changes in your life and throw out anything that doesn't bring you joy!
Neptune in Pisces is now direct. This favours all the water signs. Watch your visions and dreams, get creative and meditate. I love the meditations with Deepak Chopra as he uses simple sanskrit mantras. See Chopra Center Meditation I like 'Desire and Destiny' as its perfect for manifesting.
Pluto in Capricorn. Pluto is an outer planet and affects world events. However it becomes more personal if it connects with one of inner planets in your chart. These are the Sun, Moon, Mercury Venus and Mars. It is activated at mid-life when it makes a square to itself around the age of 38.
All planets -apart from Mercury – are currently direct bringing awareness, truth and insightful wisdom to us all.
blessings,

If you've been considering a Soul Astrology Consultation, then this is the perfect time while all the planets are direct.
I have room for just 10 clients before March 9th. Book now on this page>
Intermediate Online Astrology Course is booking up.
It starts on 3rd March and there are just 2 places left so if you're keen sign up now!>
 Mercury in Pisces MasterClass
https://youtu.be/OCFfggiLMYA