Full Moon in Virgo and Mercury Retrograde ends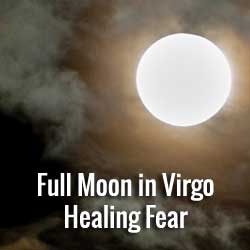 This is a supermoon, so close to the earth. The Sun is close to Neptune, so we are seeing the world through a veil. Neptune is the planet that rules the Crown chakra, the connection with Spirit, and with healing. Its shadow is a loss of that connection, addictions and feeling powerless.
The Moon is in Virgo, the sign of health and healing. Virgo discriminates and reads the labels. Its the sign most connected with nurses. Being practical and self care is essential at this time. However with the internet rife with scare stories it's not easy to stay calm. My newsletter this month focuses on counter balancing fear.
Fear weakens the immune system
Fear is now spreading as the Coronavirus infects the world. Panic buying is prevalent. How do we best respond? Fear weakens the immune system, so loving oneself, compassion and kindness is the most beneficial response.
Deepak Chopra says that fear doesn't speak the truth. It only speaks fear. Take back your power and use the strength of Mars in Capricorn. Mars goes into battle with fear and panic by his side! He doesn't let them stop him.
Fear Dynamic from Chuck Spezzano
With so much fear in the world this card and its relevance is most important at this time. It's from The Enlightenment Pack by Chuck Spezzano. Pam has trained with Psychology of Vision since 1994 and was part of a select group on the International Trainers Training Programme for 10 years. The principles of POV are based on A Course in Miracles. Please respect the copyright. I hope you find it useful.
Key Concepts: Separation; conflict; thoughts of loss or attack; planning or trying to manage the future.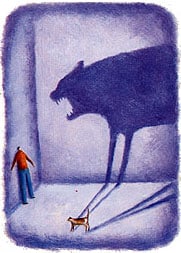 "Most people think of fear as something that comes from outside to threaten us. Yet fear actually comes from within the mind. It represents an inner conflict that wants two different things: the thought of moving forward toward one of the things that we desire creates the fear that in so doing we would unavoidably lose something else.
Fear arises as a result of living in the past, planning or defending in some way, and trying to handle a future we haven't arrived at yet. As a direct result of bad feelings we still have about the past, our fear projects the past on to the future; we have the feeling that the same type of thing will happen to us again.
It could be said that all problems – all negative emotions – stem from fear. Fear is present at the birth of every problem. It comes about through our judgements, grievances and attack thoughts, all of which cause us to see the world as unsafe and unsavoury.
We feel frightened, not realising that the fear begins in our own mind, and as a result of how we separate and defend ourselves from people, situations or things. In fact, any and all separation we have inside us gives rise to fearful situations. Notice that every time we join, integrate, or bring love into a situation, fear dissolves; as we move forward with confidence, the past dissipates; and, as the past is cleared up, so is the future.
Using the card
When this card is picked you are being asked to take responsibility; to change your thoughts about your situation through choice, and to begin to think and feel in a healed (or healing) and positive way. Many things will heal fear. Choose to feel your negative feelings until they disperse and turn into positive ones of love, joining, forgiveness, willingness, faith or trust.  You can change both the situation at hand and the world by changing your mind and choosing to respond in a different way."
An Affirmation
This affirmation can help us all connect with the Higher brain, rather than the fear based reptilian lower brain. "This is not the Truth. It is only making me afraid." Repeat 3 times for the greatest effect any time you are feeling overwhelemd by the negative items in the news.

My favourite quote from 'A Course in Miracles' in times of trouble is:-
"You do not walk alone. God's angels hover near and all about. His Love surrounds you, and of this be sure; that I will never leave you comfortless."
Pisces is the last sign of the zodiac whose symbol is the two fishes swimming in opposite directions. Pisces is governed by Neptune and asks us to surrender into deep feelings and feel connected to Oneness.  Neptune is the dream world, the archetypes of The Mystic, The Dreamer, The Poet and the Healer.
Pisces is ruled by the gas giant, Neptune, God of the Ocean, the Sea of Consciousness. We can float or drown in the ocean, and as every sailor knows, it has tremendous power. The floods in the Uk and the Corona Virus are symbolic in the collective of deep emotion, loss and grief.
Take heart that the light is there at the end of the tunnel.
Key Dates
Full Moon 9th March at 19 degrees Virgo/Pisces. Neptune in Pisces is fully activated at this Full Moon.
Sun in Pisces until 20th March when it enters Aries, the Spring Equinox.
New Moon in Aries 24th March at 4 degrees Aries at 09.28 GMT. This is the last New Moon at 4 degrees which was the degree of the Solar Eclipse on 26th December in Capricorn.
Mercury goes direct at 28 degrees Aquarius. It moves forward into Pisces on 16th March until 11th April. Mercury is weak in Pisces, so be aware of illusions. Mercury prefers logic over emotions.
Venus is now in Taurus, the sign that it rules. Watch the sky after sunset to see Venus as an Evening Star. In shamanic astrology this Moon Venus conjunction is now activating the 6th chakra.

Mars is in the earth sign of Capricorn where it is exalted from 16th February until 30th March. Mars takes approx. 2 years to travel around the zodiac and is boosting all the earth signs- Taurus, Virgo and Capricorn.
Jupiter is mainly in Capricorn until 20th December. Time to climb the mountain and make progress step by step. Think how the mountain goat is so agile as it climbs up and you get the idea. It goes retrograde on 15th May until 13th September.
Saturn moves into Aquarius on 22nd March just after the Spring Equinox until 2nd July when it re-enters Capricorn up until 17th December 2020. Aquarius is the sign of community, of the brotherhood/sisterhood of man/woman. It's a futuristic sign and ruled by the unpredictable energy of Uranus. The full impact of this shift in energy will come next year.
Uranus in Taurus is now direct until 16th August activating 2-10 degrees Taurus. Make some practical changes in your life and throw out anything that doesn't bring you joy!
Neptune in Pisces is now direct. This favours all the water signs. Watch your visions and dreams, get creative and meditate. I love the meditations with Deepak Chopra as he uses simple sanskrit mantras. See Chopra Center Meditation I like 'Desire and Destiny' as its perfect for manifesting.
Pluto in Capricorn. Pluto is an outer planet and affects world events. However it becomes more personal if it connects with one of inner planets in your chart. These are the Sun, Moon, Mercury Venus and Mars. It is activated at mid-life when it makes a square to itself around the age of 38.
After 10th March all planets will be direct bringing awareness, truth and insightful wisdom to us all.
blessings,

If you've been considering a Soul Astrology Consultation, then this is the perfect time while all the planets are direct.
I have room for just 10 clients before March 30th. Book now on this page>
Chiron and the Asteroid Goddesses
This Report explore aspects of spirituality and empowerment in the realm of the feminine.
Would you like to know more about your capacity to nurture, marital relationships, problem solving skills, sexuality and healing power?
This Asteroid Report by Viniita Hutchinson gives interpretations of the four major asteroids (Ceres, Juno, Vesta, and Pallas Athena) and Chiron, which can shed light on these important areas of human experience.
This report talks about the symbolic meaning of asteroids and how they operate in your birth horoscope.The asteroids lie in a belt that orbits between Mars and Jupiter. It is now known that this belt is comprised of thousands of asteroids, but the first four were discovered in the late 19th century, many years in advance of the rest.
These four asteroids were named after four major Olympic goddesses, which happened to redress the gender imbalance among the primarily male planetary deities that populate the horoscope. Thus it was that Ceres, Juno, Vesta, and Pallas Athena came along at the time of the birth of the women's movement in the nineteenth century.
Ceres shows your capacity to nurture and what you really care about.
Juno clarifies how you deal with committed personal relationships.
Vesta can give your keys to how you express your sexuality. Vesta is otherwise known as Hestia, Keeper of the Sacred Flame.
Pallas Athena shows your approach to solving problems creatively.
Chiron gives clues to where you can be a mentor or a healer.