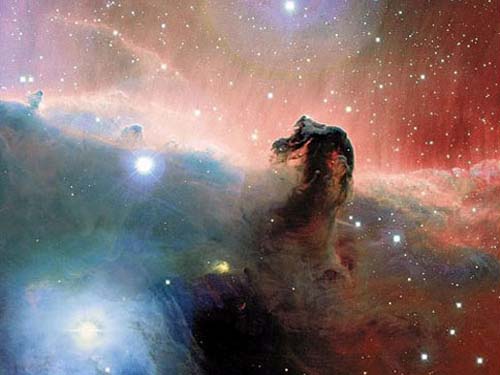 New Moon in Sagittarius 5th December 17.35pm GMT
IN THIS ISSUE:-Mercury in the Underworld
Change is Coming-Are your ready?
What's your Vibration?
Festive Special Offer:- Divine Guidance and Inspiration
Stepping Into Divine Inspiration and Co-Creativity Retreat Workshop Jan 4th/5th
My work over the last month has undergone a shift- ever since I decided on my workshop- Stepping Into Divine Inspiration and Co-Creativity. The divine certainly has been speaking, and I'm bursting with creativity! As an astrologer Uranus is my planet and all this week it makes a strong contact with Mars- it's time for exciting action!
This week also sees Venus moving back into Scorpio, and Mercury moves into Capricorn. Good news for both signs. Just after the New Moon on 5th, Uranus moves direct – excellent for Pisces and Aquarians. Mercury goes retrograde on 10th December until 30th. A classic time to back up your computer's hard drive and check all communications.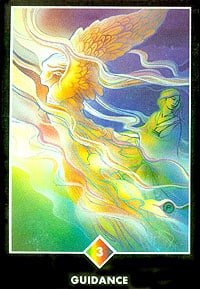 The Messenger goes into the Underworld
Mercury is the Messenger and moves ahead of, or behind, the King (the Sun). Until he goes retrograde he's ahead, so acts like a scout, collecting information to bring back to the King. So what messages is he delivering to us?
KEY DATES: Watch out for 6th and 14th December
Mercury in Capricorn passes by the powerful conjunction of the North Node (destiny) and Pluto, the God of the Underworld on Dec 6th.
At the same time Mercury makes a positive contact with Venus in Scorpio (love and money). He then goes retrograde and passes back over Pluto and the North Node in the early hours of the 14th.
This is one powerful day, and very intense, so take care and be aware and alert, especially when driving, and keep grounded.
In mythology Mercury is the only god who can travel down into the Underworld at will. The connection with Venus in Scorpio reminds me of Persephone, Pluto's wife and Queen of Souls. It's a positive indication of the power of the feminine at this time.
This month we need to journey deep into the Underworld and let go of anything that no longer serves us, most of all negative beliefs about ourselves. However we need a lifeline of support on the surface.
The story of the Chilean miners is apt. They survived because of their faith, strong leadership and the massive support from wives, mistresses, the President – indeed the whole country – above ground.
Do you have spiritual and emotional support?
I have been through a shamanic journey and healing some deep stuff over the last 16 years, and I know that it was only possible with support. See my Coaching page for how I can help you>
The belief in our authentic power and sovereignty and our self esteem is vitally important to us now.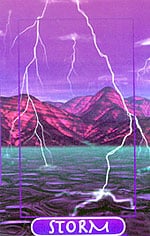 Change is Coming – Are you Ready?
Uranus is the planet of revolution and the higher vibration of Mercury. Its our Higher Mind, the Magician and can bring genius and high levels of creativity when activated. It governs lightening and the card 'Storm' pictured sums it up. After a storm the air is energised with negative ions, is fresher and we can breathe more deeply.
Uranus is moving (along with Jupiter) into Aries next Spring. The last time it was in Aries Mickey Mouse was invented! Aries is the pioneer and spiritual warrior, governed by Mars. This is a time of Change an invention -so, the question is – are you ready?
What's your Vibration?
The Sun is now in Sagittarius until 22nd December. It's a fire sign and just as fire moves upward, it's uplifting, the sign of the future, the visionary and of JOY! Its ruled by Jupiter, the biggest planet in our solar system and physical protector of earth as it absorbs a multitude of asteroids.
How much joy do you have in your life?
With the snow and the bleak economic news its easy to belief that we are at the mercy of outside forces such as the weather and the government.
The way through is to accept ourselves and vibrate to the energy of Self Love. Then, in that state – although attacks will come from outside – we stay centred and won't lose our sovereignty. He says the most threatening thing you can do to the manipulators – ie. those who spread fear and conspiracies- is retain a positive attitude.
By loving ourselves, including our shadow, we will no longer be slaves- we'll be free from victim consciousness!
A vital daily reminder that I wouldn't be without is from Mike Dooley. His emails from 'The Universe' make me laugh and help keep me on track. I will be using some of his enlightening tools on my workshop.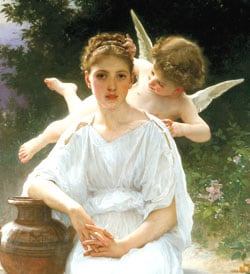 ---
Divine Guidance and Inspiration
SPECIAL FESTIVE OFFER
Astrology Consultation PLUS 'Calling All Angels Astrology Report' for just £55 (Usually £85 for both). Offer ends 5th January 2011.
This is an in-depth Vedic Astrology Consultation that is food for your soul and is combined with a gorgeous Angelic astrology report.
An astrology consultation is a divinely inspired healing experience. Recent consultations have been illuminating and life affirming.
Heal Family, Ancestral and Karmic Patterns
Pam's work focuses on supporting clients to recognise their gifts and to help you heal family, karmic and ancestral patterns. This consultation will help you know what's going on in your life right now, and give you insights and direction to navigate the year ahead.
"Thank you so much for the astrology reading. I really enjoyed it and gained an immense amount from it. I can't stop smiling! I really am looking forward to the future now." Lindsay G
---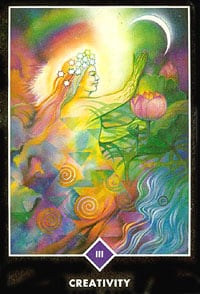 Stepping Into Divine Inspiration and Co-Creativity
THIS WORKSHOP IS OVER
January 4th/5th Seaford, East Sussex
Make 2010 the Year to Remember when you took command of your life and stepped into Divine Inspiration and Co-Creativity.
This workshop is perfect for you if:-
You're feeling stuck and lacking in direction
Need time out to restore your soul
Recognise that by being in a soul group you can make magical connections
Want to be inspired, have direction, clarity and focus for 2011
Creativity is connected to our second chakra, where our emotional wounds are stored. Any trauma will throw us off centre. For most of us, by the time we reach our 30'ties we have had many traumas.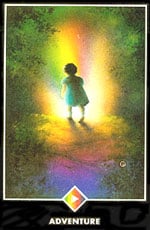 On this workshop we'll heal and reclaim those wounded inner children and give birth to our true selves.
We will start the New Year with the spirit of a child's adventure and:-
Integrate our shadows and regain lost energy.
Heal the child within and reclaim our creativity and soul gifts.
Embrace our Archetypes for the Year.
Create a new vision for our life in 2011 with a Vision Map.
(Bring a variety of magazines or images that inspire you, and a photo of yourself for a fun and creative technique of manifesting a positive future)
Celebrate and Choose Love and Miracles
To sum up, one of my fellow astrologers, Bob Mulligan in the US says:-
December is always an intense month being at the end of the year. There is always a certain anticipation during the holiday season from Thanksgiving to Christmas and New Year.

Mercury's back and forth movement in Sagittarius shows our attempts to rescue our plans of over expansion from the grip of pressing realities. This is an extremely important time of deciding where we will put our energies next year. Wait and see means missing out entirely.

Creation will be the result of conscious choices made now.
blessings, Pam xxx
My thanks to Glenn Moore for the link to David Wilcock and Aine Belton for putting me onto Mike Dooley.