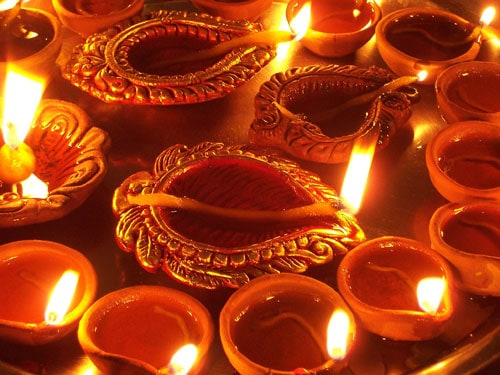 November 6th 2010 New Moon in Scorpio and Diwali: Festival of Light, blessings to the Goddess of Wealth
IN THIS NEWSLETTER
Diwali – Honouring Lakshmi The Goddess of Wealth
Stars: New Moon conjunct Vesta, Chiron and Neptune direct
Inspiration on YouTube: Esther Hicks 'From Grief to Joy'
Embrace Your Destiny- Healing Birth Story Workshop Dec 4th/5th London
Free 3 Card reading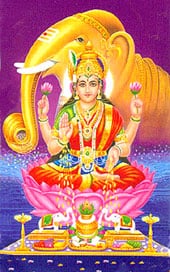 This New Moon on November 6th occurs on my birthday and I am delighted to share it with Diwali on November 5th, a very auspicious festival in honour of Lakshmi, the Goddess of Love and Wealth. In India this festival celebrates the New Year for businesses and people pray for financial flow for the year ahead.
"Diwali is an important five-day festival and is celebrated with families performing traditional activities together in their homes. Diwali involves the lighting of small clay lamps filled with oil to signify the triumph of good over evil. During Diwali celebrants wear new clothes and share sweets and snacks with family members and friends.
Some Indian business communities begin the financial year on the first day of Diwali, hoping for prosperity the following year." Wikipedia
Welcome the Goddess- Clean Your Home
If you want to perform a puja for the Goddess you first need to clean your home to welcome your honoured guest! The lighting of little clay pots (you can use tealights) is a puja, an act of workshop and reverence to the Goddess.
Komilla Sutton writes:- "Prayers are held for Lakshmi, the goddess of wealth to facilitate good financial energies. This time of the year people pray for direction and abundance in material matters. Diwali is the celebration of Material happiness. It also represents a point in life where we begin searching for our spiritual selves.

Diwali represents a symbolic lighting of a light within our internal darkness to show us the light to direct us towards our true path."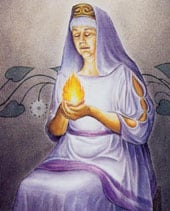 The Stars: Vesta joins the New Moon
The asteroid Vesta is conjunct this auspicious New Moon in Scorpio. One of the original Olympian Goddesses, she is also known as Hestia, the Goddess of the Hearth, the centre of the home and Guardian of the Sacred Altar Flame. Hestia was Zeus's elder sister who never married.
In the system of goddess symbols, she represents the principle of spiritual focus and of devotion to following one's calling. She corresponds to the Self.
The archetypal Temple Priestess, she is a virgin in the original sense of being whole and complete in oneself.
Goddesses of Heaven
Being Olympians the goddess Ceres, Pallas Athena, Juno and Vesta are the goddesses of heaven who oversee the important initiations and transitions of the life cycle. These four goddesses were also the first named asteroids and the ones most frequently referred to in contemporary astrological literature. They personify four potent feminine functions or orientations to life.
Discover your Inner Goddess with this extraordinary 45 page personal report.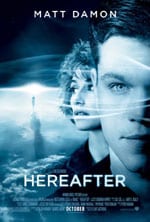 Neptune and Chiron turn direct
Just hours after the New Moon at 6.04am Neptune and Chiron (both in Aquarius) change direction as seen from earth. They have been retrograde for the last 5 months. These are the two planets of healing, so this forward movement promises a giant leap forward.
Aquarius is the sign of innovation and experimentation, and of humanity. Uranus is still in Pisces, Neptune's sign. This is best understood by movies such as 'Inception', which question our beliefs and explore the power of the mind.
Look out for the movie 'Hereafter' produced by Clint Eastwood. Starring Matt Damon as a psychic who can communicate with the dead, but has retired as he sees his gift as a curse. It is set for UK release January 28th, when the Sun, Mars, Neptune and Chiron are all in Aquarius.
It is controversial as it uses actual footage of the 2004 tsunami, but is a cut above the average disaster movie such as 2012. According to one review it is tipped for an oscar and "It will most likely provoke profound thought, emotion, and discussion about a subject that is rarely spoken about in every day life "the afterlife."
If you are an Aquarian born between 13th-16th February, or have any planet at  25 or 26 degrees of Aquarius, Scorpio, Taurus or Leo, then Chiron has most likely triggered an 'awakening' in your life, which although initially painful, will have a long term positive effect in your life. Awakening means to face the 'what is' and enter the real world. It's about facing up to the delusions and deceptions that conspire to hold us in separation and fear. This is a connection to, and healing of, the second emotional chakra and to Gaia.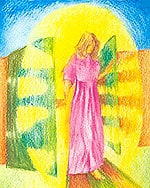 HEALING WORKSHOP Embrace Your Destiny- Healing Your Birth Story
December 4th/5th London
This is a unique workshop for a small group of 8 people, based on your astrological birth chart, which is your Constellation and your soul's contract for this lifetime.
Each person has a process and a ritual, which is akin to a rebirth, a new chapter opening.
It takes place as Mercury (the Messenger) joins Pluto (God of the Underworld) and the North Node (Destiny) in the sign of Capricorn. This is a focus on the 10th sign, your place in the world, and your career. The question to ask is:-

What holds you back from shining?
The answer is resistance! This is the ego's best strategy to keep us small. It uses the argument that we are too small and insignificant, not knowledgeable enough, not ready to shine. Any time you start a project, then get caught up in other problem, that distracts you, you are hitting resistance.
Transformation
The Moon and Venus are travelling through the shamanic sign of Scorpio. The workshop takes place as we approach the New Moon in the visionary sign of Sagittarius. This planetary picture echoes the energy of Samhain, with an emphasis on healing all that holds us back from our power, and our destiny.
This is a sacred time for entering the stillness and for letting go of the past, a time for ritual, to awaken our soul gifts and remember our sacred promise.
The workshop is a unique synergy of the healing spiritual tools that Pam has worked with for the last 16 years. An experienced trainer, she blends astrology with the principles from Psychology of Vision and A Course in Miracles. Similar to family constellations, this workshop is unique as it's based on your individual astrology birth chart.
Testimonial from a participant on Healing Your Birth Story workshop
I attended Pam's workshop very unsure as to what to expect as I had never explored any aspect of astrology. Throughout the 2 days I was consistently surprised and delighted with the content and the facilitation. It was enormous fun, profoundly deep and rich and rewarding. As a workshop facilitator myself I really valued Pam's light touch which comes from inner authority and a wealth of experience. I would and have heartily recommended this course to anyone.
Andrew Wallas
This workshop is now over. Contact Pam for info on her next workshop>
Happy Diwali!  blessings, Pam x