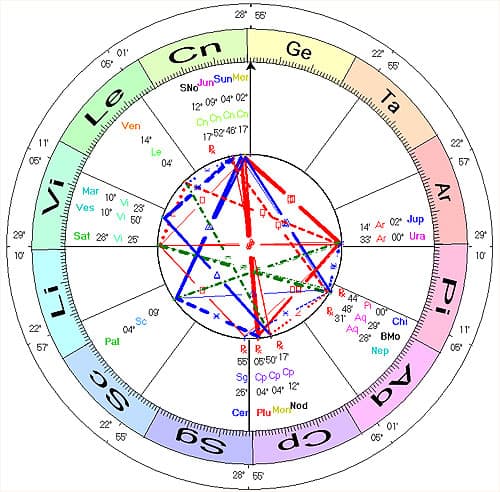 This full Moon is shamanic in tone because the moon is side by side with Pluto, God of the Underworld. The shaman goes on a journey into the underworld to bring back a herb or healing method for those who need help.
When the Moon is next to another planet it takes on its energy. So a Moon Pluto conjunction is more like a Scorpio Moon than a Capricorn one. (This is very important information for you personally if, in your birth chart , your Moon is next to another planet.)
Eclipse energy
Although it won't be visible in the UK, when an eclipse occurs there is a temporary darkness, a time of being between two worlds – day becomes night. A Lunar eclipse happens at a Full Moon. It's when the light of the Moon is darkened by the Sun. These next 2 days are good to spend some time to go within, for spiritual practise and meditation.
The eclipses are occurring in the signs of Cancer and Capricorn, the archetypal Mother and Father. We are being asked to heal old ancestral stories, and patterns of sacrifice and keeping small. Cancer is about feelings, Capricorn responsibility.  So, combining them would mean being responsible and mature around our feelings, acknowledging them and valuing them.
This Full Moon sets in motion the planetary pattern called the Cosmic Cross.
This is a major event and one that is an Awakening, a wake up call to the planet that will have far reaching effect. It affects the 4 cardinal signs of Aries, Cancer, Libra and Capricorn – and that's a huge group of people.
This June Lunar eclipse is extremely potent as both Mercury (with the Sun) and Pluto (with the Moon) are intimately involved. In mythology Mercury is the Messenger and guide and the only god who can go in and out of the Underworld at will. Pluto is the God of the Underworld. So we can access his realm at this eclipse.
What has been buried in the darkness of the Underworld can be brought into the light, and thus healed.
Letting Go
Letting Go is a major part of Scorpio's theme and changing old habits that no longer serve us is extremely important. Mars is active in Virgo- a great sign for cleaning things up and sorting things out. Perfect for a diet or detox. Take time this weekend to look at what is holding you back. Listen to feed back from the Universe in the form of friends.
What have you been hearing recently? Anyone complaining? What is their complaint? Does it resonate for you?
I heard someone talking about her lack of time. I recognise this, so am now resolved to getting up an hour earlier. I started today, so I can spend more time enjoying the summer.
In my dream this week I had an idea for a book,  so will use this valuable time for that purpose.
The Goddesses Speak at this Eclipse
Read my latest article on the Lunar eclipse and the Divine Goddesses to recognise this connection.  Hecate signals that we are at a crossroads, we have to change or the change will be forced upon us.
As a client said today – rather than feel like helpless passengers, it's time to get back into the driving seat of our lives.
PS Doctor Who on BBC1 Saturday evening is  spot on with this Plutonic process. The storyline began last weekend with the threat of total extinction of Doctor Who and his Tardis – a truly Plutonic theme. To be continued…
blessings, Pam