Total Lunar Eclipse: Major Deadlines and Endings
An eclipse represents a break in the usual pattern of events. It's said that there is a spiritual significance of Eclipses – a portal opens. This is relevant for you if you have a planet in Taurus and also Scorpio. See below as this is very common!
Historically eclipses have been thought of as being both mysterious and magical, but they can also be unsettling. How have you been feeling this week?
Think back 19 years to understand the significance of this eclipse in your life.
The degree of a Lunar Eclipse stays active for approx. a month. This lunar eclipse is at 16 degrees Taurus with the Moon conjunct Uranus. As the Sun joins the South Node it's time for letting go of old wounds and grievances that you may still be holding onto.
All lunar eclipses have something to do with relationships due to the symbolism of the full moon. If it contacts your personal planets you may be involved with major changes in your life. This high impact event occurs 3 months prior to the eclipse and lasts for 3 months after. But it seems to be most pronounced just weeks after the event.

When an eclipse falls in a house it affects the opposite house. From Dietrich J Pessin
So this total eclipse affects both Taurus and Scorpio. However, because the Moon is at 16 degrees of Taurus, it mainly affects Taureans. That's you if your birthday is between May 4th to May 9th. Plus the other fixed signs of Leo and Aquarius may be feeling this emotional disturbance in energy. It too will pass!
Mars in Gemini
This Taurus Lunar Total Eclipse focuses on Venus in Scorpio. This isn't a happy place for Venus. However, its a warrior princess archetype. The traditional ruler of Scorpio is Mars the Warrior now in the trickster energy of Gemini. Gemini can talk its way out of a fight or brandish a sword. Let's hope it's the sword of Truth.
Mars is in Gemini (since August 20th) and goes retrograde this month, so we will have a total of 6 months to get used to its energy. What area of your life is being activated? It will finally leave Gemini on March 25th 2023, when it moves into Cancer.
You may well have a planet in Scorpio-see below-so watch this month as it gets activated. This happens every year but is especially important due to the 2 eclipses.
Positive Aspects-Not Really!
This Taurus Total Lunar Eclipse doesn't really have any encouraging aspects. However, there is a strong letting go aspect of Mars in Gemini with Pluto in Capricorn. Power struggles continue to dominate in relationships.
We still have the aspect of a trine of Mars in Gemini retrograde with Saturn in Aquarius. This is exact on November 28th. However, before this Mars is also square to Neptune which can dissolve its energies. This is exact on November 18th. Feeling lost and overwhelmed can be the result!
So stay strong as the Sagittarius fire energy kicks in mid-month.
Mercury the Messenger planet is now in Scorpio from October 29th. It exchanges sign with Mars all month.
Pluto has turned direct, and Saturn also turned direct on October 23rd. Once Jupiter moves forward on November 24th all systems (apart from Uranus) get the go ahead. This is good news for Capricorn, Aquarius, Scorpio, Sagittarius and Pisces.
Mars squares Neptune
Neptune governs dreams, healing, psychic connections, all things invisible. How difficult it is to believe in the unseen when the reality (Saturn) seems to dominate?
Mars went retrograde on October 30th. It spends 6 months in Gemini, so look at your chart to see what area of your life is being activated. During this time also know what Mercury is up to as it rules Gemini.
Venus is now in the underworld, the realm of the unconscious.
Venus has disappeared from the morning sky and on October 22nd it joined the Sun. This is known as the Venus Star Point.
It remains out of sight until 1st December. Then when it's 10 degrees away from the Sun it becomes visible and reappears in Sagittarius as an Evening Star. When Venus is invisible it can often indicate a time of going within and being less social. It relates to the story of Innana.
Saturn square Uranus
At last, this tense challenging aspect is almost over. It's a long cycle- it started in February 2021 – and affects world events. Saturn is strong in Aquarius and Uranus is close to the North Node of the Moon in Taurus which connects to the eclipses this year. The classic interpretation is the old versus the new. One quote that resonates is "Break the rules (Uranus) for the right reasons (Saturn)."
Saturn asks for completion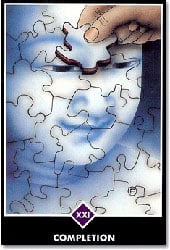 "Here the last piece of a jigsaw puzzle is being put into its place, the position of the third eye, the place of inner perception.
Even in the ever-changing flow of life there are moments in which we come to a point of completion. In these moments we are able to perceive the whole picture, the composite of all the small pieces that have occupied our attention for so long.
In the finishing, we can either be in despair because we don't want the situation to come to an end, or we can be grateful and accepting of the fact that life is full of endings and new beginnings.
Whatever has been absorbing your time and energy is now coming to an end. In completing it, you will be clearing the space for something new to begin. Use this interval to celebrate both-the end of the old and the coming of the new." Osho Zen Tarot, by Osho.
Planets in Scorpio What does that signify for you?
A little-known fact is that is that it's very common to have planets in Scorpio.
There are an enormous number of people born in the last half of the 20th century with one or more planets in Scorpio. The normal random distribution, for reference, would produce a figure of just over half the population.
From 1953-1995, however, there was an extraordinary run of outer planets following each other into the sign, and for that 42-year period about 98.5% of all people born have one or more planets in Scorpio.
From 1954-1971 this figure is about 99.1%; and everyone born in the 1960s has at least one planet in Scorpio. Between 1971 and 1974 there was a brief respite, but between late 1975 and 1995 this figure is about 99.7%; only for a few days in 1981, and a few weeks in 1983, were there no planets in Scorpio. Credit David A Jones for this information.
Do you have planets in Scorpio? See below:-
Saturn: Mastery Oct 23rd 1953 –Nov 1st 1954. Dec 1st 1982-May 7th 1983. Aug 24th 1983 -Dec 7th 1983. May 23rd 1984- Aug 31st 1984
Neptune: The Mystic Oct 19th 1956- June 15th 1957. Then Aug 6th 1957- 19th Nov 1961. Finally 20th May 1962- 21st Sept 1962.
Jupiter: The Traveller/Philosopher Dec 17th 1969- April 29th 1970. Then Aug 16th 1970- Oct 17th 1970. Nov 27th 1981- Sept 30th 1982. Nov 10th 1993- Jan 14th 1994. April 15th 1994- Sept 12th 1994.
Uranus: The Magician, The Revolutionary Sept 8th 1975- Jan 29th 1977. Then March 3rd 1977 Oct 28th 1977.
Pluto: The Shaman Nov 6th 1983- May 18th 1984. Then Aug 28th 1984 – Oct 14th 1988.
KEY DATES:-
Total Lunar Eclipse at the Full Moon in Taurus November 8th at 16 degrees. The Moon joins Uranus so keep grounded and expect the unexpected. Uranus is lightening, the shock of a thunderstorm which can come out of the blue.
Sun in Scorpio until November 22nd when it moves into Sagittarius.
Mars in Gemini. Goes retrograde at 25 degrees Gemini on October 30th.
Mercury in Scorpio October 29th. Into Sagittarius on November 17th.
Venus in Scorpio until November 16th when it moves into Sagittarius.
New Moon November 23rd at 2 degrees Sagittarius.
Please watch my YouTube video above as I explain more fully about this Total Lunar Eclipse.
blessings,


Special Offer on a Consultation
It was my birthday on November 6th so I am offering a special price of just £88 for my full 90-minute consultations. I have been having email problems so have extended this offer until November 17th.
If you have planets in Taurus, Scorpio, Leo or Aquarius a healing consultation would be ideal at this time.
Having your birth chart interpreted is part of your journey of self-awareness, of remembering your soul's purpose.
A Soul Astrology Consultation looks at your birth patterns, your strengths and weaknesses and tells you what's going on now. There is also an option for a healing process if appropriate.
The usual fee is for a 90 minute consultation is £108. It is recorded in video via Zoom and includes the Solar Writer Report worth £20 and your Vedic chart. On Special offer until November 17th 2022 for £88. You can take your consultation during November.
Some Testimonials
"I have had quite a few astrology readings over the years, but without any doubt, Pam's was the best. She is very knowledgeable and experienced, and also has a lovely calm reassuring manner. If you are thinking of getting a reading I would definitely choose Pam as you won't be disappointed! Highly recommended. Thank you Pam!" Rachel
"Thanks for your amazing consultation. I feel my energy released and feel healing already taking place within me. I really love the way you work – you have fired me up and I feel filled with enthusiasm, energy and life today." Julia
"Thank you, I have been thinking how grateful I am, how useful the reading was. I also appreciate simply being seen, I felt a deep understanding and care from you and that's balm for my soul. I had a really strong feeling when I was with you that your wisdom was really important for me to pay attention to." Anne C
"Your work has helped me a lot and I look forward to seeing you again. I feel a shift has started and I am ready for the work that is set up for me to do, to make this shift a permanent one. Thank you so much for your love, help and compassion. You have been very good to me. Be blessed". Joan
"Thank you for the magnificently supportive, astounding reading today. It really makes a difference to have the Vedic perspective included. Your insights are brilliant, and the approach is stellar, and very helpful, with the balanced blend of psychology, astrology, and intuitive card reading to expand and explore regions that the subconscious doesn't bring forth easily.
I've never had such a useful astrology reading before, though I've had both Vedic and Western readings; combining them gives a more accurate appraisal." AW
"I've had several astrological consultations but none compared to my extraordinary reading with Pam Carruthers. She's nothing short of a brilliant astrological detective.
By applying both Western and Vedic principles she discovered clues in my chart that led to profound insight into mysteries in my life – all delivered with skill and artistry corresponding to my level of knowledge.
It was a breathtaking experience.
I would recommend her to both beginners and experienced practitioners without hesitation." Letty