Winter Solstice Ritual
Perform on December 22nd in the UK after sunset
Fire is the natural element of the Sun, so lighting candles symbolizes the arrival of the light and the rebirth of the Sun as the days increase in length in the Northern hemisphere.
In the astrological chart of the Winter Solstice all the 4 elements are represented with an emphasis on the earth signs.
To prepare for the Winter Solstice Ritual:
You might like to burn incense or aromatherapy oil. I would suggest frankincense but it's up to you to choose.
Line up 13 tea lights or candles in a line (preferably in a corridor with the lights off.) Each one represents a planet and the nodes of the Moon. The ritual is to step along the line, speaking each affirmation in turn.
You may also like to place a keyword or choose a small object by each light to sum up the planet's energy. You might like to play some music that has meaning for you. I like the Gladiator film track 'Now We Are Free'.
At the appointed time, with intention, slowly walk this path. This can be on December 21st in North America, or December 22nd after sunset in the UK.
There are 13 steps. As you meet each candle/ tea light reflect on the quality of the planet, integrate its message and move on. This process is meant to be helpful and healing.
Letting go can be a powerful healing process. Take your time but don't get caught in taking too long! Each step is approx. 1 -2 mins maximum.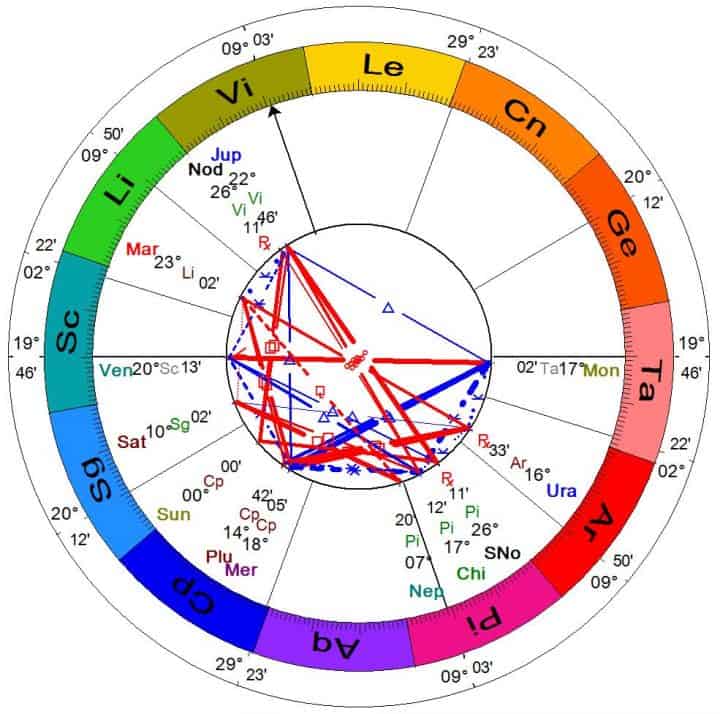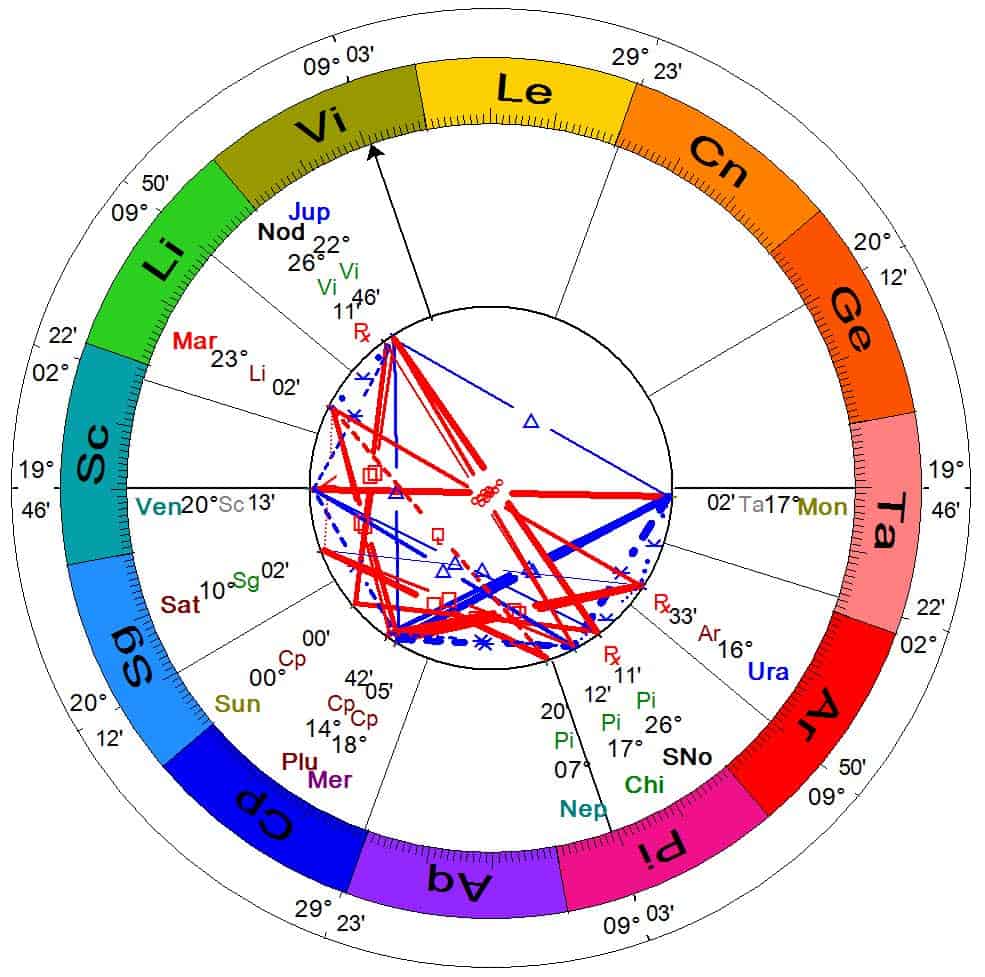 Winter Solstice Ritual
The Chart is set for Amesbury-Stonehenge, UK on December 22nd at 4.48am
The chart is ruled by Scorpio in the UK, and you can use this symbolically as it connects you to Stonehenge.
There is a positive Grand Earth Trine with Pluto and Mercury in Capricorn, the Moon exalted in Taurus and Jupiter with the North Node in Virgo. Earth signs govern the physical world and give us the energy to manifest what we want and bring it into reality.
Venus in Scorpio is exchanging energy with Mars in Libra, which brings love and sexuality into a harmonious relationship. The Goddess of Love and the God of War can work well together!
Venus sits on the ascendant and allies with the Great Benefic and King of the Gods Jupiter and The Messenger Mercury. Trust in the Power of love.
The Opposition between Mars and Uranus is passing away, as is the tense square between Mars and Mercury.
The challenging square between Saturn and Neptune is also waning.
 The Winter Solstice Ritual
I have given them to you in the order that they rise above the horizon at 4.48am on December 22nd at Amesbury, Stonehenge in the UK. Depending on your time zone the Sun moves into Capricorn marking the Winter Solstice on December 21st or December 22nd.
Love and Relationships: Venus in Scorpio
I Desire Passion and am Willing to Dive Deep into Relationships to Open my Heart and Transform My Life.
Structure: Saturn in Sagittarius
I Seek Truth and Understanding. I Let Go of Self-defeating Beliefs That Have Been Holding Me Back so I May Nurture Faith, Hope, and Vision.
Leadership: Sun in Capricorn
I Commit to Stepping into Leadership, to Persevere to Achieve Success One Step at a Time
Transformation: Pluto in Capricorn
I Commit to Facing my Shadow and Embracing my Authentic Power to Transform my Life
Communication: Mercury in Capricorn
I Commit to Listening to The Wise Elder Within to Achieve my Goals.
Transcendence: Neptune in Pisces
I Believe in a Higher Power in the Universe.
Healing: Chiron in Pisces
I Will Build a Rainbow Bridge to Heal All Wounds That Have Disconnected Me from The Source.
Past Lives: South Node in Pisces
I Will Learn the Lessons of the Past and Receive their Messages Through My Dreams.
Liberation: Uranus in Aries
I Initiate Innovation and welcome Changes in My Life.
Feelings: Moon in Taurus
I Value Beauty and Promise to Nurture and Appreciate my Body and The Goddess Within.
Faith: Jupiter in Virgo
I find Joy as I Grow and Expand My Knowledge of Healing Methods to be in Service to Others.
Destiny: North Node in Virgo
I Seek My Destiny and Focus on Priorities
Energy and Sexuality: Mars in Libra
I Balance Diplomacy with Self-Assertion so I Partner Honestly and Harmoniously with Others.