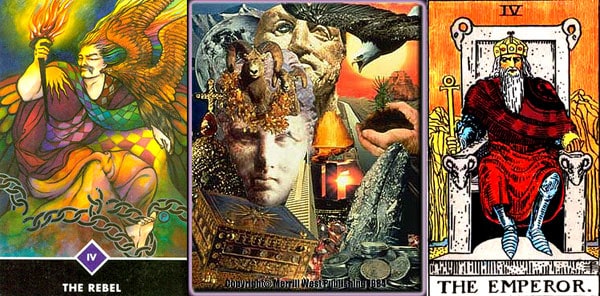 Jupiter into Aries this weekend
Full Moon in Cancer 19th January 17.35pm GMT
Endings and beginnings. Full Moon at the End of Capricorn. Sun entered Aquarius Jan 20th at 10.18am GMT
Year of The Emperor Jupiter into Aries
Key Date: January 26th, Saturn turns retrograde in Libra
Divine Guidance and Inspiration Special Offer
Sacred Sound Mantras to heal
Best books and tarot cards to buy
This is the Year of Beginnings and Endings and this first full moon of the year heralds an ending as it's the last day of Capricorn. The Sun entered Aquarius at 10.18am on 20th. Then, on Saturday 22nd at 17.11pm, Jupiter moves into Aries- the first sign of the zodiac. Uranus will follow on March 12th.
Numerology of the Year
The year 2011 adds to 4, which is The Emperor in the tarot, and the foundation number. In the Psychology of Vision model that I use, 4 represents a chronic problem. Once there is awareness of what event caused this it can be healed. We then have a firm foundation in our life.
It's my birth number (6 Nov 1949 is 6+11+1+9+4+9=40) and describes me perfectly as Saturn is firmly rooted at the very foundation of my chart. (Saturn is the chronic problem, but also the planet that governs Mastery.)
Any trauma, accident or loss at the age of 4 can show us our chronic problem. Age 13 shows the chronic problem at a soul level. I use this method in my coaching as numbers can reflect a hidden pattern in a person's life. It's a quick and effective way to get to the root of a present problem.
The Emperor Archetype
The three Emperor cards shown above all illustrate a different aspect to this archetype. The Emperor is a builder, and called 'Son of the Morning' and 'Chief among the Mighty'. The sign of Aries is connected with this card and he is Lord of thought and Action, co-parenting with The Empress.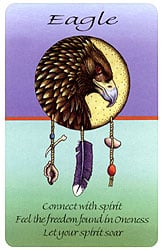 The card on the top left is from the Osho Zen tarot and uses the image of Zeus, breaking free from the chains of limitations.
Osho describes him as a 'Master of his destiny'. And that 'he has formed himself by embracing all the colours of the rainbow, emerging from his dark and formless roots of his unconscious past and growing wings to fly'.
The rebel is a positive in that he has discovered his own true nature and the eagle is his spirit animal, a messenger between earth and sky.
The eagle is a symbol of Zeus, the King of the Gods and Jupiter.
This rebel challenges us to be courageous enough to take responsibility for who we are and to live our truth. It is an apt description of the upcoming 7 year cycle of Uranus in Aries beginning in March.
The great Emperor Alexander the Great is pictured in the centre card from The Voyager tarot. James Wanless writes about this archetype:
"As the Father and Aries, this is the pioneer. Father a new world for yourself and others. Your ambitions and inspirations compel you to move ahead on new plans and visions. Be a mover and a shaker, an initiator and a doer.

To build your empire, possess the mental clarity of the eagle, the emotional strength of the whale and the physical energy of the ram.

To achieve your clearly defined goal, have the leadership, will, decisiveness, daring and organisation of the great kings."
AFFIRMATION
"I have the willpower, discipline and ambition to take the first steps on the path to meet my highest goals."
---
KEY DATE THIS MONTH: Watch out for January 26th
On Jan 26th Saturn stations at 17 degrees Libra and turns retrograde until 13th June. As it does this it slows down, so it stays at 17 degrees from January 10th until 12th February.
When a planet goes retrograde -and all do apart from the sun and moon- we are being asked to review and complete whatever it represents in that sign.
Saturn is in Libra -the sign of partnership governed by Venus. This truly is a year to partner and give up going it alone. Remember that The Emperor follows on from The Empress and is her equal partner.
All relationships -both business and personal- will go through a stage called 'the Dead Zone' where the temptation is to walk away.
The ego (otherwise known as Saturn) brings up all the reasons why we can't carry on. The hidden dynamic at work is a fear of the next step. Amazingly many of us fear success, happiness and having it all!
The last major Arcana tarot card 'The World' which is Saturn's card is aptly called Completion in the Osho Zen deck. Saturn always brings satisfaction when we have earnt our rewards through hard work.
Saturn is here to teach us patience – if we can get over our frustrations about our stuckness! If we keep going and recommit, rather than throwing in the towel, we can move forward.
However, hard work can also be easy! This week I did my accounts in record time because I found out on Facebook that friends of mine were doing the same thing that day.
---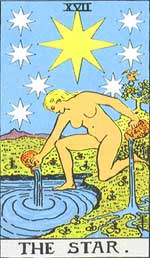 SPECIAL NEW YEAR OFFER Divine Guidance and Inspiration
Astrology Consultation PLUS 'Karmic Insight Astrology Report' for just £55 (Usually £85 for both).  Offer ends January 31st 2011.
This is an in-depth Vedic Astrology Consultation that is food for your soul and is combined with the profound Karmic Insight report. An astrology consultation is a divinely inspired healing experience. Recent consultations have been illuminating and life affirming.
Heal Family, Ancestral and Karmic Patterns
My work focuses on supporting clients to recognise their gifts and to heal family, karmic and ancestral patterns. This consultation will help you know what's going on in your life right now, and give you insights and direction to navigate the year ahead.ahead.
"Thanks for your amazing consultation. I feel my energy released and feel healing already taking place within me. I really love the way you work – you have fired me up and I feel filled with enthusiasm, energy and life today." Julia Chapman
Want to change your vibration and attract good fortune?
Vedic astrology offers remedies to rebalance and strengthen weaknesses in the birth chart. If a planet is troubled or afflicted, a remedy can be prescribed. Gemstones are the well known remedy. Each gemstone has a specific vibration that corresponds to a particular planet. However, they can be very expensive.

Healing with Sacred Sound
One other effective and easy remedy is the use of mantras, which means 'spiritual sound formula'. I now offer clients a simple 5 word mantra based on their chart. It needs to be done at least 108 times a day- a sacred number- for a minimum of 40 days. It takes a mere 5 minutes and I have noticed a huge effect on my spirits since starting mine.
blessings, Pam x
Copyright Pics and text Pam Carruthers Healing Stars