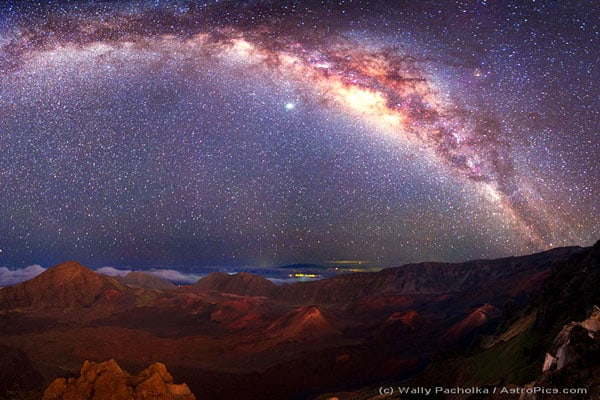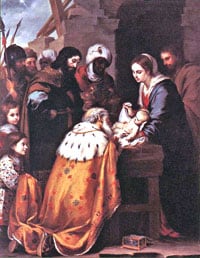 The 3 Magi, the Wise Men
There are many sacred times in the year when going within becomes essential. 12th Night covers these 2 days -12th Night January 5th and 6th – and are such a time of reflection.
12th Night is called Epiphany which is defined as "a realization or comprehension of the essence or meaning of something or someone. An inspired understanding arising from connecting with profound insight, awareness, or enlightened truth."
This is the time when the Three Wise Men, (the Magi or Kings) came bringing gifts to the new born baby Jesus.
I recommend that we all recognise our gifts and receive blessings and gratitude at this time of the year.
(See the YouTube video below)
These wise men were both astronomers and astrologers who were following The Star.
Astrologers calculate that this 'star' was actually the conjunction of Jupiter and Saturn, two planets that are visible with the naked eye which joined in the sign of Pisces in 0007BC.
Since Christianity uses the two fishes as its symbol, they calculate that Jesus was born in that year. There are several birth charts for Jesus in existence, however none are Dec 25th!
This year Saturn and Jupiter oppose each other, a time for integration of these two opposing principle of restriction and expansion.
Capricorn: It's a time of action and completion
The key phrase for Capricorn is "I achieve". Each planet has a particular sign that it rules. Capricorn is ruled by the planet Saturn. The Sun passes through the sign of Capricorn in the northern hemisphere in winter. It's also the ending of the year and the welcoming of the new. It's represented by Old Father Time, dark, sombre and bleak. We might expect to see Capricorns in business suits, in colours such as black or navy. A uniform also can be a sign of authority, of someone in charge. Capricorn is represented by the mountain goat, the animal that is very nimble and gets to the top. Mountains are places that appeal to Capricorns.
Capricorn is a sign of initiation, a cardinal sign like the other 3 signs that signify the seasons and the turning points in the year- Aries Spring, Cancer Summer and Libra Autumn.
January Lunar Phases
The last New Moon was December 24th in Capricorn, Christmas Eve when Jupiter turned direct.
The First Quarter Moon on January 1st was in Aries.
The Full Moon on January 9th at 7.30am GMT will be in Cancer.
The Last Quarter Moon on Jan 16th will be in Libra.
These lunar phases are all in the cardinal signs, which means that January is always a month to make decisions and take action. No wonder we all make our resolutions at the New Year!
However, the year could be said to begin astrologically at the next New Moon on January 23rd. I will write about this in more detail later this month.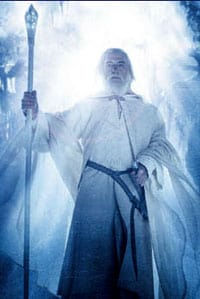 Tarot: The Hierophant and Spiritual Teacher
2012 adds to five, and the 5th card in the tarot is The Hierophant, the Spiritual Teacher. The Hierophant is the High Priest who brings Heaven down to Earth. Otherwise known as The Pope card, it can be conformity in religion, or as in The Mystic Tarot as Chiron, the Wise Centaur.
Fives can be difficult as they mobilise and upset the stable system and bring change. The 5 of Wands is Strife, 5 of Cups is emotional disappointment, 5 Swords is Defeat, 5 of Pentacles  is Poverty. These are complex and represent challenges that need to be overcome.
In The Inner Child tarot the authors call it The Wizard and liken it to Gandalph from Lord of the Rings (pictured).  With his staff of wisdom he is wizard, magician, spiritual teacher and guardian to Frodo and the hobbits. In this coming year we all need to have connection with our spiritual wisdom, and when we set upon the spiritual path a teacher is someone who guides us, not as a superior, but as someone who knows the way.
Ask yourself if these words resonate for you:-
"A spiritual teacher is on the scene. Who is inspiring you at this time? Is there a new field of study to explore? Build a bridge between the child within that seeks answers and the Higher Self that continually offers jewels of enlightenment through dreams, visions, promptings, and intuitive flashes. Steer clear of controlling others for your own purposes. Most of all, with your visual skills, see your life linked with a fellowship of like-minded souls, your true ring of power in the world."
Tad Mann says that the meaning is to transform raw material into spiritual energies by acknowledging higher authority, and of the value of ceremony and symbolism in mundane affairs.
His affirmation is:- "I am inspired and guided by my highest wisdom for the greatest good, finding it within myself and the world"
Your Year Ahead: Major Themes and Key Dates in 2012
Do you want to know the key dates to watch out for in 2012?
There are some big astrological opportunities this year as:-
Neptune moves into Pisces for 13 years on February 3rd
Mars goes retrogrades and spends 6 months in Virgo
Venus goes retrograde so spends 4 months in Gemini.
Jupiter and Saturn change sign into Gemini and Scorpio respectively.
Uranus and Pluto challenge each other on June 24th in Aries and Capricorn
Want divine guidance on when they happen, and what they mean for you?
SPECIAL OFFER 2 reports and Webinar!
Price: £20 for 2 Personal Astrology Reports for 2012 AND Webinar
Worth £29 if bought separately, these reports are based on your date, time and place of birth. The webinar is worth at least £20, so the total package is terrific value for just £20.
1st Report The first 'Sky Log' gives you over 50 pages of in-depth predictions for the coming year. This report is based on your transits and secondary progressions. The author Steven Forrest, has a great style and explains clearly and poetically – with no jargon – what the planetary transits signify for you.
"The future isn't crystallized. It's a wavering, quivering web of possibilities. How will they manifest? Much depends upon how you wield the magical wild card we call your freedom.
The planets offer advice. In a sense, they recommend certain choices over others. They seem biased toward your evolution. They often suggest that you take the less familiar path, the one that moves you into richer fields of your own potentiality."
2nd Report The second report written by Stephanie Johnson is approx. 20 pages and includes a full colour birth chart and easy bar graph reference for the year. The entries are sorted by the exact date on which each event occurs, with the planets involved. (See example below). She writes:-
"When meteorologists forecast the weather we understand that they are not telling us how to live our lives. Rather they are giving us information that may help us make our own decisions. As far as the weather is concerned our major decisions are whether or not to dress warmly or to take an umbrella. The astrological system of Transits is offering us much the same information. It is giving us an indication of the emotional and intellectual weather of our lives. It is up to us to decide our own destiny."
Webinar January 12th at 8pm GMT
Are you planning events, a workshop? Launching a business, a website, a new career? Planning to marry? Are you a healer and want the best dates to meditate? Go on a retreat? Attend a workshop?
Plan Ahead and know the best dates and the dates to be careful, or avoid. Accompanying the webinar will be a PDF with all the info you need to know about:-
Major Conjunctions
Planets Changing Sign
New and Full Moons
Eclipses- Days for spiritual retreats
Mercury, Venus and Mars Retrogrades
This webinar is worth at least £15 but for you it's free as part of this Special Offer. A webinar is via the Internet and costs you nothing to attend. You need speakers on your computer or laptop (Plug-in speakers are recommended for the best result.) You'll see and hear Pam's presentation.
YouTube Wisdom
A reminder of the important things in life.
Beautiful music and gorgeous cartoons for an inspirational reminder of what life is really about.
It lifted my spirits on this blustery night.
Its a sweet short animation on the finer basics for a good and happy life… Take a moment… and enjoy…

With thanks to friends Simon Donald and Sue Head for posting this on Facebook.
blessings,