Death and Rebirth at the Full Moon in Capricorn
This is a Supermoon as the Moon is closest to the earth bringing emotional issues into the spotlight. Emotions may be compelling or all consuming as the Moon is joining Pluto-the god of the underworld and the unconscious – which makes it intense. Pluto buries what it touches, so this can also be felt as something suspicious going on underneath the surface. Its also a fight for survival. Issues of betrayal can come to the surface. Watch politics as undercurrents may be revealed, or hidden motivations may come to light. In the UK the leadership contest to be the next Prime minister is full of 'dirty tricks' according to the media.
James Webb Telescope-The Edge of the Universe
Capricorn is ruled by Saturn currently in Aquarius- the sign it co-rules and now retrograde. The good news is that Venus trines Saturn and is exemplified in the stunning images coming from the James Webb telescope. This telescope's adventures involves many planets-Saturn as Lord of Time, Pluto which came from the Big Bang, Neptune and Venus for its beautiful images and Uranus which breaks all boundaries. It was launched an Christmas Day 2021 when Venus retrograde in Capricorn joined Pluto exactly to the day!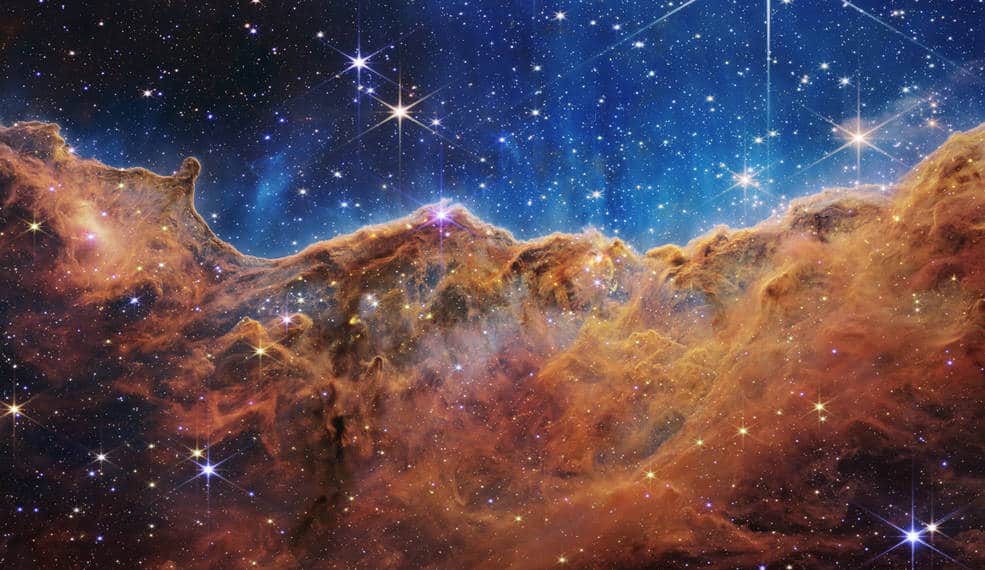 The $10bn James Webb Space Telescope (JWST), launched on 25 December last year, is billed as the successor to the famous Hubble Space Telescope. It will make all sorts of observations of the sky, but has two overarching goals. One is to take pictures of the very first stars to shine in the Universe more than 13.5 billion years ago; the other is to probe far-off planets to see if they might be habitable.
"Light travels at 186,000 miles per second. And that light that you are seeing on one of those little specks has been travelling for over 13 billion years," said Nasa administrator Bill Nelson. "And by the way, we're going back further, because this is just the first image. They're going back about 13 and a half billion years. And since we know the Universe is 13.8 billion years old, you're going back almost to the beginning."
This month the personal planets have changed signs
From July 5th Mars moved into Taurus along with Mercury moving into Cancer. Then Venus moves into Cancer on July 18th. So the theme is a shift from Gemini into the emotional energy of Cancer. Plus Mars is now weaker in Taurus as its then ruled by peace loving Venus. This is Mars as The Lover defending, rather than the Warrior attacking.
Date for your Diary: Mars is in Taurus and will join Uranus and the North Node on the next New Moon on July 28th.
At this Full Moon in Capricorn Mars is unaspected. But watch out for just days after the next New Moon on July 28th it will join Uranus on July 30th-so accidents can happen. You need to feel grounded and so be aware of rushing. Train strikes have been called in the Uk, which maybe a blessing in disguise keeping people at home. As Mars joins the North Node change is in the air and a shift away from the stubborn fixed sign of Taurus, a letting go is called for.
However this conjunction can be destructive, so please don't make any life changing decisions. Wait a few days until the energy has passed.
Earth Signs-Getting Stuff Done with Mars
There are now planets in earth signs at the Full Moon in Capricorn. Mars entered Taurus on July 5th to give you the boost of energy that lasts up until 20th August when it enters Gemini. Pay attention on July 30th when Mars joins Uranus, which is a time to stay grounded as this is a volatile combination. However its also a great day to be inspired as Uranus is the higher vibration of Mercury.
Water Signs- Neptune-Feeling Compassionate?
This is the emotional Full Moon in Capricorn that focuses water signs on compassion and nurturance which Cancerians are well known for. As its a full moon in Capricorn the balance is needed between emotions and practicality. The other planet in a water sign is Neptune and the South Node of the Moon in Scorpio. Issues concerning family and feelings come into our collective awareness. Mercury (July 5th) then Venus (July 18th) will move into Cancer which will support all water signs.
Air Signs- Venus in Gemini
Mercury changed sign on July 5th when it moved into Cancer. Venus is now in Gemini, which is ideal for socialising and it forms a trine -a flow of energy-to Saturn in Aquarius. Venus moves into Cancer on July 18th.
Saturn is now retrograde in the air sign of Aquarius and is still in a T square with the Nodal axis. Saturn can act in two ways, procrastination and depression, or once the past is healed and the burden lifted it becomes mature and is the planet of Mastery.
Fire Signs- Jupiter the King of the Gods in Aries
Fire signs bring warmth, enthusiasm and lifts us up. At the Full Moon in Capricorn only Jupiter and Chiron are in fire signs. Chiron squares Mercury so old wounds may come up for healing.
Slower Moving Planets
Jupiter: The Explorer/Teacher in Aries
Where Jupiter is placed in your chart is where you find your Faith. Jupiter is now in Aries from May 10th until it re-enters Pisces on October 29th until December 20th 2022. As Aries is the first fire sign it's the Pioneer and activates all 3 fire signs:- Aries, Leo and Sagittarius. It goes retrograde on July 29th.
Saturn: The Strategist in Aquarius is now Retrograde
Saturn is now retrograde in Aquarius, a sign it co-rules with Uranus. The theme of last year is Saturn in a tense relationship (a square) with Uranus. This is now almost over, but not yet.
Instead we see Saturn creating a T square with the nodal axis. This is very karmic and letting go of the past is the key to work well with this energy, especially healing ancestral patterns. Saturn went retrograde on June 4th so this aspect has lessened but is still relevant.
Neptune: The Dreamer/Visionary in Pisces is now retrograde
Neptune is aligned with Pluto which is more about events in the world. This can bring up feelings of overwhelm and grief. Take my advise and order your Flower Essence Report to help to balance your energies.
Uranus- The Renegade/Awakener in Taurus
Uranus takes approx 7 years to go through a sign and always brings change/revolution. It is the planet that rules inventions and genius. Its now in Taurus (May 2018-April 2026 approx.) and we are witnessing the alarming news about climate change. Taurus is ruled by Venus, and as it's an earth sign, we are now concerned with agriculture, our food chain and an awakening to our planet's resources. In our daily lives Uranus wants to shake thing up and cut out old wood.
Pluto-The Transformer/Regenerator in Capricorn
Pluto is the slowest moving planet and currently travelling through Capricorn from 2008 until 2024. It is the God of the Underworld, buried power and the unconscious. It is assigned to Scorpio who also have Mars as their ruler. The transit of Pluto in Capricorn calls for deconstruction of the establishment and institutions. It went retrograde on April 29th until October 9th.
Consultations with Pam
I have some spaces for consultations this month, so please get in touch if you are having a difficult time right now. My sessions focus on healing and giving you an understanding and guidance for the next months ahead.
Astrology Consultation with Pam
Recent Testimonials
You have given me so much to think about, from discovering my rising sign (at last) to an introduction to Mayan astrology. It was a fantastic afternoon of discovery about myself and my roots and my potential. I am following up on the reading list (thank you so much for the suggestions – brilliant) and slowly coming to terms with my new persona. The sheer breadth of the reading was really eye-opening, as I thought I knew a fair amount about astrology but you opened new pathways for me. So I would warmly recommend a reading with Pam. Discovering so many unexpected links and connections has meant that many things are resonating and bells are still ringing!

Thank you so much! All the very best, Marie-Ann

"Thank you for the magnificently supportive, astounding reading today. It really makes a difference to have the Vedic perspective included. Your insights are brilliant, and the approach is stellar, and very helpful, with the balanced blend of psychology, astrology and intuitive card reading to expand and explore regions that the subconscious doesn't bring forth easily.

I've never had such a useful astrology reading before, though I've had both Vedic and Western readings; combining them gives a more accurate appraisal." AW
blessings, Pam x
---
Links
James Webb telescope images from NASA https://www.bbc.co.uk/news/science-environment-62122859
Here's a link to the page Houses in Astrology