Feeling blocked, frustrated, drained of energy? There is massive tension that will ease mid- April.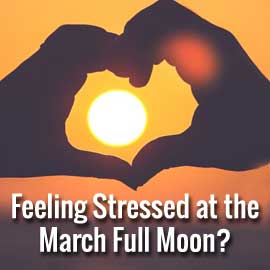 The Full moon in Aries/Libra axis brings relationships into focus along with some major tension. The planets Mars and Venus rule the Sun and Moon respectively. So what is going on with the lovers?
Mars joining Saturn
The Full Moon forms a tight square to Mars which is just about to join Saturn- both in Capricorn. Its as if we are trying to move forward but are being blocked by a wall that we can't get around. Rather than beating your head against this proverbial brick wall, be patient and persevere.
Both Mars and Saturn are at home in Capricorn. Mars gets strong with weight lifting, so put your energy into getting organised, being active in a constructive way that builds your strength and a sense of achievement. Maybe take some time over Easter to tackle the garden, weeding is excellent for the soul! If it rains all the better- Saturn loves to fight against the elements.
In Vedic astrology Saturn likes to be of service, so if you are feeling really down and depressed (the negative of Saturn), ask 'who needs my help?' and give them a call or if it's the middle of the night- send them a blessing.
Venus into Taurus
Venus moves into its own sign of Taurus on Saturday 31st just before the Full Moon at 5.53 BST. This brings much needed love and harmony into our relationships, especially beneficial for Taureans. Taurus is a physical earth sign, so the next 26 days is the perfect time to declutter and bring beauty into your daily environment. Think of the spring clean in your home as preparing for your most beloved God/Goddess coming to visit! And take time out to play, to take part in some activity that brings you pleasure.
Mercury Retrograde in Aries
Mercury Retrograde in Aries-always blamed for communication problems, is just about to join the Sun on Sunday April 1st.
This is an excellent day for meditation, not a great day to launch anything new. Enjoy the holiday and wait a week until after 7th April when Mercury moves away from the Sun's beams. While Mercury is retrograde (until 15th) it's a perfect time to review, reorganise, and re-evaluate what's important in your life. Plus check all communications-emails and texts may not get through and computers can have a mind of their own. Hold off buying phones or computers until after 15th.
Mercury is currently retrograding through the 3 fire signs this year- Aries, Leo and Sagittarius. Look at those areas of your chart, you'll see what the Winged Messenger wants you to look at in-depth and bring to life. The fire signs are pioneering (Aries) creative (Leo) and visionary (Sagittarius). This is a year to trust your inspirations and act on them.
Best time to Launch?
After April 15th Mercury will be direct and Mars well on it way having passed Saturn. Use the creative fire of Aries to launch after the New Moon on 16th. I offer a service called 'Launch with the Stars' to elect the best date and time of day for a launch. I need to stress that the best time of day is crucial. This April has the best date possible in the entire year.
Chiron into Aries
Chiron changes sign on April 17th into Aries, until September 26th when it retrogrades back into Pisces. In January 2019 it moves into Aries for the next 8 years. This is the Archetype of The Wounded Healer. In Aries the wound is about being a pioneer and going headfirst into new adventures. Chiron is where we are wounded, where we can accidentally wound other, and where we can heal others. At approx. age 50 we experience our Chiron return. Chiron acts in a similar fashion to Uranus-it awakens us and brings to consciousness what needs healing. The Chiron Report I sell below is by Zane Stein, the most respected astrologer and author on this subject.
blessings,

Chiron Astrology report to buy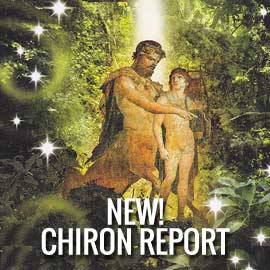 This Chiron Report can help you unlock subconscious patterns and free you to move forward on your life's journey.
Chiron in the birth chart reveals the pain of rejection and abandonment from our parents, psychological wounds that are buried deep because we inherited them.
This Chiron report reveals the story of Chiron as well as the story of the chart. Chiron is currently in the last degree of Pisces-the most sensitive sign of the zodiac. If you were born in the 60ties you most likely have Chiron in Pisces, so this report will be especially meaningful for you.
Your Personal Chiron Report to buy

The Planets Within: An in-depth journey through the planets, your Inner Archetypes.
This 10 week Online Astrology Course can inspire and empower you and help you focus on your soul purpose in this lifetime.
For beginners and those who wish to deepen their understanding. This is designed for a small group, maximum 5 students for personal attention. There are still 2 spaces!
The intention of this astrology course is to encourage and inspire you on your spiritual journey. The first session is a bonus. It's pre-recorded in Video and teaches the elements, houses, signs.
Then in 10 online sessions we'll explore the planets- the energies that are the archetypes within us.
PDF's of all modules will be given, and access to the recordings of the videos.