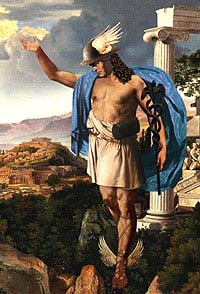 Mercury is now moving forward- what messages are you being given?
October and early November have been a really difficult time for everyone.
A lunar and solar eclipse, Uranus square Pluto for the 4th time, plus to top it all off, Mercury retrograde in Scorpio-the most intense sign.
Mercury's Shadow Phase
Mercury is now in its 'Shadow' phase. That means it is tracing the same territory it covered way back in October 1st.
The analogy I use is:-
Imagine you're in a car.
You are driving along the road. You stop then reverse, looking at the same ground you just passed by. Then you stop again and this time you know that stretch of road really well.
What have you revised that is now on a sounder foundation? What needs to change? What have you learnt?
Compassion and Seclusion
Mercury the Messenger went retrograde on 21 October and finally moved direct  on 10 November.
If you've been having technical problems with email, computers crashing, mixed up messages and general overwhelm with too much to do and not enough time, this is the reason!
Mercury has been making a trine- a flow of energy to Neptune-God of the Ocean for almost 5 days. This brings up huge feelings, tearfulness and a desire to hide under the duvet. Neptune is illusion, and governs dreams and fantasies. Have you been under a spell?
I have heard it said that a cold is something you haven't cried about a week before. So give yourself some nurturing. On a practical level I also recommend vitamin C and 'Cold Relief' nasal spray from Boots the Chemist in the UK. It can stop a cold in its tracks.
Mercury transits:-
10 Nov Mercury direct at 2 degrees Scorpio
8-13 Nov Mercury trine Neptune  Emotional overwhelm, under a spell, forgetfulness
18 Nov Mercury conjunct North Node Karmic meetings. This is the eclipse point, so whatever occurred on Nov 3rd may be triggered again.
20 Nov Trine Chiron  Emotional Healing If you over 50 years old, you are The Healer, so can help those who are wounded.
21 Nov Sextile Pluto  Empowerment, speaking the Truth, reclaiming your authority.
26 Nov Conjunct Saturn Commit to what you started on 8 Oct, and revised on 29 Oct. Now go for it!
28 Nov Sextile Venus in Capricorn and trine Jupiter in Cancer Positive good feelings. Hallelujah!
Venus joins Pluto
You may be feeling the need to withdraw as Venus joins Pluto-God of the Underworld on Nov 15th in the sign of Capricorn.
That is the time to remember that Venus is also Persephone, High Priestess in the tarot, and Queen of Souls.
She represents the power of the feminine, of intuition as she is connected to the Higher realms and to divination.
This is our inner voice that has all the answers. Silence and meditation is the only way to hear this wisdom.
The card pictured shows the face of the mysterious Moon.
Stay grounded and remember how powerful you are.
---
Are you losing your heart trying to make your business work?
Capricorn is a business sign, and it's ruled by Saturn now in the sign of Scorpio for 2 and a half years. there is an opportunity to combine business with love, because being heart centred means you are in service and not sacrifice to others.
If you are in business I recommend Mark Silver's website 'The Heart of Business'. He offers some great free resources.
His website is a model of how to sell without being pushy.
He offers practical and spiritual support.
I have just finished a course with him, so am applying his teachings with clients in my web design business.
---
Uranus Square Pluto-High Stress
If you are sensitive to energy then you may well be feeling under a great deal of stress, and in survival mode.
Outer planets describe the collective shift that affects us all. These are Uranus, Neptune and Pluto.
The disaster in the Philippines reflects this huge turmoil in our world on a collective level. The awful disaster leaves me with a sense of helplessness at the suffering of so many.
It is at times like this that prayer is the spiritual answer, along with the practical response of a donation, however small.
Helping others always helps ourselves.
---
Deepak Chopra: Empowered Me
In Day 2 of Deepak Chopra's free 21 day Meditation Course- he talks of karma:-
The message is "I am a powerful Creator"
"Man did not weave the web of life, he is merely a strand in it. Whatever he does to the web,
he does to himself." Chief Seattle
"Today we explore the concept of karma, the ebb and flow of energy in our lives. We will discover that with awareness, we have the opportunity to mindfully harness this natural current to create a life where our dreams and desires open with effortless ease.
So often we hear about good karma and bad karma, but in reality, karma is simply a reciprocal exchange—what we give, we receive in kind. Through meditation, we connect more deeply with the present, increase our awareness of "what is," and emerge from the silence with a sense of balance and a desire to make right, conscious choices in our lives.
In this way, we begin to recognize our own undeniable role in creating the story of our lives and begin to align ourselves with those choices that are the most nurturing for ourselves and everyone around us."
Deepak Chopra.
When I did this meditation I felt the presence of angels, and was reminded of this most beautiful quote from 'A Course in Miracles':-
"You do not walk alone.
God's angels hover near and all about. His Love surrounds you, and of this be sure; I will never leave you comfortless "
So this week while Mercury connects with Neptune, take time out to feel the presence of your angels, of God's messengers.