Secrets and taboos at the Full Moon in Taurus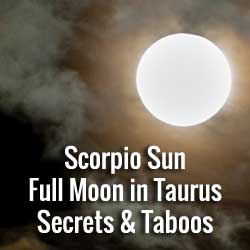 Full moons bring to light what was seeded at the New Moon. As the Sun is in Scorpio, ruled by Pluto God of the Underworld, we are diving deep into the world of secrets and taboos.
At this potent full moon in Taurus, the planet that rules Taurus is Venus making an exact opposition to Uranus, the most unpredictable revolutionary planet in Aries.
Its a relatively quiet month with only 2 planets change sign this month- apart from the Sun into Sagittarius on 22nd. Mercury changes sign into Sagittarius on 5th, Venus moves into Scorpio on 7th.
Of note, Neptune aspects both the Sun and Moon. Neptune, the planet of illusion, transcendence is also connected with scandals, and the last week has seen both Hollywood and The House of Commons rocked with revelations.
Later in the month the major event will be Mars squaring Pluto for the final time on 19th November at 17 Libra/Capricorn. Watch the news around that date. Aspects of a fast moving planet (Mars) are activated a week before.
Watch my short YouTube video for more information.
Beauty and Faith
One of the most auspicious days in the annual calendar carrives on November 13th as Venus joins Jupiter in Scorpio in the early morning- 8.15am GMT. These are the two benefics, and to connect with them is to connect with love, peace, beauty (Venus) and faith, great good fortune and optimism (Jupiter). Its the perfect day to write down your wish list for the year ahead, or be creative and make a Vision board.
Its the perfect time to shine in the world, and I am revamping my Facebook Group to reflect this.
Intermediate Astrology Course
A course for a small group working with your chart
This 8 week Online Astrology Course can inspire and empower you to know yourself, and encourage you to start reading charts.
It's an Intermediate Course so you'll need to know the glyphs, understand signs, houses and planets.
The aim is to increase your knowledge in a small group so you gain confidence in reading charts.
The group is a maximum of 6 women. Confidentiality is ensured. Each class will be a teaching and practise with our individual charts.
The Course is online via Zoom and is 8 classes of 2 hours. They will be recorded.
The proposed Syllabus is:
Profections- a simple technique to understand the focus of each year and house.
Transits of the Outer Planets
Secondary Progressions
Solar Arcs and Solar Returns. Incudes Your Solar Return Report worth £15
Astro Cartography
Saturn and the 4 Birth Moments
Synastry
Karmic Axis and the Nodes
TESTIMONIALS
This was just some of the feedback from Pam's students:-

"Pam shares her deep knowledge and wisdom of Western and Vedic Astrology in an easy to understand and fun interactive way. With individual charts,  detailed Powerpoints and plenty of question and answer time,  I highly value and recommended Pam's Astrology Courses.  Much love Ann xx

I can highly recommend Pam's Intermediate course as I have learnt so much and her way of teaching is very enjoyable.  She has years and years of astrological knowledge and wisdom and is quite unique in some of the material she teaches.  I really look forward to my weekly class with Pam and will be sad when the course finishes." Elizabeth xx

"I thoroughly enjoyed the insightful, healing and refreshing  astrology classes with Pam.  I love way that Pam is so eclectic in her style and how much fun the sessions turned out to be. Love Kathy xx
This online Astrology Course will run for 8 weeks on Thursday evenings 7.30pm-9.30pm, with a break over Christmas.
Intermediate Astrology Course Find out more>
Chiron is a key component of a Birth Chart analysis.
This Chiron Report can help you unlock subconscious patterns and free you to move forward on your life's journey.
Chiron in the birth chart reveals the pain of rejection and abandonment from our parents, psychological wounds that are buried deep because we inherited them.
This Chiron report reveals the story of Chiron as well as the story of the chart.
Chiron is currently travelling through the most sensitive sign of Pisces,  If you were born in the 60ties you most likley have Chiron in Pisces, so this report is especially meaningful for you.
The Chiron Report contains:
An Introduction to Chiron and its meaning
Doorways to Understanding – Chiron in Sign
Where it Began – Chiron in House
Conquering Dragons – Chiron Aspects
Conclusion
This Chiron report is written by a leading expert and author Zane B Stein.
SPECIAL OFFER ENDS NOV 6th!
Chiron Report click here to read more>
blessings,