The Summer Solstice and the Full Moon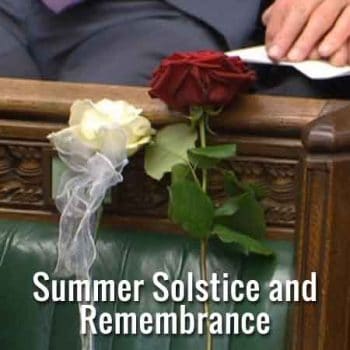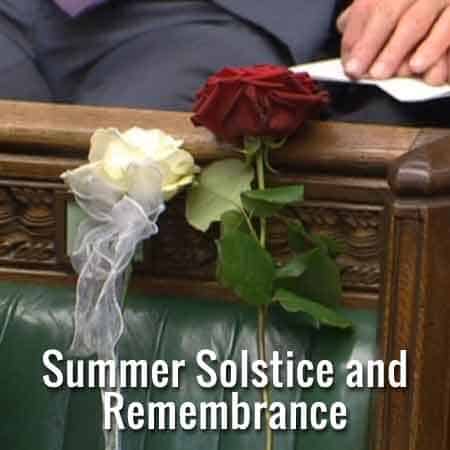 Pam connects with the deep emotions of today as the Sun moves into the emotional sign of  Cancer.
Its the day of the Summer Solstice.
It's also a Full Moon and they always bring our feelings to the fore. Today is no exception.
Please watch the video as Pam explains this vitally important planetary picture that affects us in the coming 3 months.
Today is sacred and a time of healing, a time of remembrance.
However the planets form a Grand Cross, a signature of being at a crossroads.
This involves Saturn in Sagittarius, Neptune in Pisces, Jupiter in Virgo and Mercury now in its own sign of Gemini.
It's time to make some serious decisions about our future.
In the Uk that's "Do we stay or do we go?"
She sees the compassion- the grace and love in the world -that people have shown each other in the aftermath of the appalling events we have witnessed in the last week.
Mars retrograde in Scorpio is making a tense aspect to Uranus in Aries- indicating accidents, violence and shocks.
This explains the shootings, the anger in the world.
Neptune in Pisces is compassion, and pictures speak a thousand words.
So she shows the picture of people dressed as Guardian Angels who protected the funeral in Orlando, and the poignant symbol of the white rose as Jo Cox MP, wife and mother is remembered by the House of Commons today.
She reminds us that we are not alone.
Pam offers a discount on her usual fee for June, if you are in need of healing.
A Soul Astrology Consultation is 90 mins for just £70 or $100.
(My usual fee is £95/ $135)
I work via Skype or Zoom online meeting and I record the consultation.
I only have room for 5 more clients with this Offer, so book now to avoid disappointment!
Having your birth chart interpreted is part of your journey of self awareness, of recognising your full potential. The planets do not have power to affect you, rather they work on the principle of synchronicity. this is the hermetic principle of  'As above, so below'.
A Soul Astrology Consultation looks at your birth patterns, identifies your purpose, your strengths and weaknesses and tells you what's going on now. There is also an option for a healing process if appropriate. You can focus on  a relationship, your work/vocation or which direction to take in your life.
Or you may just be in need of guidance and support.
blessings,

CLICK HERE FOR SPECIAL OFFER SOUL ASTROLOGY CONSULTATION>
Some Testimonials
"I've had several astrological consultations but none compared to my extraordinary reading with Pam Carruthers. She's nothing short of a brilliant astrological detective. It was a breath taking experience. I would recommend her without hesitation." Letty
"Dear Pam, a huge thank you to you for today's reading. Your positive, energetic interpretations inspire me with possibilities and make challenges ahead look more like opportunities to grow, reflect, and heal the past. Mary
"Thanks for your amazing consultation. I feel my energy released and feel healing already taking place within me. I really love the way you work – you have fired me up and I feel filled with enthusiasm, energy and life today." Julia Chapman
"Thank you so much for the astrology reading. I really enjoyed it and gained an immense amount from it. I can't stop smiling! I really am looking forward to the future now." Lindsay
"Pam is truly an inspirational healer. When I am aware of some emotional issues bubbling inside me, I would ask for a session with Pam to resolve them. After the session, I always gain a higher level of awareness and insight of myself."Yuet-ha Mo