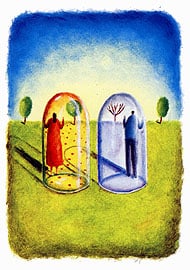 Process- Healing the Belief in Scarcity and Competition
On Monday Feb 24th the Sun joins Neptune in the sign of Pisces.
Neptune is in the sign that it rules, and both the sign and the planet vibrate to the message of Oneness, of inter-connectivity.
This principle flies in the face of the belief in separation that humans have held for too long.
What's going on in your life?
Has it been tough for you this year?
Have you been suffering from scarcity?
Were you brought up to believe in Darwin's theory of survival of the fittest and the 'dog eat dog' mentality?
Old beliefs keep us trapped, as the card called 'Belief' from The Enlightenment Pack by Chuck Spezzano shows.
A book I haven't been able to put down since it arrived, is entitled 'The Turning Point- Creating Resilience in a Time of Extremes' by Gregg Braden.
The author comes from an engineering background, but with a strong spiritual message.
I highly recommend it, as he gives answers to the crisis that both the world, and each of us, is facing.
As an astrologer I can offer you guidance to help you know yourself-one of the basic principles Gregg talks about.
Once we look honestly at ourselves and are brave enough to confront our weaknesses- and not be crippled by guilt- then we can embrace positive change.
Process
'Process' is the understanding of the relationship between the outside world as a reflection of our inner world.
It's the Tao.
Astrology is totally aware of process as it works with the maxim 'as above, so below, as without so within'.
Both Deborah and myself have been witnessing our process since we first joined together and decided to run our workshop.
We both work with the transformational model called 'Psychology of Vision' so we understand, and teach others, about process.
Scarcity and Competition
One major issue that we are aware of and have been healing, is the belief in scarcity and competition.
The tarot card 4 Pentacles shows that when we don't share, we become The Miser.
From the Osho Zen Tarot:-
"This card challenges us to look at what we are clinging onto, and what we feel we possess that is so valuable it needs protecting by a fortress.
It needn't be a big bank balance, or a box full of jewels-it could be as simple as sharing our time with a friend, or taking the risk of expressing our love to another"
This belief in scarcity blocks success, intimacy and partnership and arises out of a fear of the next step.
In Psychology of Vision the ego fights hard when we choose to join in partnership, so it brings out it's biggest weapons if we dare to take the next step in our lives.
If you came from a family where you were forced to share with a sibling, or if you are old enough to remember rationing, then sharing may be deeply uncomfortable.
I have witnessed many people around me who have a belief in scarcity, so they reflect this back to me.
This is my process!
I admit that I have hesitated to advertise Chuck Spezzano's workshop to you, because I feared that potential clients would choose his workshop over mine and Debs!
However, our workshop is for a small family sized group, Chuck Spezzano's workshops average around 80 people.
So there really is no real competition!
---
Special Earlybird Offer for 'Success from the Inside Out' Workshop
with Chuck Spezzano in London
3 day Workshop 4th – 6th April 2014
This is a workshop about how to increase success in all areas of our lives- work and career, relationships, money and health.
"There is only one real block to success and that is you.  What you have decided you have hidden away in the deeper mind.  So you seem to be the effect of what is happening to you rather than the cause.
You could have anything you wanted if you were wholehearted and not ambivalent about what you seem to want.
 You could have anything you wanted if you were willing to give up your dissociated independence.  There is no problem that would not melt away if either the fear or the guilt, which are illusions of the ego, were let go of as untrue.
These and other principles that create success or generate problems will be unveiled at the lecture and used as the means to free us in the workshop".   Chuck Spezzano
During this workshop Chuck will empower us by showing us how to clear our obstacles and put ourselves firmly on the path of success and great good fortune.
If you contact Avril Woodward asap. and mention me, Pam Carruthers, she will give you the January Earlybird price of £290. (Its advertised as £315 until Feb 28th on the website)
---
Manifesting Change and Embracing your Power
Small Family Size Weekend Workshop led by Pam Carruthers and Deborah Labuschagne
DATE: March 1st/2nd
VENUE The Unicorn Inn, Deddington Market Square, Oxon OX15 0SE
This is an invitation to participate in a weekend of healing for manifesting change in your life.
Remember the moment you gave up on yourself and your dreams?
Do you want to manifest positive change in your life and embrace your power again?
This is your opportunity to take a giant step forward and win back your power.
Our workshop focuses on:-
Winning back your heart
Set goals and intentions to manifest change – thoughts become things!
Meditation and guided visualisation to create your dream life
Discover your forgotten soul gifts
Learn practical tools to take away and use in your everyday life
How are you feeling right now?
Are you stuck? Feel you can't move forward however hard you try?
Is your relationship, or career, just treading water?
Are you feeling like giving up? Burnt out and exhausted?
Caught up in busyness? Feel like a fraud or failure?
Are you sabotaging yourself?
Feeling grief, sadness, despair?
These are all signs that you are caught in the 'dead zone'. This is a stage we all go through many times on our spiritual journey.
The temptation is to give everything up, throw in the job, ditch the relationship, move house.
However the problem remains, and will resurface after a short period of time because its not an external problem but an inner one.
The underlying principle is that there's a fear of the next step which is a birth into co-creativity and a whole new level of success and happiness.
This workshop focuses on discovering the underlying pattern, on healing the time when we gave up and lost our power.
Each person will be involved in the processes and have individual attention. Maximum group size is 12.
This workshop is now over.
blessings,