Connect with the Goddess and a flow of energy at this New Moon in Virgo
At this New Moon in Virgo we have an abundance of positive energy as all personal planets form trines-a flow of energy to the outer planets. This is really unusual.
Sun and Moon trine to Uranus in Taurus- time for change
Mercury in Libra trine to Saturn in Aquarius- commitment
Venus in Libra trine to Jupiter in Aquarius- socialise with like minded groups
Mars in Virgo trine to Pluto in Capricorn- power to achieve
Neptune is the only outer planet that doesn't form trines. Instead it opposes the Sun and Moon.
Plus there are an abundance of Quintiles. These are creative magical aspects.
With trines its easy to fall into a sense of well-being and relaxing thereby not doing anything. Trines are passive. However as Mars joins the Sun and Moon and also opposes Neptune, my advise is to take action to make your dreams come true. See Pluto as your powerful ally.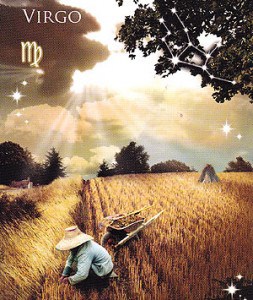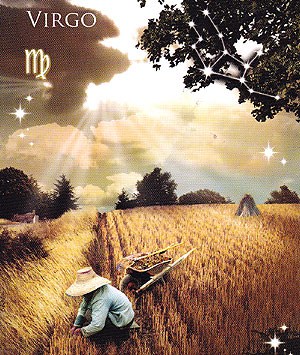 Harvest Time
This is the harvest time of year, when the crops are reaped.
Seeds are stored for planting in the Spring. This is a good metaphor for our lives.
As this chart has Mars allied with the Sun and Moon, goals set now can bear fruit, as long as you write them down on paper.
Health and Healing
Virgo governs the intestines, which digests and breaks down things.
That's the function of Virgo. It is service orientated and concerned with work.
Labels are part of Mercury's function. Mercury is exalted in Virgo, and Virgo notices what is different, and what is out of place.
It is brilliant at organising and creating systems that make life easier.
Simply put if you want a job well done that involves detail, give it to a Virgo!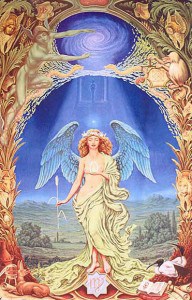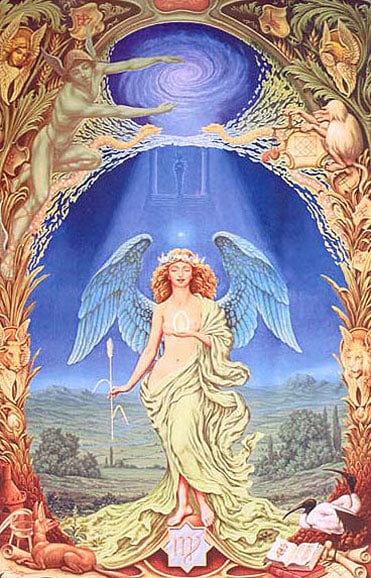 Virgo's gifts are:-
Discrimination: Sorting the wheat from the chaff-reading the labels
Love of detail
Efficiency
Purification and cleansing
Space Clearing
Hands on Healing
Technical ability and Craftmanship
The shadow side of Virgo is:-
Perfectionism
Procrastination
Nit picking and overly fussy
Nothing is ever good enough
Venus Shamanic Cycle
As Venus in Libra forms a positive flow to Jupiter in Aquarius, this is a time for manifesting. The next most important date to have a ritual is September 10th when the Moon joins Venus in Libra. This activates the Throat chakra as shown in the Venus Shamanic Cycle. This year Venus is ascending as an Evening Star.
I have been researching a little-known aspect in astrology called the Quintile. It divides the circle by 5, and 5 is the number associated with the pentagram and with Venus.
I am holding a MasterClass on Thursday September 9th exploring the Venus Shamanic Cycle and the Quintile. Master Astrologer Rick Levine says that the quintile is your charisma, your magic and your creativity. This New Moon has an abundance of these aspects!
Venus- The Lover
This New Moon in Virgo sees Venus still moving through her home sign of Libra offering peace and balance. Venus is the Goddess and is making a positive contact to Jupiter. This is a great time to make that Wish List. On September 10th Venus moves into the seductive sign of Scorpio. Get out that black/red dress!
Mars- The Warrior
Mars is now two thirds through the sign of Virgo and in a positive relationship with Pluto. This combination gives the power of endurance to get things done as they are both in the practical earth signs. When Mars enters Libra it has to be diplomatic, which is contrary to its nature.
Jupiter: The Explorer/Teacher
Jupiter takes approx. 12 years to travel through the 12 signs. Jupiter rules the Law and it concerned with Truth. Where Jupiter is placed in your chart is where you find your Faith. Jupiter is now retrograde and has returned into Aquarius- The sign of the humanitarian- on July 28th to give a final boost- the feel good factor- to all air signs- Gemini, Libra and Aquarius. It re-enters Pisces on December 29th. Water signs then benefit-Cancer, Scorpio and Pisces next year until May 10th. Then again October 29th until December 20th 2022.
Saturn: The Strategist/Authority
Saturn takes approx. 2 and a half years to go through a sign. It is now retrograde in Aquarius, a sign it co-rules with Uranus. The theme of the year is Saturn in a tense relationship (a square) with Uranus. This is the old versus the new. Rebellion and protest marches are seen in the news on a daily basis. Which side are you on? Do you obey the rules? Or do you revolt?
Neptune: The Dreamer/Visionary
Now the Sun is in Virgo it will oppose Neptune on September 14th. This is a good day for meditation, for having an astrology or tarot reading, but not good to launch anything new. Also at the Full Moon on September 14th Neptune is really prominent.
Neptune is The Hanged Man in the tarot, the most spiritual card in the deck. Neptune is the place in our birth chart that connects us to our Vision, to the ideal. In Pisces that is the 8th chakra, God the Mother. The colour is magenta, and in Aura-Soma is known as 'love in the little things'.
Uranus- The Renegade/Awakener
Uranus takes approx 7 years to go through a sign and always brings change/revolution. It is the planet that rules inventions and genius. Its now in Taurus (May 2018-April 2026 approx.) and we are witnessing the alarming news about climate change. Taurus is ruled by Venus, and as it's an earth sign, we are now concerned with agriculture, our food chain and an awakening to our planet's resources. In our daily lives Uranus wants to shake thing up. Weeding is both physical and metaphorical.
At this New Moon the Sun and Moon trine Uranus so change can come gracefully, without resistance as long as there is no distraction from dreamy Neptune.
Pluto-The Transformer/Regenerator
Pluto is the slowest moving planet and currently travelling through Capricorn from 2008 until 2024. It is the God of the Underworld and the unconscious. It is assigned to Scorpio who also have Mars as their ruler. The transit of Pluto in Capricorn calls for deconstruction of the establishment and institutions.
Each sign of the zodiac is connected to one of these archetypes.
Aries: The Warrior, Taurus: The Lover, Gemini: The Storyteller, Cancer: The Mother,
Leo: The Sovereign, Virgo: The Healer, Libra: The Diplomat, Scorpio: The Transformer,
Sagittarius: The Explorer, Capricorn: The Strategist, Aquarius: The Renegade and Pisces: The Dreamer.
September
2nd Mars opposite Neptune Venus north of Spica
5th Mercury in Libra trine Saturn in Aquarius
6th Venus square Pluto, Mars trine Pluto, Venus trine Jupiter
7th New Moon in Virgo at 7.52 am BST
10th Moon joins Venus in Libra at 05.48 BST
10th Venus moves into Scorpio 21.39 BST
15th Mars enters Libra 1.14 BST
22nd Autumn Equinox Sun enters Libra 20.21 BST
27th Mercury goes retrograde at 6.10 BST. It stays in Libra from August 30th until November 5th, so 10 weeks.
blessings,

MasterClass: Shamanic Overtone of Venus-Exploring the 5 Archetypes of Feminine Power
When Venus is 10 degrees ahead of the Sun while still retrograde, it is rising as a Morning Star. This is called the heliacal rise and known as "The Shamanic Overtone." This relates to the Myth of Inanna Queen of Heaven.
Venus rose as a Morning Star on June 10 2020 and began a new 19 month cycle, so we are currently in the Shamanic Overtone of Gemini, the Messenger, Writer, Magician and Storyteller.
When Venus is retrograde she starts a new cycle in only five signs of the Zodiac in a lifetime!
From 1966 through 2047 these are Aries The Warrioress; Scorpio The Sorceress; Gemini The Messenger; Capricorn The Matriarch; Leo The Queen changing to Virgo The Healer.
Join my MasterClass 'Shamanic Overtone of Venus Exploring the 5 Archetypes of Feminine Power' to find out more and discover:-
The 5 Shamanic Overtone Goddess Archetypes- Which Tribe do you belong to? Examples with famous women.
Understanding Venus as a Morning Star or Evening Star-which one are you and what does it mean?
The Ancient Myth of Inanna, Queen of Heaven
Ritual for Venus
Key dates for Rituals when the Moon and Venus join in 2021- The Gates of Initiation and the 7 Chakras.
Which of these 5 Archetypes do you belong to?
Want to know more?
Then sign up for my fully illustrated Masterclass on September 9th at 7.30pm BST. You get a personal Goddess Report worth £20 included.
Sign up to the MasterClass September 9th at 7.30 BST
After paying you will be redirected to a page where you fill in your birth details – Date, place and time of birth.
(NB This report uses the western tropical zodiac.)
Your information is entered by hand. Please allow 24 hours during the working week for your report to be delivered.
However, please allow more time if ordered over the weekend. The Report will be emailed to you as a PDF file.