September 9th Positive Vibes at the Virgo New Moon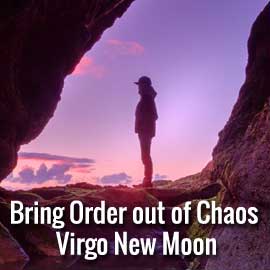 The last couple of months has been extremely stressful. We've had 3 eclipses, and two personal planets-Mercury and Mars both retrograde. This is stormy cosmic weather on a grand scale. Now the energy has truly lightened, as Saturn the taskmaster moved forward on September 7th.
The chart for the Virgo New Moon is brimming with positive possibilities. Its important to grasp this energy with both hands and give any project that's been on the back burner the go ahead.
This applies to any decision that you've been caught in. Analysis paralysis is what many of us who have a strong streak of perfectionism in our psyches may have been struggling with. As we step into our true soft power the feelings of being a fraud or a failure are weapons that the ego-that small part of us that wants to play safe, may have holding us back. It's known as the Imposter Syndrome.
A reminder of this famous quote from Marianne Williamson in her book "A Return to Love":-

Our deepest fear is not that we are inadequate. Our deepest fear is that we are powerful beyond measure. It is our light, not our darkness that most frightens us.
The major planetary players are all combining to increase our sense of well-being, determination and strength. There is a 'talent triangle' forming with the New Moon, Jupiter and Pluto. It only lasts a few days but it sets the theme for the month.
The Sun and Moon are opposite Neptune.
Listen to your dreams and the whisperings in your ear from the angels and spirit world. Write, draw- put down on paper your vision for your future. Mercury is now exalted in Virgo until September 22 -this truly is the perfect time to call on help from friends in High Places.
As the saying goes, make Gratitude your Attitude.
Venus is now in Scorpio for 2 months until 1st November.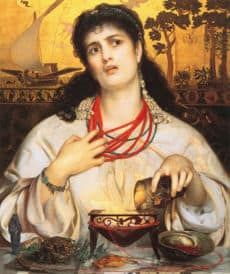 Although Venus is in detriment in astrology in this sign it is boosted by being in the same sign as Jupiter. Detriment means that the planet is encountering an environment it dislikes.
Venus enjoys the signs of Libra-bringing diplomacy, peace and harmony, and Taurus sensual, stable and earthy. Both are its domicile signs where it's at home and feels comfortable.
Domicile means the planet can fight, it can manifest intentions. Add to the mix, Scorpio is traditionally ruled by Mars which at this New Moon is exalted in Capricorn. This also helps Venus.
Exaltation has real power, it can lift you up. Scorpio loves to delve deep, to enter the Underworld. Venus in Scorpio are the dark Goddesses-Kali, Hecate, Medea who are Sorceresses. They wield immense power with their magic. Used wisely this energy can transform, used badly it can corrupt the sweet nature that is intrinsically the style associated with Venus.
The month bodes well for those who are Sun sign, ascendant or Moon in Scorpio, right up until Jupiter changes sign into Sagittarius on November 8th.
For everyone call on your inner Warrior/Warrioress within to protect your territory and learn the lessons that Saturn wants to teach us.
KEY DATES:-
New Moon in Virgo at 19.01pm BST at 17 degrees

Sun in Virgo until September 23rd.
Mars goes direct at 28 degrees Capricorn on August 27th
Mercury in Virgo until September 22nd Then it moves into Libra.
Venus in Scorpio from September 9th-November 1st
Trine Jupiter in Scorpio and Neptune in Pisces promise healing and spiritual inspiration.
Talent Triangle Sun in Virgo, Pluto in Capricorn, Uranus in Taurus
Saturn turned direct September 6th
Full Moon at 2 degrees Aries September 25th
Please watch my YouTube video above as I explain more fully about this New Moon
blessings,

In need of personal emotional and spiritual support?
If you have any planet around 17 degrees then this New Moon will be activating it. You could be undergoing some significant relationship issues in your life as Venus makes an opposition to Uranus. There could be a strong desire to break free and go off on your own. I can support and guide you in this process.

This is an ideal time for a consultation. See this page for more information>
For ongoing personal support, I am thoroughly trained in the processes of Psychology of Vision and Chuck Spezzano has been my mentor and teacher since 1994. This work is based on the spiritual principles of A Course in Miracles. Please contact me via my Contact Form, I usually have some spaces each week for clients who need help.
MY BEST SELLER: Karmic Insight Astrology Report to Buy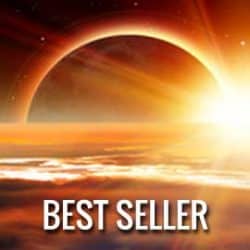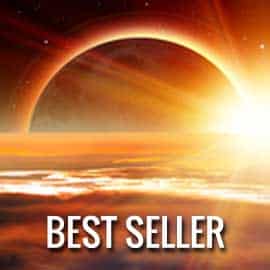 The Karmic Insight report provides an in-depth look into the soul's intentions and lessons to be learned in this lifetime.
Gina Ronco interprets the past life reverberations shown in the natal chart. The report clarifies lessons and goals recreated from the past for resolution in this life.
This succinct report concentrates on the planets that are most involved with karmic lessons.
The Moon carries unresolved past-life issues
The Sun represents the creative thrust of this life
Saturn, sometimes referred to as the planet of karma, shows your energetic blockages, weaknesses and fears.
It points to the areas of your life where the most concentrated effort and discipline will be required. If you do the work these will become your areas of greatest strength.
The Karmic insight report also discusses struggles (major hard aspects) and gifts and strengths (major soft aspects) brought forward from past lives.
If you are going through your Saturn return (age 28-31 years, or 55-58 years) then this report is especially useful. Every 7 years Saturn will be triggered, so key ages in your life are 7, 14, 21 and 28, then multiples of 7 thereafter.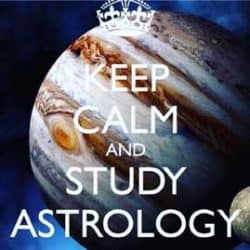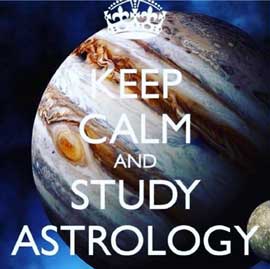 Do you want to learn astrology with an experienced teacher who can answer your questions?
Then this 'The Planets Within Astrology Course' is for you.
It's an in-depth journey through the planets, your Inner Archetypes.
This 10 week Online Astrology Course can inspire and empower you and help you focus on your soul purpose in this lifetime.
For beginners and those who wish to deepen their understanding. This course is for a small group, maximum 6 students for personal attention. There are still a couple of spaces left.
The intention of this astrology course is to encourage and inspire you on your spiritual journey. Learning astrology increases intuition and a relationship with Source, the divine wisdom of the coasmos.
The first session is a bonus. It's pre-recorded in a beautifully illustrated video and teaches the elements, houses, signs.These are the basic building blocks of astrology.
Then in 10 online sessions we'll explore the planets- the energies that are the archetypes within us.
PDF's of all modules will be given, and access to the recordings of the video.